From office parties to family dinners to friendly get-togethers at the local bar, the holiday season is upon us and it's time to add some tinsel and ornament to our wardrobes. Make these longer nights count for something with a little extra holiday pizazz.
Holiday and winter suits and jackets offer an opportunity to step it up stylistically, layering in some unexpected pattern and texture that might just find its way into your everyday rotation. So don't be afraid to invest in a few special occasion pieces that could serve you well for holiday seasons to come. On the plus side, holiday and winter suits afford an opportunity to dress a little louder than you would normally. The holiday season is the one time of year when you can, nay, should go the extra mile. Maybe it's a touch of plaid, a dash of velvet, or a hint of sparkle. Any way you choose to shine up your style is an indicator that you're a jolly old soul and can celebrate the spirit of the season with the best of them.
Also, if you're not a "suit guy," don't worry, we tossed in some dressier alternatives for a more casual approach to the season's gay apparel.
Holiday Suits
Fortune favors the bold and, if there's any one time of year to be bold, it's during the holidays. Pair this suit with a formal white shirt and black tie for an elegant statement at the office party. Break up the jacket with a pair of jeans and a turtleneck for your friends' holiday get together or a special date night. Throw on the pants with a denim jacket for the big family dinner.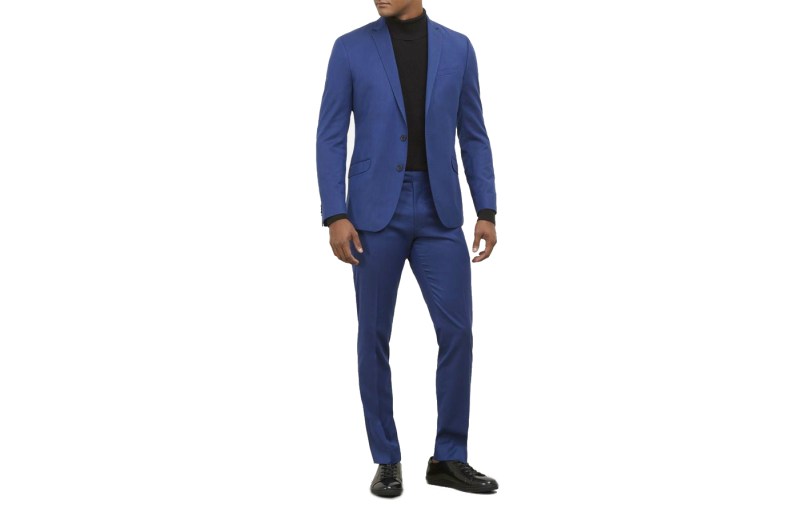 Plaid's not your thing? Brighten up the holidays with a flash of color. This trim-fit suit from Kenneth Cole complements your trim-fit physique, and has some stretch to allow for a little movement…perhaps while jockeying for a position under the mistletoe? It's also a great suit for every day in a "blueprint blue" all-season hue.
Holiday Jackets
Maybe a little quiet texture is more your style. This Ted Baker sport coat offers a vintage-style pattern on a deep red background, perfect for swirling a good glass of cabernet in front of a roaring fire. Pair it with a pale gray flannel trouser for a dressier occasion or jeans to dress it down.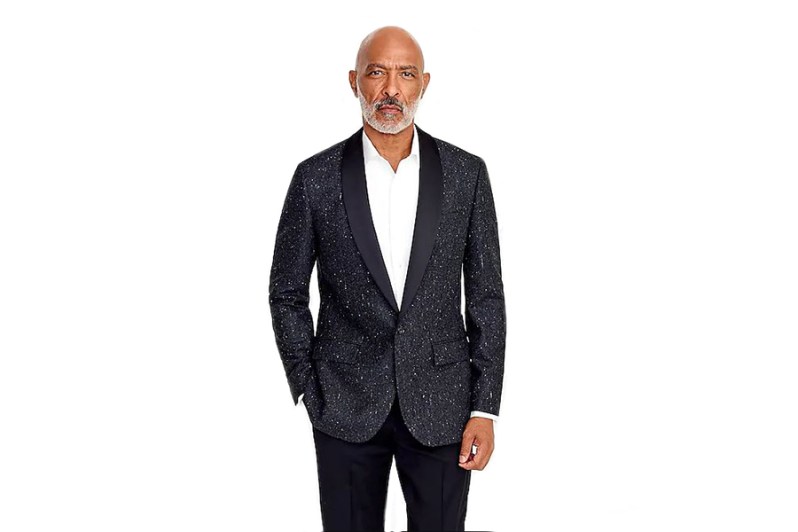 Having a great dinner jacket at hand can serve you well way beyond holiday parties—which this one is absolutely perfect for—but is also a great tool to have in your arsenal for winter fund-raising galas and other black-tie events. Pair it with a pair of tuxedo pants for the big-ticket events, but wear it with slim black corduroys or jeans to dress it up for a New Year's Eve open house.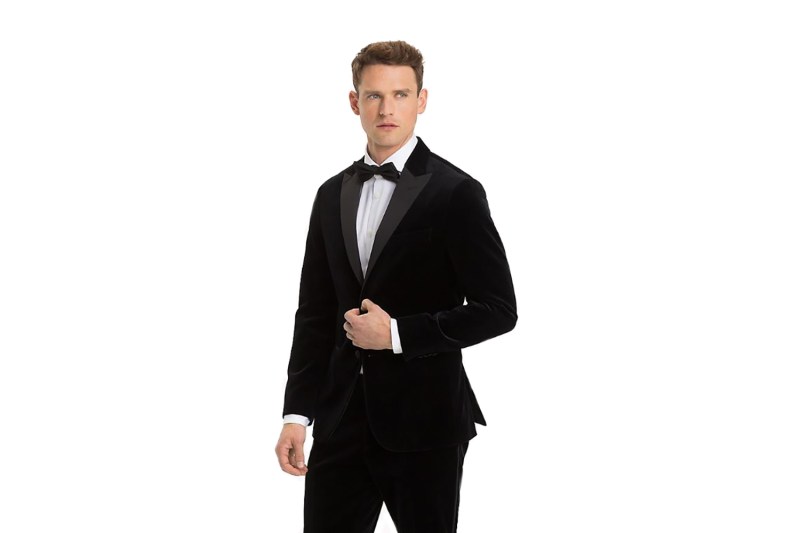 The tactile allure of velvet is a natural for the holiday season, practically begging to be handed a bubbly glass of champagne. You'll knock out your date when wearing this peak-lapel jacket with a white tux shirt and bow tie, but it's equally elegant with a fine-knit turtleneck in black or jewel tones.
Suit Alternatives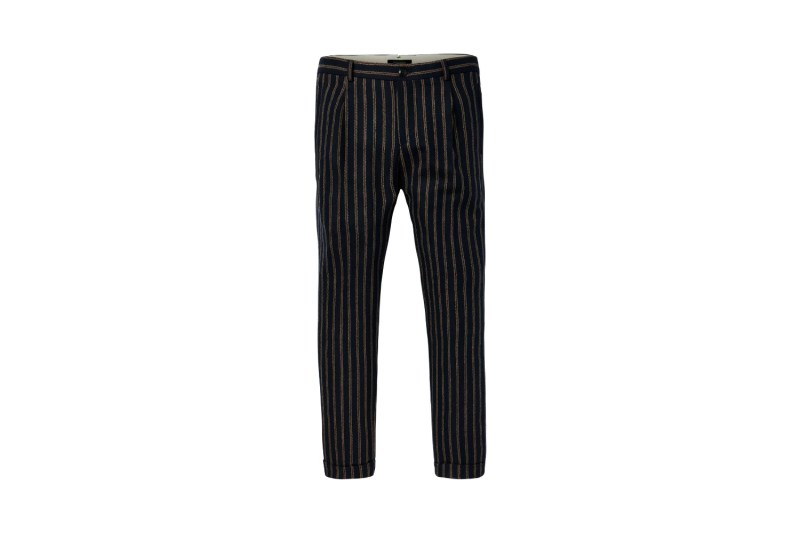 Brighten a classic navy blazer or set off a chunky Fair Isle sweater with these boldly striped trousers. Their slim-fit is as comfortable as your favorite pair of jeans, but the brushed wool blend fabric will keep you warm through winter's chill. The festive red stripe makes a tasteful statement at parties but is understated enough to wear all winter long.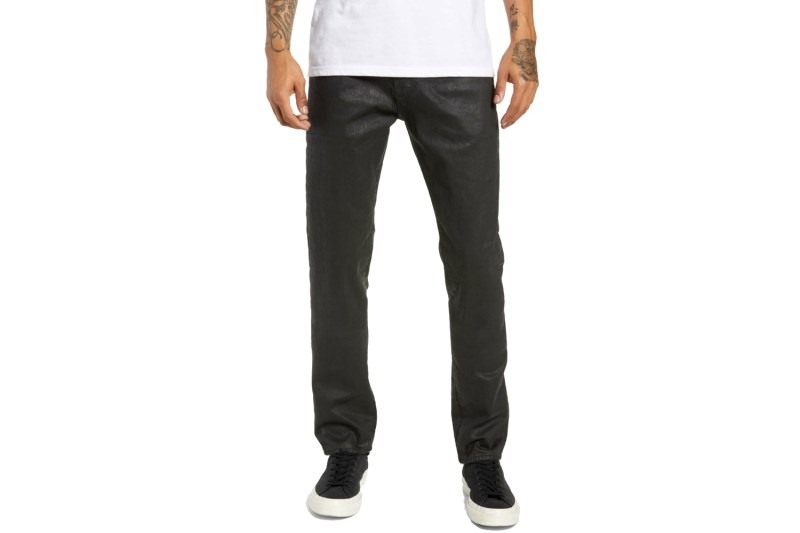 Whether you're a "strictly jeans" kind of guy or looking for some denim to dress down any of the more formal offerings we've suggested above, a little sheen goes a long way. Like the icy finish on the sugar plums —or the hockey rink — these AG's (in the iconic Dylan fit) serve some serious style with their edgy sheen. You'll be ready for a sleigh ride even in a white T-shirt and a down jacket.
During this magical time of year, take a moment to look up into the night sky and appreciate the enormity of creation. Or just wear this shirt and be done with it. The black background maintains the necessary amount of formality, while the simple, random white dots evoke a cheery seasonal snowfall or a constellation of romantic stars.
If you happen to be a formal wear fledgling, no worries, we've got all the answer to your questions about how to wear a suit.
Editors' Recommendations