Offering product that is "Well Made to Be Well Worn," iconic footwear brand Minnetonka, which is best known for its classic Minnetonka moccasins, is currently marking its 70th anniversary. Jori Miller, VP of Product Development and the daughter of CEO David Miller, recently caught up with The Manual about this beloved brand's past, present and future and discussed it current styles, all of which blend timeless style with extreme comfort.
What is the history and background of Minnetonka?
Minnetonka is a fourth-generation, family-owned business headquartered in Minneapolis, Minnesota. Established in 1946, we are excited to be celebrating our 70th anniversary this year. As a company we've evolved over those 70 years from our early days as a purveyor of souvenirs to the gift market to a global brand best know for a full range of moccasins, boots, slippers and sandals for the whole family.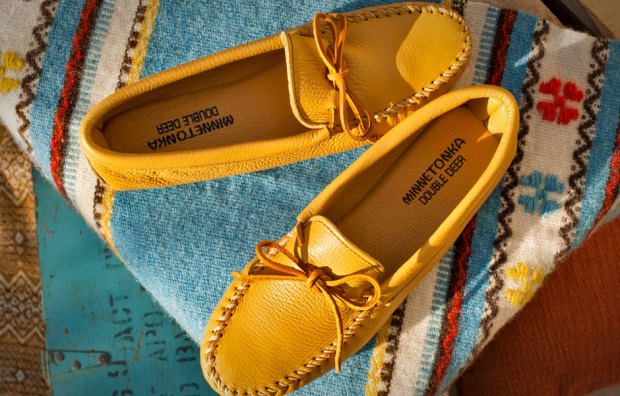 Related: Hit the Road with Ventoso's Classic Driving Mocs
What are your bestselling men's styles at the moment and why are they popular?
Our current bestsellers stand out due to their luxe materials, like deerskin and moosehide, hand craftsmanship and above all else extreme comfort combined with the classic Minnetonka look. Some of the current bestselling styles are the P.W. Driving Moc, Double Deerskin Softsole and Moosehide Classic.
Please talk about the craftsmanship and materials that Minnetonka uses.
We describe our products as "well made to be well worn." All our of our products are expertly handcrafted using only the finest leathers such as premium deerskin and moosehide.
Our newest style, the P.W. Driving Moc, is a great testament to the detail and craftsmanship we put into each pair. A single pair of P.W. Driving moccasins takes three days to construct and are custom-made to order. We partnered with Horween Leather Company to create a special natural shrunken leather using a proprietary blend of waxes, oils and tanning agents, that resulted in a rich feeling, beautifully textured leather that combines superior durability and feel.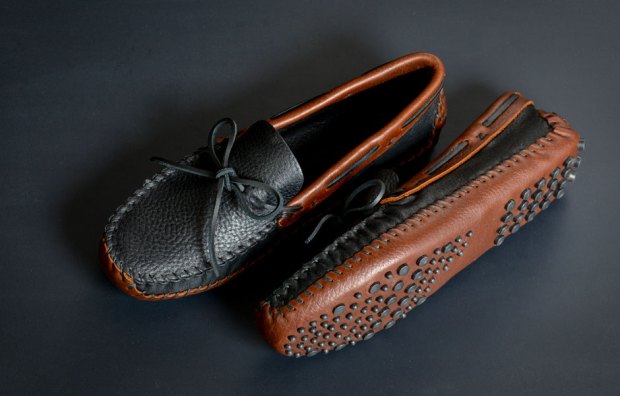 You recently launched the Custom Made collection. How has that been received and what makes those shoes special?
Our custom P.W. Driving Moc has been very well received. It was originally designed as a tribute to Minnetonka's founder, Phillip W Miller, and the craftsmanship of times past. We challenged ourselves to go back in time and craft a moccasin like it was done before modern equipment, using no electricity or machinery. We currently offer 14 different style variations and 51 different size options and each pair takes three days to construct and is custom-made to order.
Who is the "typical" guy who wears Minnetonkas?
The typical Minnetonka guy appreciates classic style, comfort and high quality hand-craftsmanship above all else.
Tell me about the slipper collaboration you did with Opening Ceremony.
We jumped at the chance to collaborate with Opening Ceremony on a six-piece capsule collection for Holiday 2015. For men, we were able to bring together the comfort and hand-craftsmanship of our Sheepskin Line Moose Slipper while adding a playful Opening Ceremony twist with checkered laces and silver chrome tips inspired by the look of classic aviator jackets.
What sets Minnetonka apart from other footwear brands?
Our 70-year history, attention to hand craftsmanship and quality details and overall commitment to our customer to create a product they will enjoy wearing for years to come.
What can we expect from Minnetonka in the future?
We are excited as we look ahead at possible new opportunities and collaborations to expand our men's collection of moccasins, boots and slippers. With everything we do it's important to continue to find new ways to evolve the product through design and assortments while keeping our customer top of mind and staying true to our Minnetonka DNA.
Editors' Recommendations