It wasn't that many years ago that the vast majority of advent calendars and Christmas countdown calendars consisted of a picture of a kid-friendly festive scene with scattered, punchable doors concealing little milk chocolates for each day of the December leading up to Christmas. However, no longer are all advent calendars merely masquerading as a decorated box of mediocre chocolates, but there is also a plethora of advent calendars geared for men. That's right — adults can now join in the fun of counting down the days until Christmas with grown-up versions containing everything from shaving products or socks to beer or gourmet hot sauces. So, if you want to embrace the excitement and anticipation you felt as a kid as the Christmas holiday approached, consider grabbing one of our picks for the best 2022 advent calendars for men.
Related Guides
The Bearded Man Co. Christmas Beard Oil Advent Calendar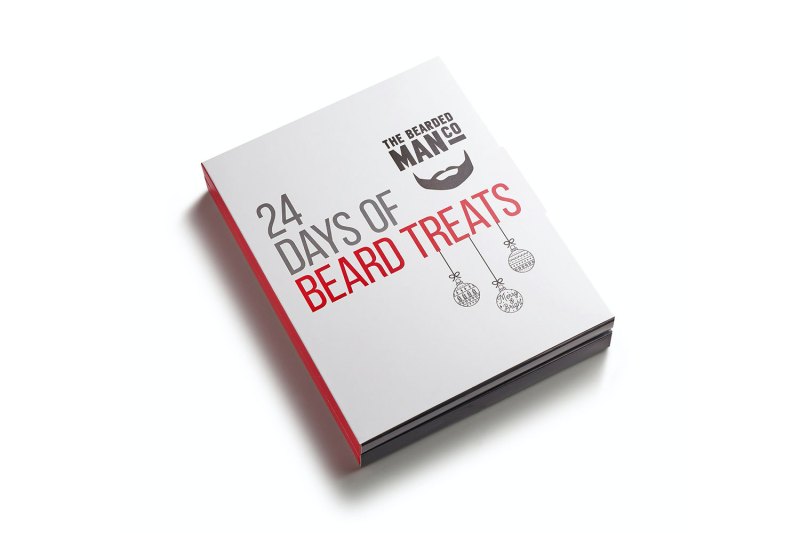 Santa doesn't have to be the only one at Christmas time with an iconic beard. If your facial hair is a thing of pride, you might enjoy The Bearded Man Co.'s Christmas Beard Oil Advent Calendar. It includes 24 scented beard oils made from high-quality almond oil, vitamin E, wheat germ oil, and pure essential oils to confer different scents for each day. You'll smell nice and look nice all season long.
Target Men's Marvel 15 Days of Socks Advent Calendar
You can never have too many socks, and Target has been catering to this fact for quite a few years now with their sock advent calendars for the whole family. Each advent calendar has 12-15 pairs of themed socks. For example, the Men's Marvel 15 Days of Socks Advent Calendar, designed for grown-up superhero lovers features seven pairs of crew socks and eight pairs of low-cut socks, each with a special array of Marvel graphics. Hidden behind individual doors, you can clad your feet in a fresh and fun new pair of superhero socks to give you the boost of energy you need to power through the holiday season. Other themes include Harry Potter, Friends, the Avengers, NASA, Star Wars, and more.
DAVIDsTEA 24 Days of Tea Advent Calendar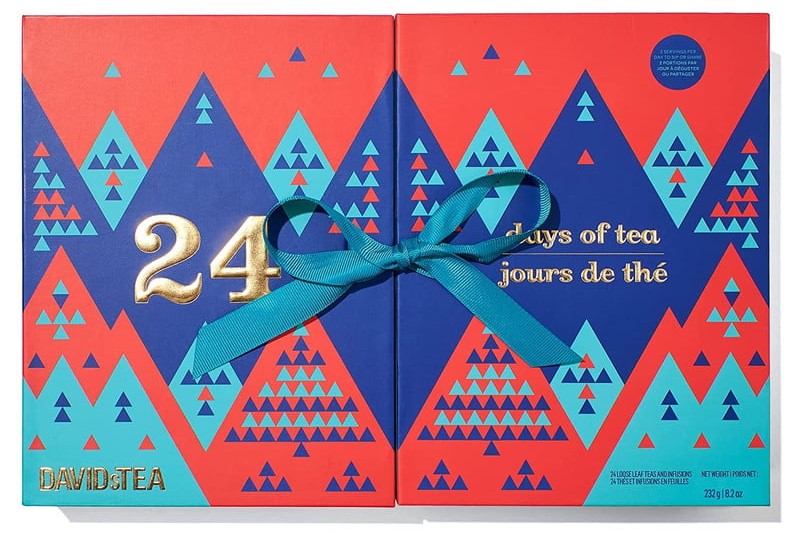 If you're more of a tea connoisseur than a coffee drinker, treat yourself to the much-anticipated Davids Tea 24 Days of Tea Advent Calendar. This annual favorite features 24 unique and delicious sachets of premium tea. Examples of flavors you'll get to savor include Blood Orange Boost, Candy Cane Crush, Caramel Shortbread, Chocolate Covered Almond, Forever Frosty, Gingerbread Blondie, and Let It Snow. Each tea blend has a pretty package, with a full ingredients list. If you discover new flavors that you simply can't live without, you can buy them on the website to keep the magic of the season going all year long.
Keurig Advent Calendar Variety Pack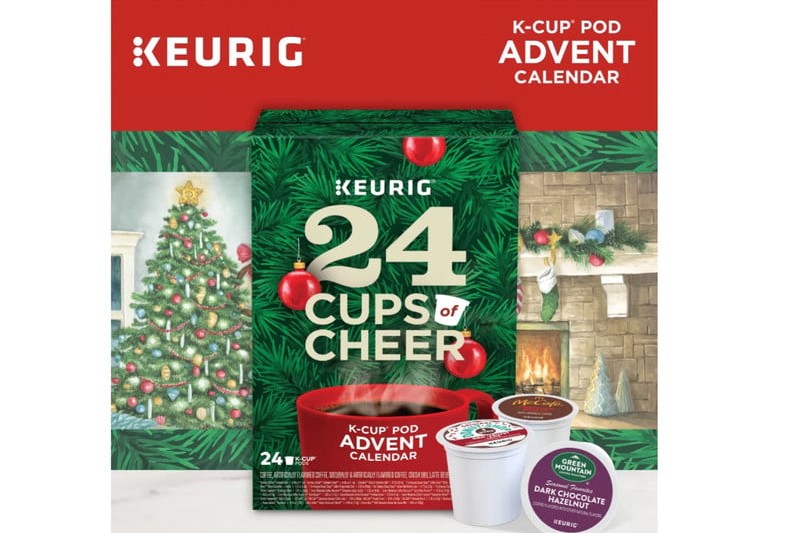 If there's nothing quite like the smell of coffee brewing to get you energized for the day, consider the Keurig Coffee Advent Calendar. This affordable advent features 24 festive and flavorful coffee and hot cocoa K-Cup pods to brew up a warming mug of holiday magic each morning. You'll get to sip and savor gourmet coffees and hot chocolates from popular brands like Green Mountain Coffee Roasters, The Original Donut Shop Coffee, Cinnabon, Peet's Coffee, Caribou Coffee, Newman's Own Organics, and Swiss Miss, among others. The flavors celebrate the tastes of the season, such as peppermint, gingerbread, and Yule log.
Man'Stuff Toiletry Advent Calendar for Men

Look your best with a men's grooming advent calendar this year, such as the Man'Stuff Toiletry Advent Calendar for Men. This large yet surprisingly affordable advent calendar conceals 24 different toiletries for men featuring the Man'stuff Black Pepper fragrance. You'll amass grooming essentials such as body wash, shower gel, shaving creams, nail clippers, tweezers, a toothbrush, and even a special muscle soak.
Man Crates Jerky Advent Calendar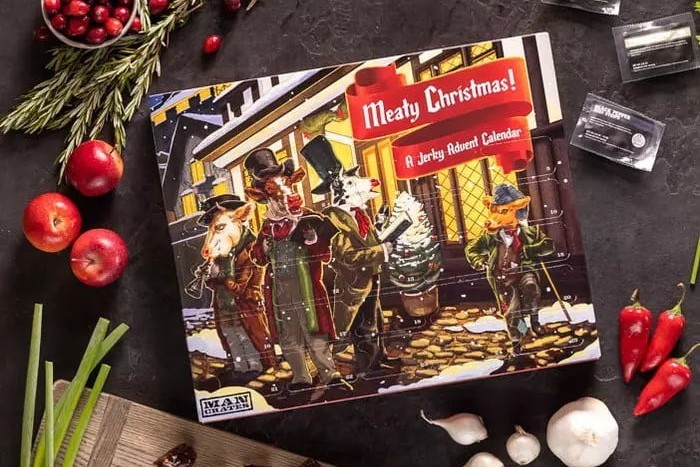 Paleo diet adherents and other protein lovers will enjoy the Man Crates Jerky Advent Calendar. This exclusive advent calendar has 25 individually wrapped gourmet beef jerky bites, each of which is 0.5 ounces. Throughout the month of December, you'll get to sample a protein-packed snack with flavors such as black pepper, Sriracha, orange habanero, sesame ginger, honey bourbon, whiskey maple, root beer, ghost pepper, Cajun, birch beer, lemon pepper, sarsaparilla, General Tso, teriyaki, and Thai satay. Each strip of beef jerky is well seasoned and made with premium ingredients.
The Adventure Challenge Advent(ure) Calendar 2021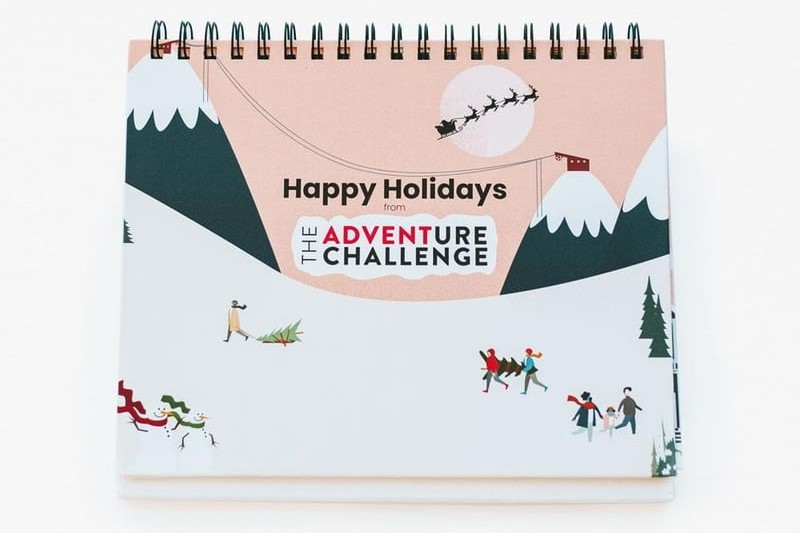 If you're more of an experience person than one who likes tangible gifts, The Adventure Challenge has an advent calendar option for you. Its clever Advent(ture) Calendar has 12 fun and festive activities described between each scratch-off door. As you move through the two weeks approaching Christmas, you'll get to engage in seasonal or meaningful activities with your loved ones, creating cherished memories of the holiday that last a lifetime.
Editors' Recommendations