The 2024 Triumph Thruxton Final Edition will end its 60-year run as one of the definitive examples of cafe racer motorcycles. Triumph introduced the Thruxton in 1964 as a limited edition production motorcycle designed to compete in endurance races, such as the Thruxton 500, for which Triumph named the bike.
The Thruxton 500 was an annual 500-mile, 9-hour endurance race in England from 1955 to 1973. Two riders took turns riding a single motorcycle to complete the grueling competition. The early Triumph Thruxtons had notable success, including lapping the Isle of Man TT Mountain Race with an average speed of over 100 miles per hour. The crowning performance, however, came in 1969 when teams of Triumph Thruxtons dominated the winners' podium, with first, second, and third-place finishes.
The Thruxton's race-inspired design also appealed to riders seeking the right kind of motorcycle to blast around the countryside from one cafe to another.
In motorcycle lingo, a cafe racer has a distinctive style, with components intentionally chosen to support the demands for competitive street performance. Forget the higher handlebars and upright forward seating of most Bonnevilles. If you've ridden a motorcycle, e-bike, or even a bicycle at speed, you know that sitting upright results in greater wind against your chest and your face.
That added resistance requires greater power for the bike to go fast, and it can also get tiring quickly because it's harder for the rider to hang onto the handlebar grips. Cafe racer grips are low, and the seats let you scootch back and lean close to the gas tank to reduce wind resistance.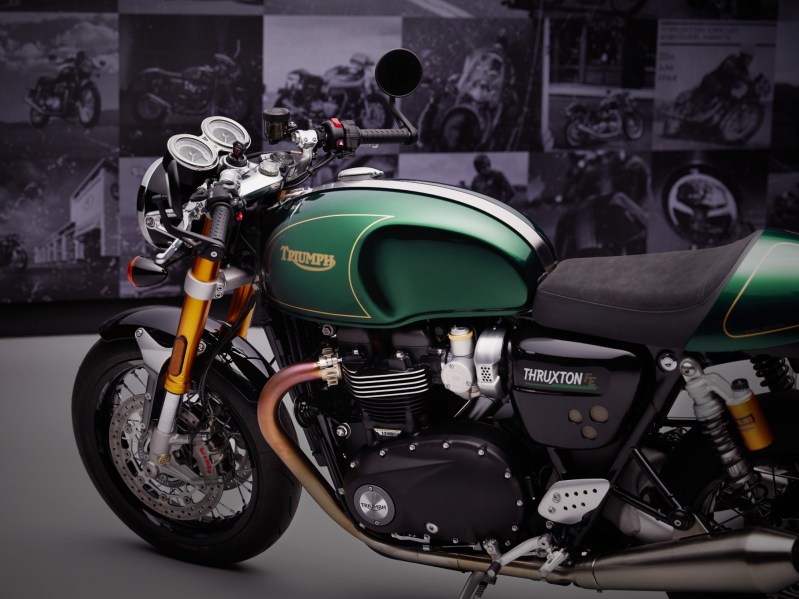 The 2024 Triumph Thruxton Final Edition will be available in one color only: Competition Green with hand-painted gold lines. Triumph will provide a unique certificate of authenticity, including the bike's VIN, signed by Triumph CEO Nick Bloor and the Thruxton 1200 design team members. Owners of the sure-to-be-collectible motorcycles will also receive a unique Thruxton Final Edition engine badge to display.
Don't think the Triumph Thruxton Final Edition is defined by looks alone. This edition will move along via a 6-speed transmission and a 1,200 cc liquid-cooled Bonneville parallel-twin engine that puts out 105PS and 112Nm of torque, roughly 103.5 horsepower, and 82.6 ft-lbs. You can select from three riding modes: Road, Rain, and Sport, with throttle maps and traction presets. You can adjust the settings or change modes as you ride, so you don't have to find a place to pull over as the weather changes or your mood shifts.
Racer handling and control will be handled by Showa USD 'Big Piston' front forks and twin Öhlins piggy-back rear suspension bits providing 120 mm travel for front and rear wheels.
You'll be amply equipped for controlled stopping with ABS and the Final Edition's pair of 310mm Brembo disc rotors with 4-piston Brembo M50 calipers in front and a single 220 mm disc rotor with a 2-piston Nissin caliper in the rear.
Triumph will offer over 80 accessories for the Thruxton Final Edition, including a color-matched cockpit fairing, when the 2024 Thruxton Final Edition arrives at dealers in Spring 2024. You may be pleasantly surprised that this last issue of such a storied ride isn't an expensive motorcycle. Triumph dealers can take orders now, starting at $17,995.
Editors' Recommendations