Evel Knievel is a name all Americans should know. The stunt performer attempted more than 75 motorcycle jumps over the course of his career, typically clad in stars and stripes. Knievel wasn't always successful, but he always entertained viewers, much like a certain contemporary daredevil, Travis Pastrana.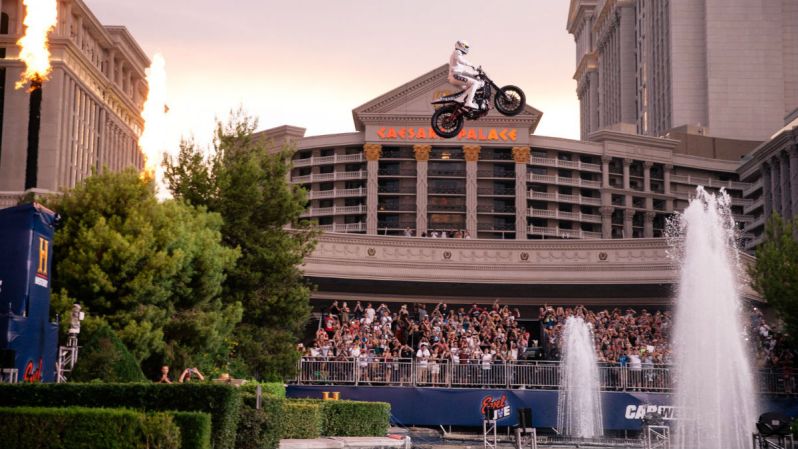 Pastrana has a long list of absurd stunts under his belt, including a jump out of a plane without a parachute, a backflip into the Grand Canyon, a 269-foot jump in a rally car, and the world's first Aussie Roll on a motorcycle. It's fitting, then, that Pastrana would be the man to break three of Evel Knievel's records — all in one night.
The jack of all motorized sports completed over 400 total feet of jumps in Las Vegas this past weekend, flying over 52 cars, 16 buses, and a massive fountain in the process. Pastrana rode an Indian Scout FT750S V-twin motorcycle for all stunts while wearing a Knievel-inspired, star-studded, cape-clad, white leather suit (in 111-degree heat, I might add).
The first jump (treated as a warm-up) spanned 143 feet and featured three-high stacks of crushed cars at the bottom. The approach ramp was 48 feet long and at a sharper angle than the 107-foot long landing ramp. To all viewers (in-person, via TV, or online), the jump looked easy. Still, we can't help but wonder how much it would have hurt to land on a pile of twisted metal. Completing this jump broke Knievel's 1973 record of 120 feet and 50 cars at the LA Coliseum.
The second jump dialed up the fright factor and the distance. Pastrana rode a 74-foot approach ramp before sailing 192 feet and landing on a 164-foot post-jump ramp. In 1975, Knievel attempted a similar feat, but only jumped 14 buses and 133 feet. Even before Pastrana completed the second jump, the crowd was already on its way over the Caesar's Palace for the third record-breaking stunt.
With a police escort down the Las Vegas strip, Travis and his father, Robert Pastrana, made their way to the third and final jump: a 15-foot fountain separated a 48-foot leading ramp and a 107-foot ending ramp. The gap was marked at 149 feet — five feet more than Knievel's record at the same spot 51 years earlier.
If you missed these jump, you can always travel to Vegas. Starting in spring 2019, Pastrana's group of equally adrenaline-addicted motorsports enthusiasts, Nitro Circus, will be hosting a live show at Bally's.