Going on a motorcycle camping trip looks glamorous on social media. Gorgeous backdrops, clear stretches of road, spotless motorcycles. Don't believe everything you see on the internet, because this isn't the case.
There's a lot that goes on behind the scenes of a motorcycle camping trip. From having to pack wet gear away to cooking food during a downpour on a stove, going on a motorcycle camping trip isn't as attractive as some make it out to be. That doesn't mean it can't be fun or enjoyable. It can be, as long as you have the right equipment.
This list of gear will help you get all of the necessities for an overnight trip with your motorcycle. This equipment isn't the end-all-be-all list, though. And, before you head out on that cross-country trip throughout the wilderness, you'll want to get used to the equipment and refine your gear to match your needs. Doing a practice run in your backyard may sound odd, but it's a great way to see how and if your gear really works.
The last thing you want to focus on is bringing as little gear as possible. Motorcycles, even large ones, have a limited amount of space, so going lightweight is the name of the game. You'll want to bring the essentials and leave anything else behind.
Panniers: DrySpec D20 Drybag Saddlebags
If you did terribly in geometry — like I did — we have some bad news. Finding a way to get all of your gear to fit is a nightmare. At the very least, you're going to have to be skilled at Tetris to make it work.
If you're not good at puzzles, don't worry. Most riders use duffels and panniers as the vessels to lug their items around. These DrySpec D20 Drybag Saddlebags are soft panniers that sit on the back of your bike and are held in place with straps. Riding in inclement weather? These bags will still keep your stuff dry as they're waterproof thanks to thick vinyl material. Each bag can hold up to 20 liters of stuff and if you don't plan on stuffing them to the gills, they come with a plastic insert to keep their round open shape.
Dry Bag: Kriega US-10 Drypack
Going camping could mean that you need to carry your gear for a quick trek around the woods. If that's the case, Kriega's US-10 Drypack bag is a good option. Not only is it 100% waterproof, it has a universal fit to be able to be used on any type of motorcycle and can also be used as a tank bag, as long as you have the converter. The bag features 420D Cordura Lite fabric for a durable construction that should last for thousands of miles.
The best thing about the Kriega US-10 Drypack is that it can easily be removed and attached to one of Kriega's backpacks. Additionally, if you find that 10 liters of capacity isn't enough, the bags are modular, so you can hook on additional US-Drypacks for more storage.
Fuel: RotopaX Fuel Pack
Gas stations are sure to be in short supply when you're out trekking in the wilderness. Instead of keeping your fingers and toes crossed that you'll eventually find a gas station, keeping an external fuel tank strapped to your bike is a smart move. Large fuel tanks can be bulky and difficult to carry on long trips, which is one thing that makes Rotopax's one-gallon tank a must-have.
The gas tank is leakproof, while the spout has a sure seal gasket so gas won't get all over your clothes or motorcycle when you're topping up your tank. These gas tanks can be connected to one another for extra fuel storage or be used as water storage. If you plan on doing that, we recommend Rotopax's white water pack and designating that for water-only use.
Tools: Cruztools SpeedKIT
Accidents are bound to happen and things are probably going to break. Planning your camping trip with this in mind will make it far less stressful when something actually does go wrong or break. For when things do go wrong, having Cruztools' SpeedKIT is great in a pinch.
By no means is this an extensive kit, but it comes with the essentials and is something you can build off of. It's also incredibly small, capable of fitting into most OEM tool cavities, so you won't even know it's there. While this specific kit is for Japanese motorcycles, Cruztools sells others that are meant for specific brands and motorcycles from certain countries.
Tent: MSR Hubba Tour 2
Spending a few days away from a large, comfy bed can test one's sanity if you have the wrong tent, especially if the weather is bad. Luckily, MSR has thought about how difficult camping can be and has come out with the cozy Hubba Tour 2.
The Hubba Tour 2 can comfortably house two people, but its real selling point is the attached chamber that can be used for a variety of things, like a makeshift kitchen, a place to keep soaked gear, or a hangout spot. Thanks to the tent's Xtreme Shield coating, dual doors, and external pole system, the inside of the tent stays nice and dry, even when it's pouring outside.
Tent: Lone Rider MotoTent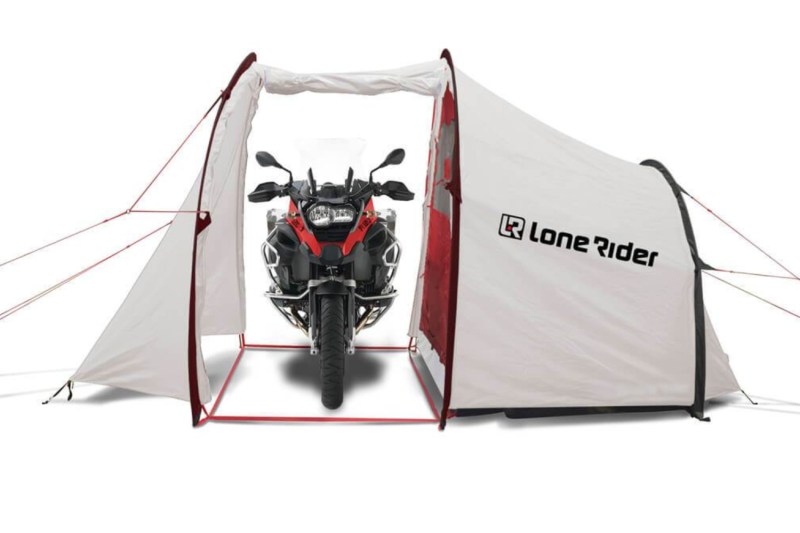 Unless you're camping in a secure location, keeping a watchful eye on your motorcycle can be a tiring task. If you're really camping out in the wilderness and want to keep your motorcycle safe or just away from the elements, the MotoTent is designed to do just that.
The MotoTent has enough space for one or two riders, all of their gear, and one adventure motorcycle. Tipping the scales at just 12 pounds, the company claims this is the lightest tent with a motorcycle canopy available. Beyond coming with an area for your motorcycle, the MotoTent also has a detachable inner tent that can be used as a garage or a large vestibule.
Sleeping Bag: Mountain Hardwear Lamina 15F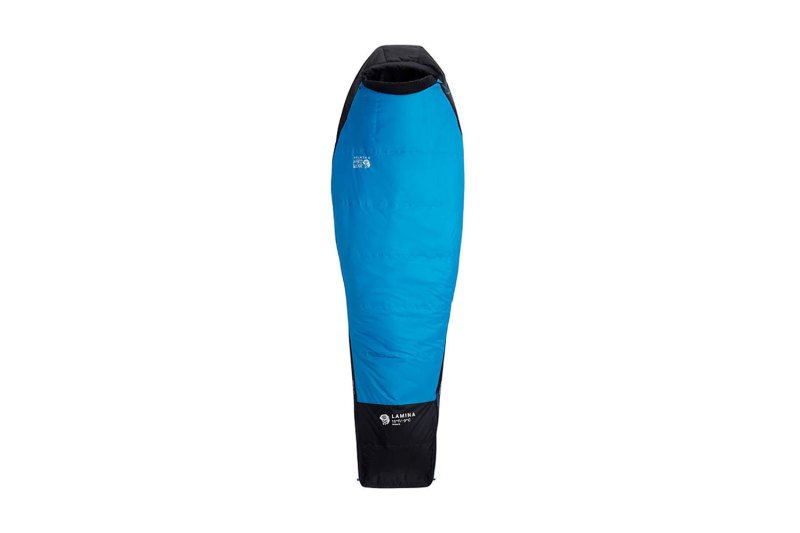 There are a ton of different sleeping bags on the market, but we recommend going with one that has synthetic insulation, like the Lamina 15F from Mountain Hardware. Unlike down feathers that can get weighed down by moisture, the ThermalQ insulation in this sleeping bad won't lose its loft when it's wet.
Mountain Hardware claims that the Lamina 15F has its proprietary, welded Lamina construction that eliminates cold spots, making this sleeping bag a good choice for camping trips during colder months. Additionally, the sleeping bag's shaped draft collar, tailored hood, and contoured foot box are all engineered to keep you as warm as possible.
Sleeping Pad: Sea to Summit Ultralight Insulated Air
Just as the name implies, this sleeping pad is meant to keep you comfortable, regardless of whether you're sleeping on a beach or on the side of a mountain. Regardless of where you decide to lay your head, the sleeping pad will make sure you're comfortable thanks to its dual-layer technology that can be pressurized independently. The top layer can be adjusted based on your comfort level, while the bottom is meant to protect you from rough terrain.
The cell design of the sleeping pad is designed to mimic a mattress by keeping warm air against you. The sleeping pad's stuff sack can double as an inflator bag to keep moisture from getting inside the pad, while an anti-microbial coating prevents mold from ruining the insulation.
Charger: Anker PowerPort Solar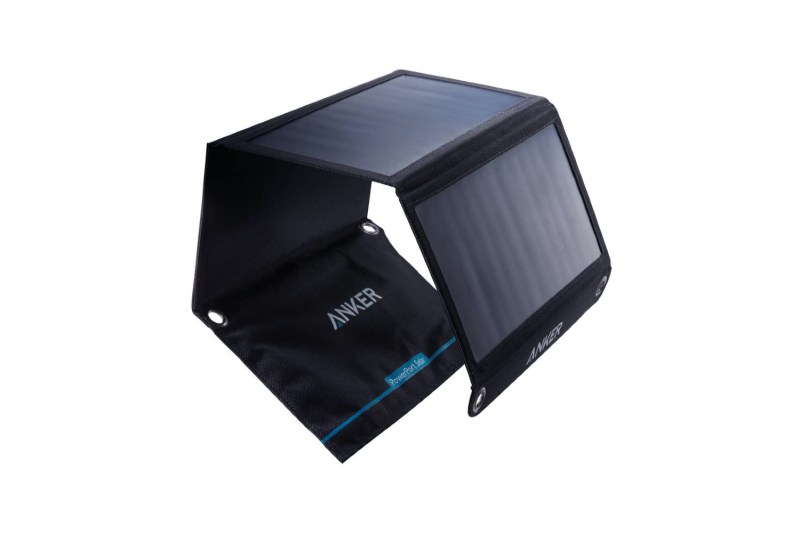 While your camping trip may take you outside of cellphone overage, you'll probably still need to use your phone, eventually. Unless you plan on spending most of your trips looking for Starbucks, you'll want to bring along a solar charger. Wrap this around your bag, keep it out in the sun while you're taking a break, or strap it onto your motorcycle to soak up some rays while you ride and you'll be able to charge a variety of smart devices.
Anker's Solar Panel 21-watt solar panel is 21.5-23.5% efficient, which should be enough to charge two devices simultaneously. The solar panel features industrial-strength PET polymer-faced solar panels are sewn into a rugged polyester canvas for strong weather resistance. The best thing about the solar panel is how small it is, easily being able to fold into a bag.
GPS: Garmin GPSMAP 66i
Heading out into the wilderness on a motorcycle can be fun and exciting, but getting lost can dampen spirits quickly. Whipping a map out and sprawling it out over a motorcycle tank can be difficult. Instead of a map, riders heading into the wilderness should pack a Garmin.
The GPSMAP 66i is a rugged GPS system that's meant to help people go to remote areas. The system comes preloaded with TopoActive maps for the U.S. and Canada, providing users with a birds-eye image of the surrounding area. When paired with a compatible smartphone, the GPS system can provide you with rear-time forecast information and live weather radar, so you can put up your tent before things get bad. If you happen to find yourself in an emergency situation, the GPSMAP 66i can send out an SOS to the GEOS 24/7 search and rescue monitoring center to send help your way.
Stove: Jetboil MiniMo Stove
After a hard day of riding, there's nothing better than a warm meal. Even if you're not cooking a five-star meal, warm food is far better than cold food. The quicker you can get a hot meal going the better and the Jetboil MiniMo stove can reach a rolling boil in a little over two minutes. And it won't take up a lot of space in your pack either, as it weighs just 14.6 ounces.
The MiniMo stove comes with a 1-liter cooking cup with an insulated cozy, while a metal handle also makes cooking food easier. A push-button igniter and precise simmer control give Jetboil's MiniMo stove an extra sense of versatility that other stoves don't have.
Coffee: Aeropress Go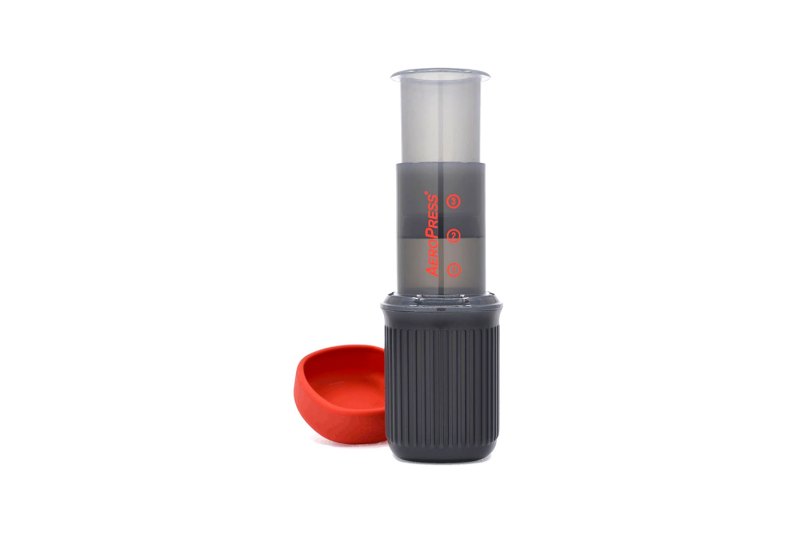 Coffee somehow tastes even better when camping. There's some good news out there for coffee lovers that simply can't live without a cup. AeroPress lets people make a good cup of coffee wherever they'd like with the AeroPress Go, which is centered around traveling. It comes with everything you need to make everything from espresso to cold brew. The system also comes with a mug to enjoy the coffee.
Unlike other coffee makers, the AeroPress Go is all about being compact. Compared to the regular AeroPress system, the Go has smaller equipment that includes a folding stir stick, a shorter chamber, and a redesigned plunger. With its compact size, you don't have to feel guilty about packing the Aeropress Go for a camping trip.
Food: Patagonia Provisions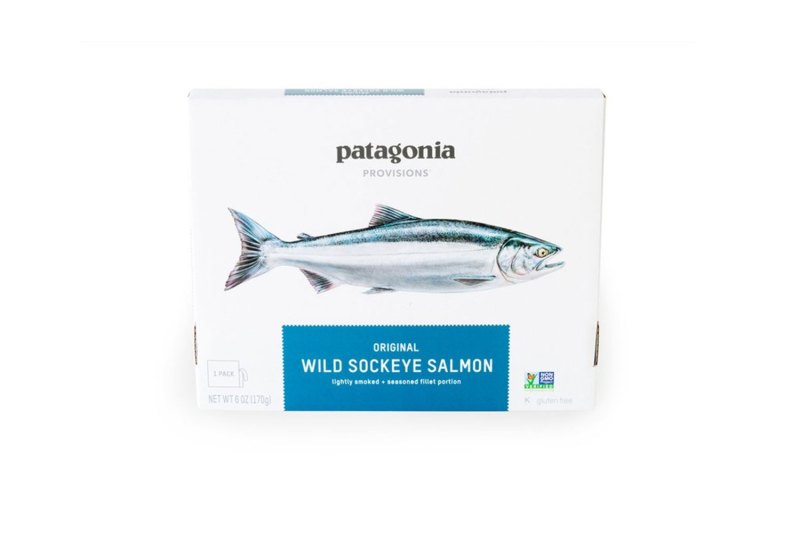 Forget about those awful MRE military rations. Camping meals have come a long way and campers now have more options than ever before to get meals that actually taste good. The company that is known for making some of the best equipment for people with active lifestyles entered the food scene in 2012. Just like its clothing, Patagonia offers campers with a premium product that's not harsh on the environment.
Patagonia offers a dizzying selection of food choices that range from salmon and mussels to spicy buffalo jerky and organic dried pineapple. Depending on what you're looking for, some of Patagonia's meals can be opened and eaten anytime, while others are supposed to be rehydrated with water. Either way, you're getting some great camping food.
Editors' Recommendations