Everyone has that one friend that decides to show up late to the party, making a massive scene in the process. Ram is the kind of person that arrives two hours late to a party and blasts through the door wearing a tie dye suit when everyone else is wearing shorts and t-shirts. This is exactly what Ram is doing with the upcoming all-electric Ram 1500 REV, as it's looking to blow existing options like the Ford F-150 Lightning and GMC Hummer EV with up to 500 miles of range.
When Ram unveiled the 2025 1500 REV earlier this February, it was light on details. At this year's New York Auto Show, Ram was a little more forthcoming about the truck's specs and they're mega. Based on the truck's initial figures, it looks like Ram has learned from Ford, GMC, and Chevrolet and has set its sights on becoming a leader instead of a follower.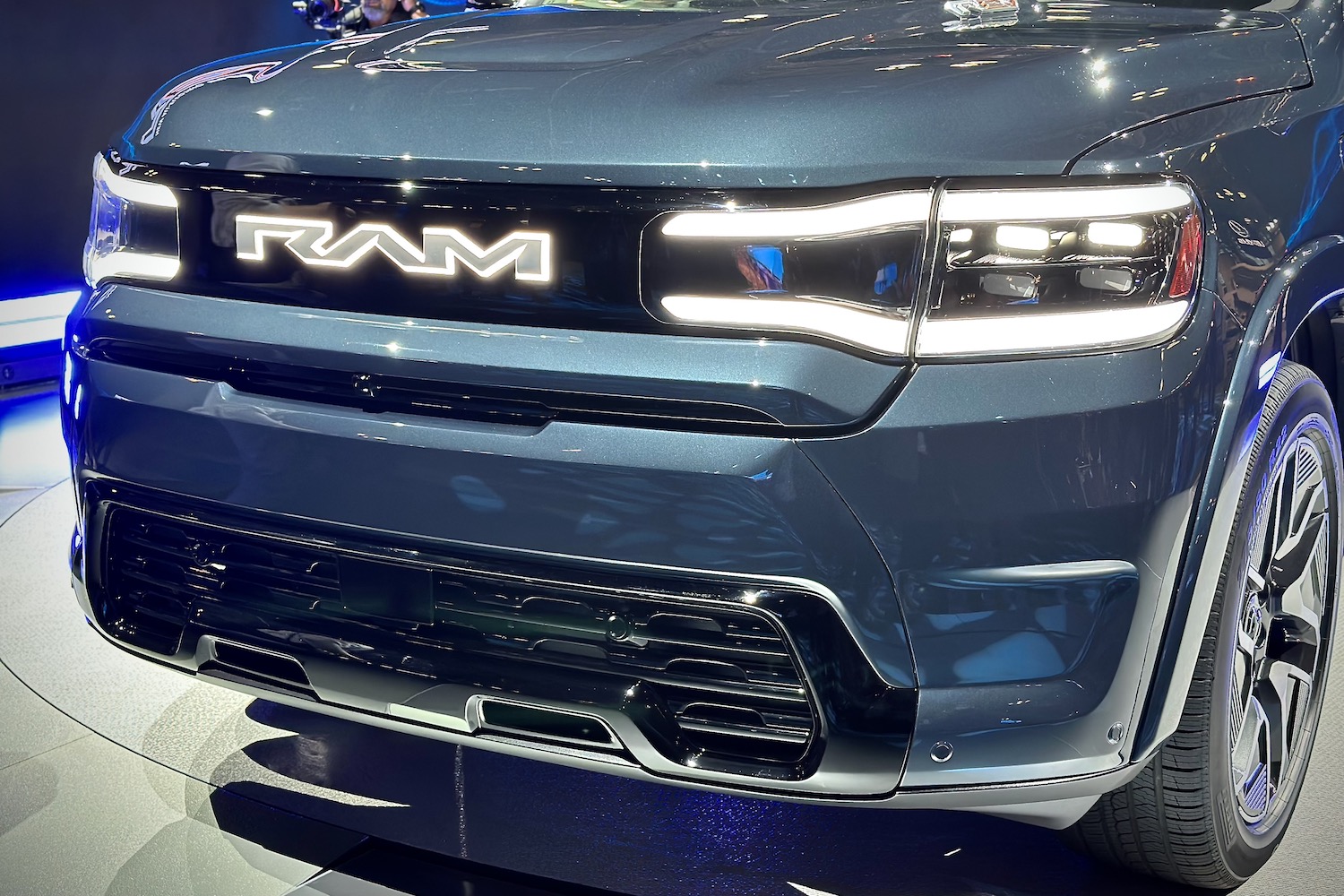 The 1500 REV will come with dual electric motors that make up to 654 horsepower, which should be good enough for a zero-to-60 mph time of 4.4 seconds. In a move to increase efficiency, the electric truck's front axle comes with an automatic wheel-end disconnect that allows the front wheels to spin freely when extra traction isn't needed. Towing capacity will max out at 14,000 pounds and payload capacity will top out at 2,700 pounds.
The truly staggering figures have to do with the truck's battery options. The 1500 REV will come with a 168-kWh battery pack as standard that's targeting 350 miles of range. A long-range option will be available and come with an enormous 229-kWh battery pack with roughly 500 miles of range.
These battery pack sizes may not sound special, but the largest battery pack in the Ford F-150 is a 131-kWh unit with up to 320 miles of range. The GMC Hummer EV is offered with a 212.7-kWh battery pack that brings 329 miles of range. Larger trucks require a larger battery pack – that's physics at work. But having a target range of up to 500 miles with a pickup truck is astounding. The Lucid Air is currently the longest range EV on sale with up to 516 miles of range, so the 1500 REV will be right up there.
The 1500 REV will also offer rapid-charging capability to where the truck can gain 110 miles of range in just 10 minutes. The incredibly fast charging rates come from the truck's ability to charge at rates of up to 350 kW. Like some of its competitors, the 1500 REV will offer vehicle-to-vehicle, vehicle-to-grid, and vehicle-to-home bi-directional charging. Ram will offer the 1500 REV with an onboard charging system that can pump out 7.2 kW of electricity to smaller items.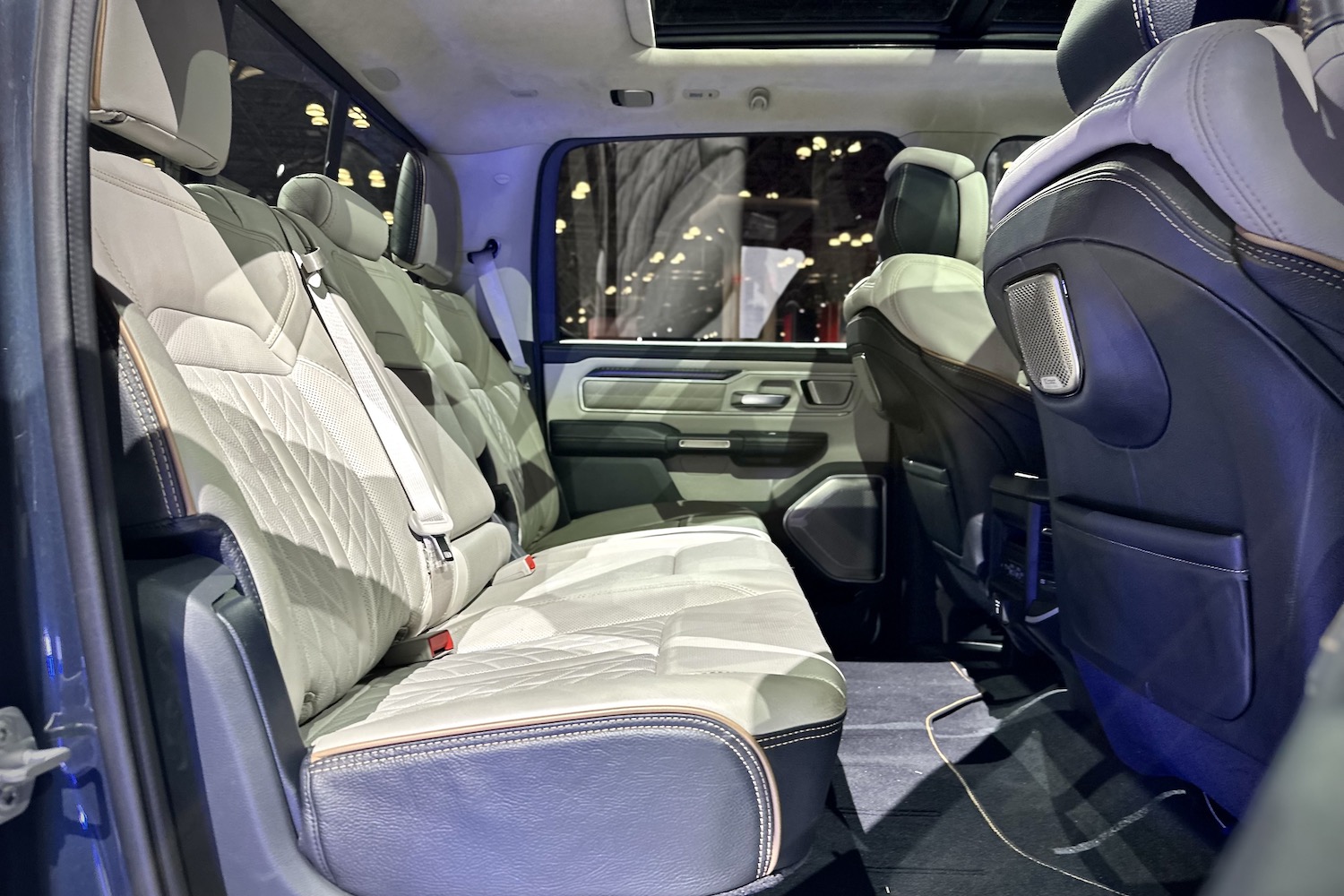 At the NY Auto Show, Ram showcased the new range-topping Tungsten trim. It will sit at the top of the lineup that includes the Tradesman, Big Horn/Lone Star, Laramie, and Limited. The Tungsten looks incredibly high-end – something Ram trucks have been alone in doing well in the truck segment – with a two-tone color scheme, upscale materials, and loads of tech.
Speaking of the tech, the 1500 REV is going to be available with enormous screens. The central touchscreen measures 14.5 inches, and there's a 12.3-inch digital instrument cluster and a 10.25-inch screen in front of the passenger. The infotainment system will feature unique EV pages to show passengers information on things impacting range, power flow, and charging schedules.
Ram is expected to begin production of the 2025 1500 REV in the fourth quarter of 2024. Deliveries of the pickup truck are set to begin at the beginning of 2025. With such an enormous battery pack, we expect the Dodge Ram 1500 REV to be pricier than other electric vehicles in the pickup segment.
Editors' Recommendations