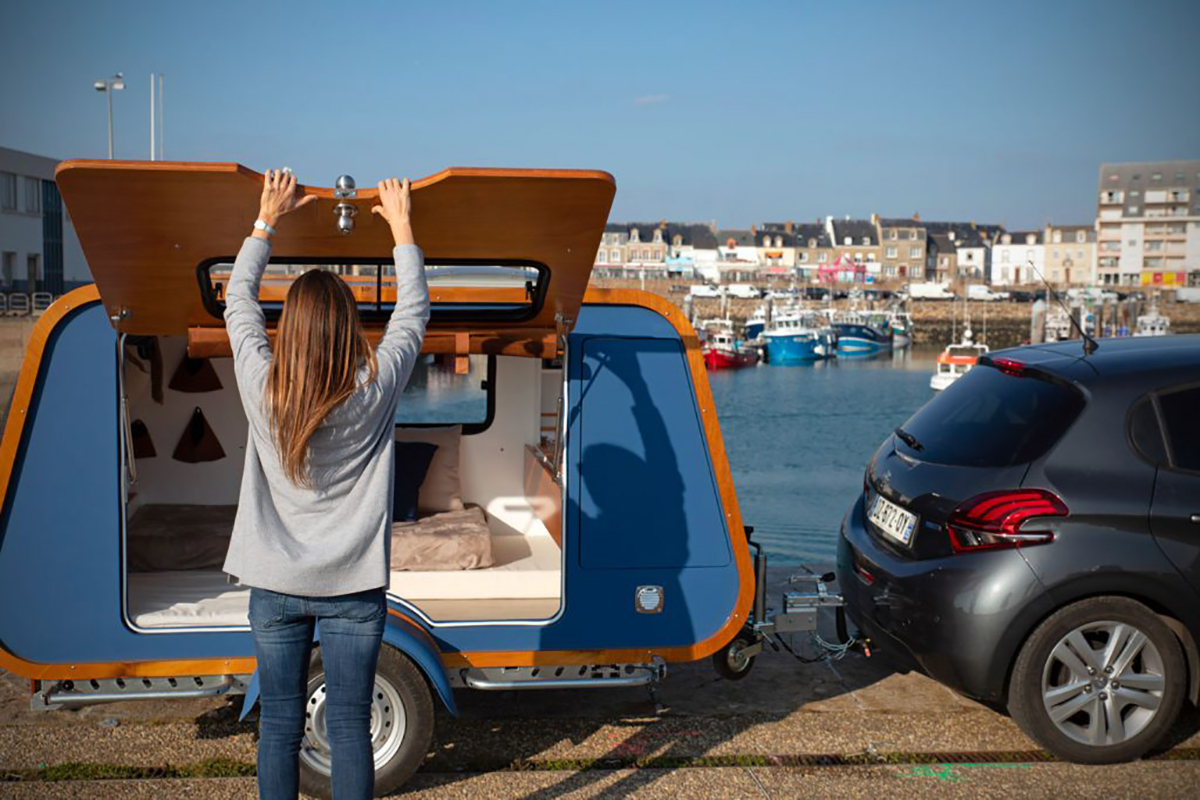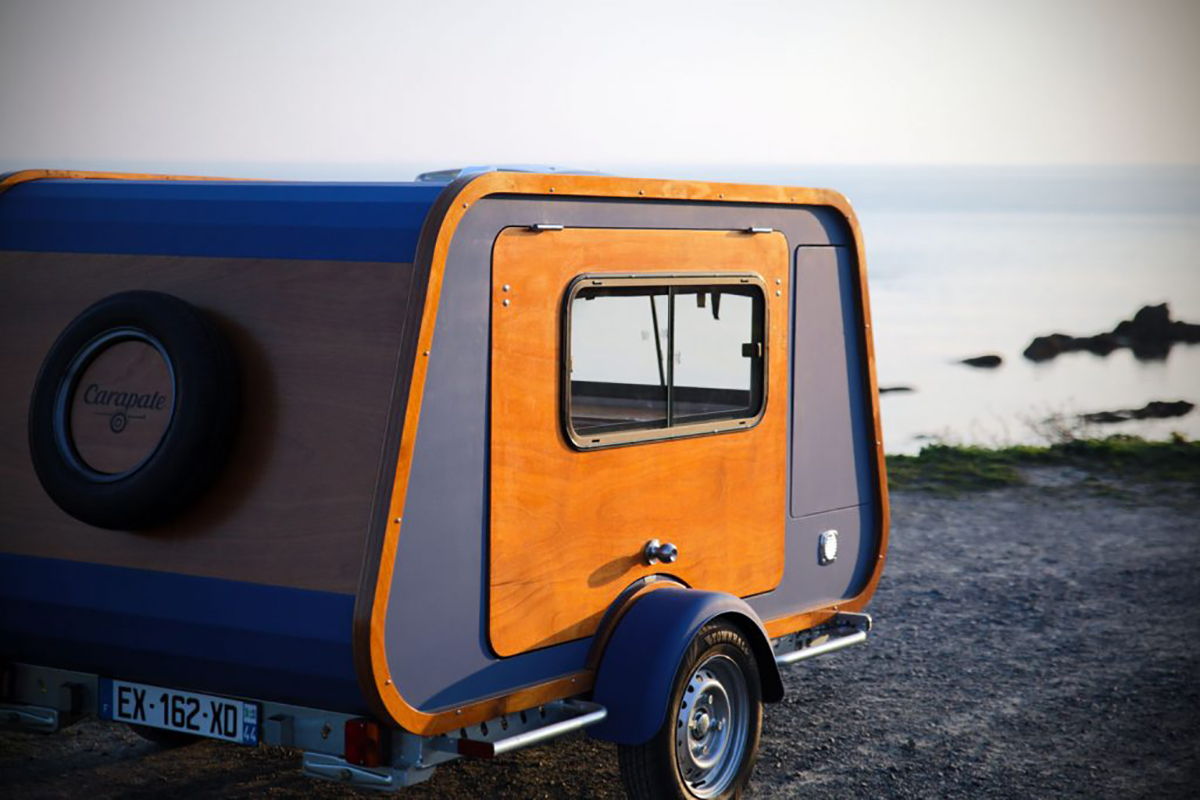 In the last decade, teardrop trailers have come back in a big way. Today's models eschew the bare-bones, ultra-minimalist designs of the 20th century in favor of more stylish, full-featured alternatives that appeal to young road-trippers and vanlifers. The newly announced Carapate teardrop trailer is no different.
At first blush, French-based Carapate Adventure's namesake Carapate teardrop trailer stands out. The trapezoidal, blue and natural wood exterior recalls classic yacht designs of the mid-1900s. It's a distinct, playful, and unique aesthetic that would feel perfectly at home in just about any Wes Anderson flick. Oversized windows and a large hatch make it clear that the trailer's focus is on bringing the outside in. Although it's larger than most classic teardrop trailers, the entire affair weighs just 990 pounds — towable by even a Prius.
It's more than just a pretty face, however. The interior was designed with the same thoughtful attention to detail. At night, three single-sized mattress pads cover the floor to accommodate twin campers. By day, the pads stack to form a single front-facing sofa or a lounge-like L-shaped couch. A window platform at the front can also be converted into a child's bed with an optional sleeper kit. That same platform functions as the trailer's kitchen. The clever design allows for cooking inside the trailer, or the entire drawer can be pulled outside for open-air meal prep. Generous storage space is provided throughout via lightweight leather and canvas pouches tacked to each wall.
Like its streamlined design, the base level Carapate offers only the essentials: three mattresses, a kitchen drawer, ample storage, a spare tire, and stabilizing jacks. Customers can upgrade with a long list of comfort and convenience options including LED lighting, multiple USB ports, a solar kit, a 110Ah battery pack, and a complete kitchen with a stove, sink, and two-way gas/electric refrigerator.
Road-trippers have more compact trailer options now than ever before. Weight-obsessed travelers can splurge on carbon fiber models like the sub-300-pound T250LX from Earth Traveler that can be towed by just about anything with a motor. For the design-conscious, the angular and futuristic Polydrop Travel Trailer looks like something out of Blade Runner. For hardcore adventurers, manufacturers like FIM Caravans offer off-road trailers designed to go almost anywhere.
According to an interview with Carapate's co-director Fabien Denis, pricing will range between €14,000 and €18,000 (roughly $15,600 and $20,150). You'll also need to pick it up in Europe, but you've no doubt been looking for an excuse to tour French wine country anyway, right?
If you're looking to enjoy the charms of sleeping in a retro camper but can't live without proper hotel amenities, check out these hotels that are actually restored vintage travel trailers.
Editors' Recommendations