Every year, automakers make some phony press release for April Fools Day. Typically, they don't fool anyone, but Aston Martin's story about a monster truck competing in Monster Jam was actually almost plausible.
The reason an Aston Martin monster truck was halfway believable is because the British luxury vehicle manufacturer has branched off into some pretty obscure products lately. Porsche, Ferrari, and other exclusive car brands put their logos on apparel and home goods, but Aston Martin designs entire apartment buildings. Mercedes-AMG and Rolls-Royce have their own powerboats (Aston Martin does too), but no other luxury brand has thought of personal transport beneath the surface of the water.
This week, Aston Martin broke new, uh, water with the introduction of its co-developed submarine. Revealed online ahead of its public debut later this year, Project Neptune is engineered by Triton Submarines and designed by Aston Martin for exclusive underwater travel.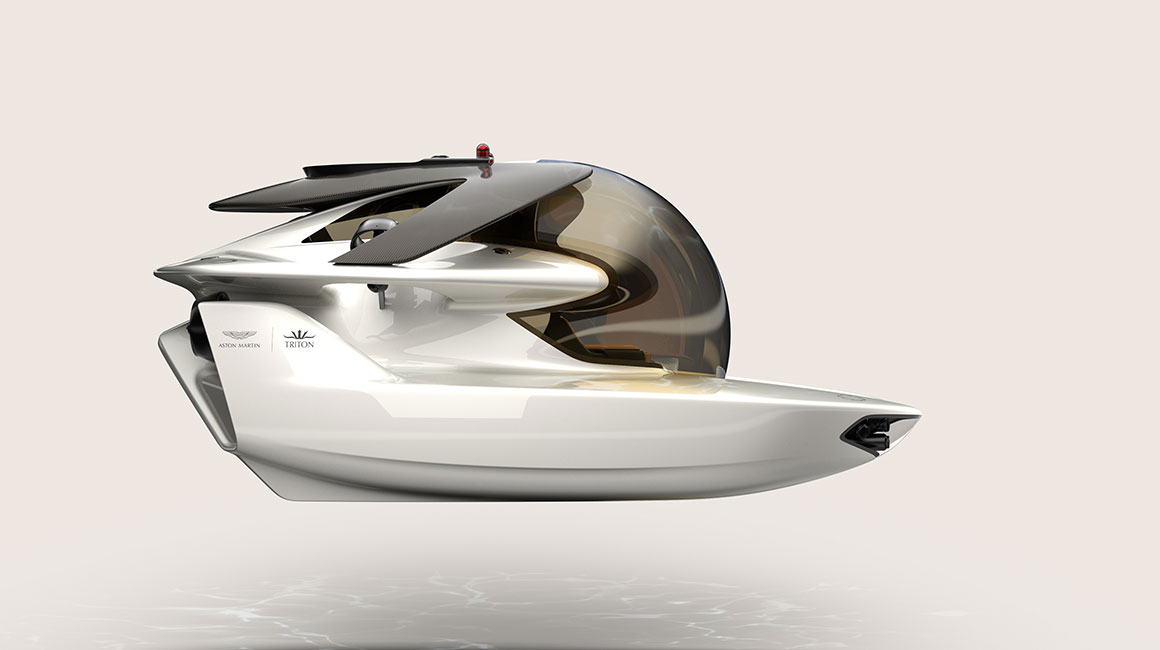 Aston Martin says the sub has the right blend of performance, beauty, and elegance, while Trident says the craft is safe, reliable and offers its passengers near 360-degree visibility. Project Neptune's final technical specifications have been announced as well: the submarine will be able to dive to depths of 500 meters and carry two passengers and a pilot. By improving the hydrodynamic efficiency, reducing frontal area, and increasing the power, Neptune will have an anticipated sprint speed over 5 knots and approximately four times the acceleration of Triton's current flagship, the 3300/3 model.
"The exterior design of Project Neptune owes a lot to the pursuit of performance," said Marek Reichman, Aston Martin EVP and chief creative officer. "As with the Aston Martin Valkyrie hypercar, we have afforded as much attention to the hydrodynamics of the underside as we have the visible surfaces. Some of that detail may never be seen, but its effect will certainly be felt."
Reichman goes on to describe the challenges of building a submarine, including the fact that everything has to be installed through the top hatch and assembled within the small craft. Inside is a mix of typical Aston Martin fare, including rich leather, alcantara, and carbon fiber. Customization options will be available via Aston Martin's bespoke service, Q.
That all sounds impressive (especially to those of us who know next to nothing about subs), but really, all we care about is whether this little sub will appear in the next James Bond film. We won't hold our breath, though (because Neptune has a pressurized hull).
Editors' Recommendations