Why do we watch James Bond? Is it so much for the nifty gadgets, the sleek cars, or even the action sequences? After innumerable hours clocked in front of Ian Fleming's oeuvre, we think not. What Bond really gives us is a taste of the exotic. His habit of cruising from one visually stunning, impossibly far-flung locale to the next, while remaining perfectly pressed, coiffed, and confident, revives our sense of intrigue from its routine-induced coma.
However, if 007 marathons aren't doing it for you like they used to, maybe it's time to take the next step and book a trip to one of these five hotels worthy of the international superspy.
Luxury destinations they certainly are, but their chief offering is an exotic state of mind. For those in search of heady intrigue and sensory adventure, these hotels are as hedonistic and refreshing as a certain martini.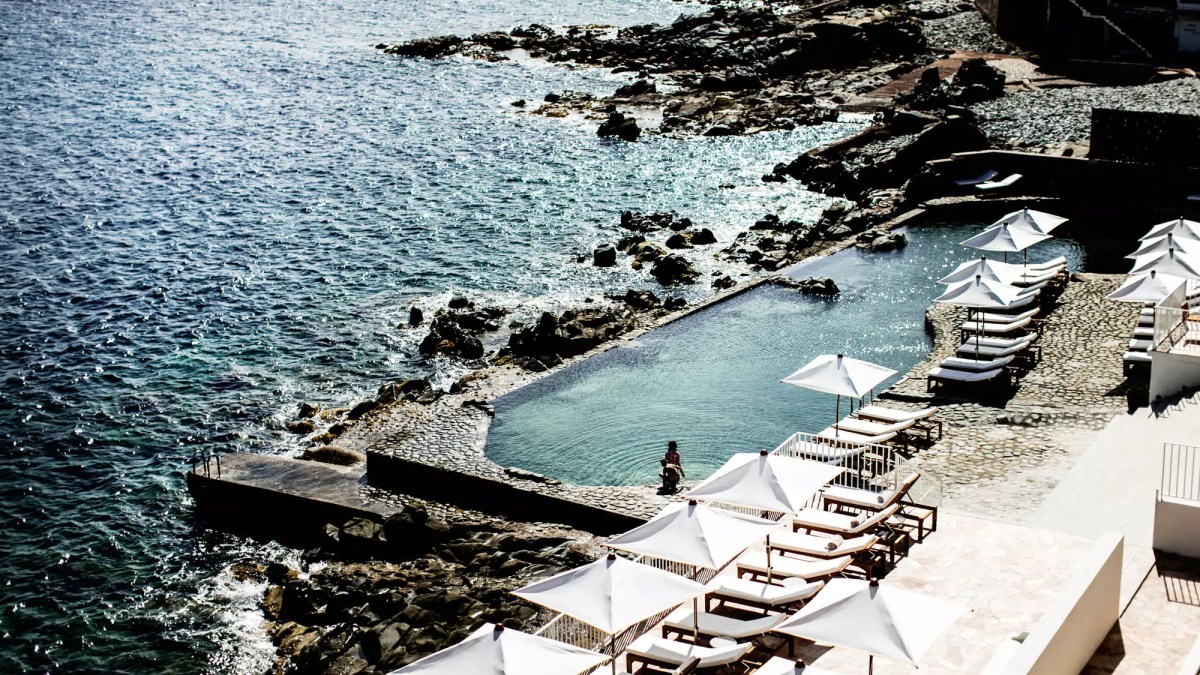 Saint-Raphaël, France
Your contact will meet you on the patio overlooking the sea. She will be wearing a black cocktail dress and drinking a martini. When you're alone, ask her "if she's a lucky roulette player." Oh, and Bond? Stay out of the pool.
Hotel Les Roches Rouge would be an idyllic place for Mr. Fleming to write a new installment about film's greatest spy. The hotel says "holidays are experienced to the rhythm of the sea and the sunlight," but we know the night has rhythms of its own, and it's hard not to imagine yourself in Bond's shoes when you're sipping your favorite cocktail beneath the moonlight during a stroll through the garden.
When a hotel's website offers directions to the hotel via car, plane, train, and helicopter, you know Mr. Bond would feel right at home during a stay at this modernist French Riviera delight.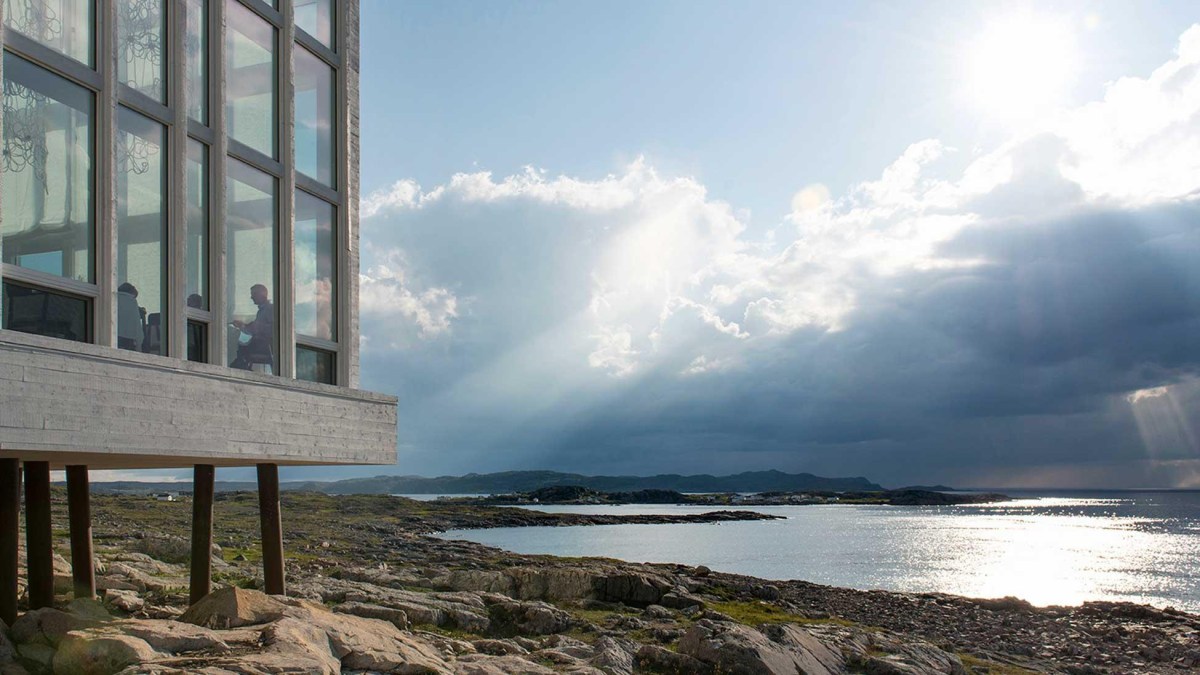 Fogo Island, Canada
Bond has faced off against the greatest villains of the last century in locations all over the world, but if memory serves, he's never faced a Canadian (probably because they all have such damned delightful temperaments). If an evil Canadian should ever exist, he or she might do worse than building a lair on Fogo Island. Sedimentary, volcanic, and igneous rocks combine here to form a perfect landscape from which a giant missile could appear as it slowly rose to the warning sirens of an (evil) countdown.
Long before the countdown began, James Bond would have closed the door to his Flat Earth suite and made his way to the lounge for a libation to get the night started. The Fogo Island Inn is a retreat to "one of the four corners of the earth," in style. The kind of style that offers a library, a cinema, and a fourth-floor rooftop deck housing wood-fired saunas and two outdoor hot tubs.
Designed by Newfoundland-born, Norway-based architect Todd Saunders, this magnificent inn is perched on stilts and hugs the North Atlantic coastline just waiting for a land-sea hybrid vehicle to expel from its frothy waters and deposit a well-coifed Bond onto the veranda. The parallel lines of its windows serve as a contrast to the jagged rocks holding up this architectural wonder.
Sölden, Austria
High in the Austrian Alps is the Hotel Das Central, a place where spies, foreign dignitaries, and even Americans may "enter the realm of Alpine luxury" — a place that would require 007 to bring his best skinny skis and his white goggles should he want to enjoy the slopes to carve some turns or escape some Russians.
This five-star hotel allows guests to experience "smart luxury and the highest quality service" in the heart of the Ötztal Mountains of Austria. Perfect for those looking to embark on a culinary adventure, distinguishing guests can end the night enjoying 21st century fondue in a 19th century (-looking) wine cellar. (If Roger Moore didn't eat fondue as Bond, he sure did as Roger.)
Rooms are 007-level (classy, refined, and luxurious), the spa is perfect after a night battling goons, and the gourmet options will satisfy you throughout your holiday, no matter the length. But when your tuxedo is on and your cufflinks meticulously positioned, you'll want to sit down on one of the soft leather chairs in the cigar lounge with a glass of wine. As always, be aware of your surroundings. Trust us.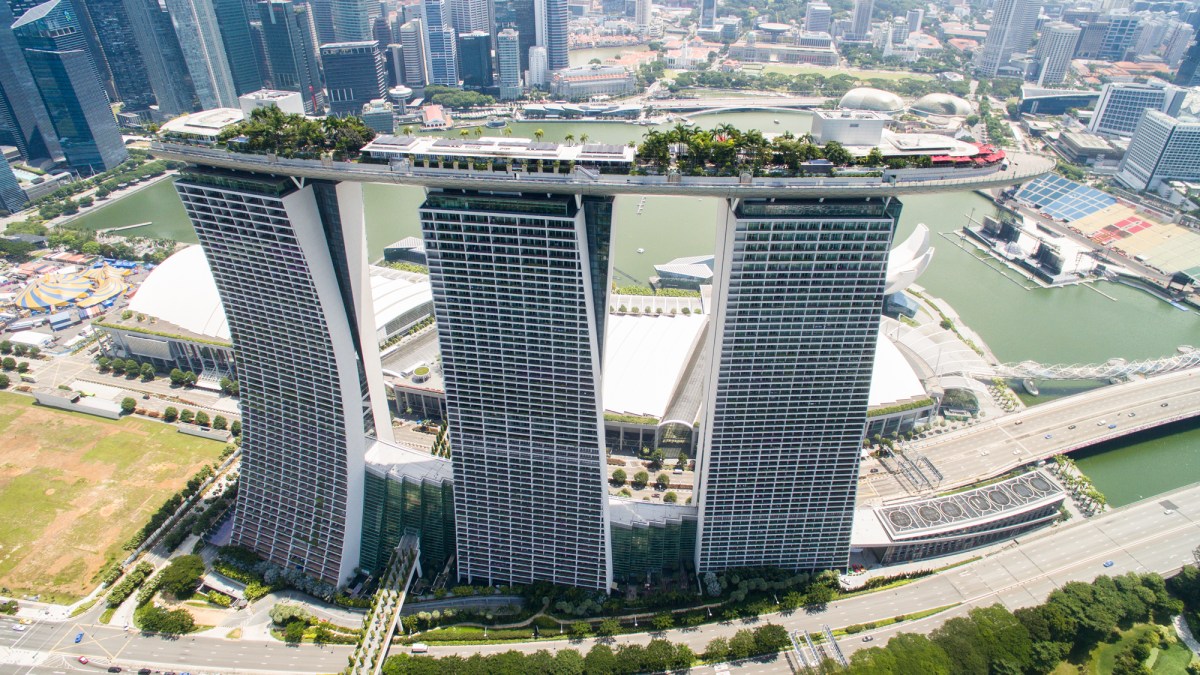 Singapore
One look at this hotel will have you wondering how a 007 movie hasn't been filmed here yet. This five-star hotel in Singapore is a modern architectural marvel and elite destination all in one. The hotel looks like three towers with a boat sitting across the tops. It's almost begging for a fight scene to be shot on the top level.
Looks aside, this luxury accommodation has everything a spy looks for in a relaxing, Southeast Asian holiday. The fitness club is 55 stories above the city and offers a helluva view as you run on the treadmill. The award-winning Banyan Tree Spa will pamper even the most hard-to-please agent. World-class cuisine is available 24 hours a day and room service is rarely brought to your room by an assassin.
Club55 is the location for the scene in which our man-tastic special agent meets the Bond girl of his dreams. That is, until she pulls a double-cross on the Skydeck and 007 is forced to use the latest Q gadget to his advantage.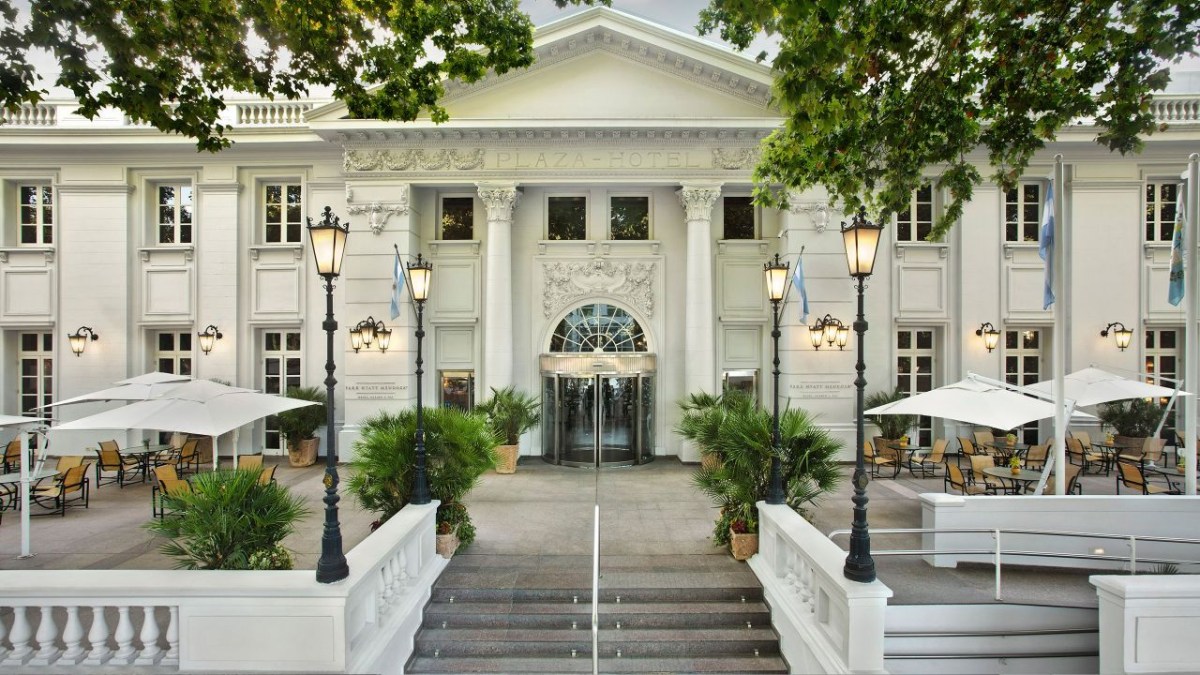 Mendoza, Argentina
For those that say there aren't enough James Bond missions in the southern hemisphere, we offer the Park Hyatt Mendoza as a more than adequate setting for his next adventure. This Argentinian hotel, casino, and spa looks the part with a beautifully restored, 19th-century Spanish colonial facade. Located in one of the wine capitals of the world, the hotel offers an array of exquisite dining opportunities to go with a local red or white.
Western Argentina offers plenty of activities in the areas around the hotel during which your plot may twist in any number of directions. From horseback riding, whitewater rafting and sport fishing to biking, rock climbing and skiing, adventurous outdoor opportunities abound.
Las Terrazas de la Plaza is a casual lounge consisting of large terraces overlooking Plaza Independencia. It really sets the hotel apart from anything one can see in the U.S. The sophisticated atmosphere is perfect for meeting friends or the occasional arms dealer. The onsite casino is an inviting option for all high-class men of intrigue with a penchant for games of chance or skill, if you please.
Editors' Recommendations