You could say Aston Martin is on a product-launching roll these days. In three years, the British luxury carmaker has introduced three variants of its DB11 grand tourer and a new Vantage. Before long, we'll also see a new Vanquish and the company's first SUV, the DBX.
While impressive, none of these vehicles can contend with the automaker's latest act. On Sunday, April 1, Aston Martin unveiled Project Sparta, a monster truck based on the forthcoming DBX. You read that right: Aston Martin is getting into the monster truck game. Set to compete in America's Monster Jam, Project Sparta will square off against such legends as Grave Digger, Big Kahuna, Ice Cream Man, and Jailbird.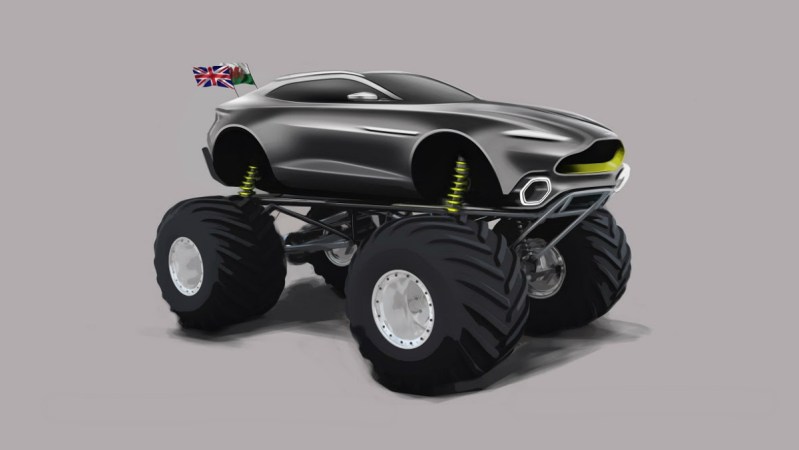 Monster Jam will become Aston's third motorsports endeavor of late, joining bids in Formula One and the FIA World Endurance Championship. Developed under the guidance of David King, vice president special operations officer andpresident of Aston Martin Racing, Project Sparta will use the same 6.5-liter, naturally aspirated V12 designed for the recently unveiled Valkyrie AMR Pro, producing 1,100 horsepower. You need a whole lot of grunt to move those massive tires.
Aston Martin says the build is part of the company's "Q by Aston Martin Commission," and Project Sparta is being constructed for a private owner. At the customer's request, three-time Le Mans winner and Aston Martin Racing Works driver Darren Turner will compete in all Monster Jam events in 2019. Let the record show that if Turner is busy, I will happily sub in.
"Winning the 24 Hours of Le Mans was a real thrill last year, but when I heard about this opportunity I just couldn't say no," said Tuner. "I hope the guys line up a great selection of cars for me to tear apart, because I'm sure this monster truck will really do the business".
An Aston Martin monster truck is so bonkers, so spectacular — we really wish it were happening. Alas, as you've no doubt suspected, this is one brilliant April Fool's joke from a company that's known for taking performance and luxury very seriously. If, by some miracle, Project Sparta is built (by an overzealous engineer), we'll be sure to let you know.
Editors' Recommendations