I've never struggled to keep secrets. Some people can't wait to spill the beans on a juicy tidbit of information — scratching the itch as if it's unbearable not to divulge. By contrast, I find satisfaction in serving as a confidant for those who need to share but can't afford to let details slip through the cracks.
As much as I enjoy being a fortress of information, the secret I've kept these past three weeks has felt torturous. Earlier this month, Aston Martin offered a private viewing of its all-new Vantage sports car with the clear instructions not to take photos or disclose any particulars about the car.
"No problem," I thought.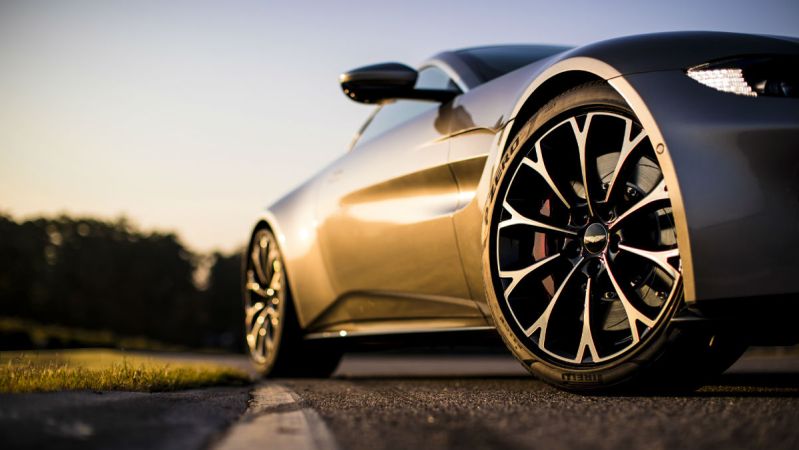 Then I saw the car. Suddenly, the prospect of keeping this accomplishment under wraps felt like I was being asked to run a marathon — on my hands. Somehow, though, I kept a lid on everything. But no longer; here comes all the empirical and visual goodness without restriction.
Let's start with some context. Aston Martin's Vantage is both the British automaker's entry-level model and its most aggressive. Other models may be more powerful, but the Vantage is Aston's purest expression of performance. Look no further than the last and greatest version of the previous generation: the 565-horsepower, rear-wheel drive, manual transmission Vantage V12 S. "Ludicrous" would be an appropriate description for that car — until you see the new one.
Aston Martin says its new Vantage has a "predatory stance," and while brands have a tendency to embellish, that's a pretty accurate description for this car. While only slightly wider than the current car, the new bodywork makes the Vantage look a full foot broader and significantly lower. Its muscular design incorporates plenty of aerodynamic elements, including a front splitter to channel air under the car towards the rear diffuser, side gills to pull air from the front wheel arches, and an integrated rear spoiler for downforce.
Inside, there are a few styling traits pulled from the new DB11, but the cockpit is largely original. I was given a chance to sit inside and found the design to be both intuitive and immersive. A lower seating position and sharper styling cues further the exterior's rapacious image.
Beneath the new sheetmetal is a bonded aluminum structure with a solid rear subframe and adaptive dampers. The new Vantage is the first Aston Martin to use an electronic locking differential. Dynamic torque vectoring and Dynamic Stability Control work in conjunction with the e-diff for responsive handling according to drive mode or driving behavior.
Perhaps most significant to the new Vantage is its 4.0-liter, twin-turbocharged V8 (developed in conjunction with Mercedes-AMG). An impressive 503 horsepower and 505 pound-feet of torque are channeled to the rear wheels via a standard ZF eight-speed automatic transmission (a manual is expected to arrive sometime later). The trip from 0 to 60 mph takes just 3.6 seconds and top speed is 195 mph.
New looks, a new engine, and much more standard equipment merit an increase in price. When the first models become available in the second quarter of 2018, they will start at $149,995.
"A true sports car with a sharper look and a keener dynamic edge, the new Vantage is the Aston Martin pure driving machine enthusiasts have been waiting for," said Dr Andy Palmer, Aston Martin president and CEO.
Assuming the car's performance matches its design, we're inclined to agree.
Editors' Recommendations