Like many major motor companies, Ford has a tremendous racing pedigree; it famously took on Ferrari at Le Mans and won. The Detroit-based company has also dabbled in rallying, drag racing, and NASCAR — amongst other things. In order to compete at this kind of level, sacrifices have to be made. This usually means you'll never see a "race car" on the road, as they likely fail to meet any number of NHTSA requirements.
But if you really want to drive one of Ford's greatest engineering achievements to Walmart, to your kids' softball practice, or just down a particularly pleasant bit of country road, you can. Sort of.
The 2025 Ford Mustang GTD is a first for Ford. It was developed in tandem with the Mustang GT3 — an out-and-out racer that will compete at the 24 hours of Le Mans in 2024. Ford CEO Jim Farley explained the logic behind the GTD's development: "This is a new approach for us. We didn't engineer a road car for the track; we created a race car for the road. Mustang GTD takes racing technology from our Mustang GT3 race car, wraps it in a carbon fiber Mustang body, and unleashes it for the street."
Farley isn't joking. The new Ford Mustang comes with a host of features that have never been seen on a street-legal car. And while it's nice to have a racer you can take on the road, those wishing to get their hands on a GTD may have a hard time doing so. The GTD is set to retail from around $300,000 — which is to be expected for a cutting-edge supercar. But the money may not be enough. While there are no exact numbers, availability is "extremely limited." So a lack of friends in high places at Ford may be another barrier to entry.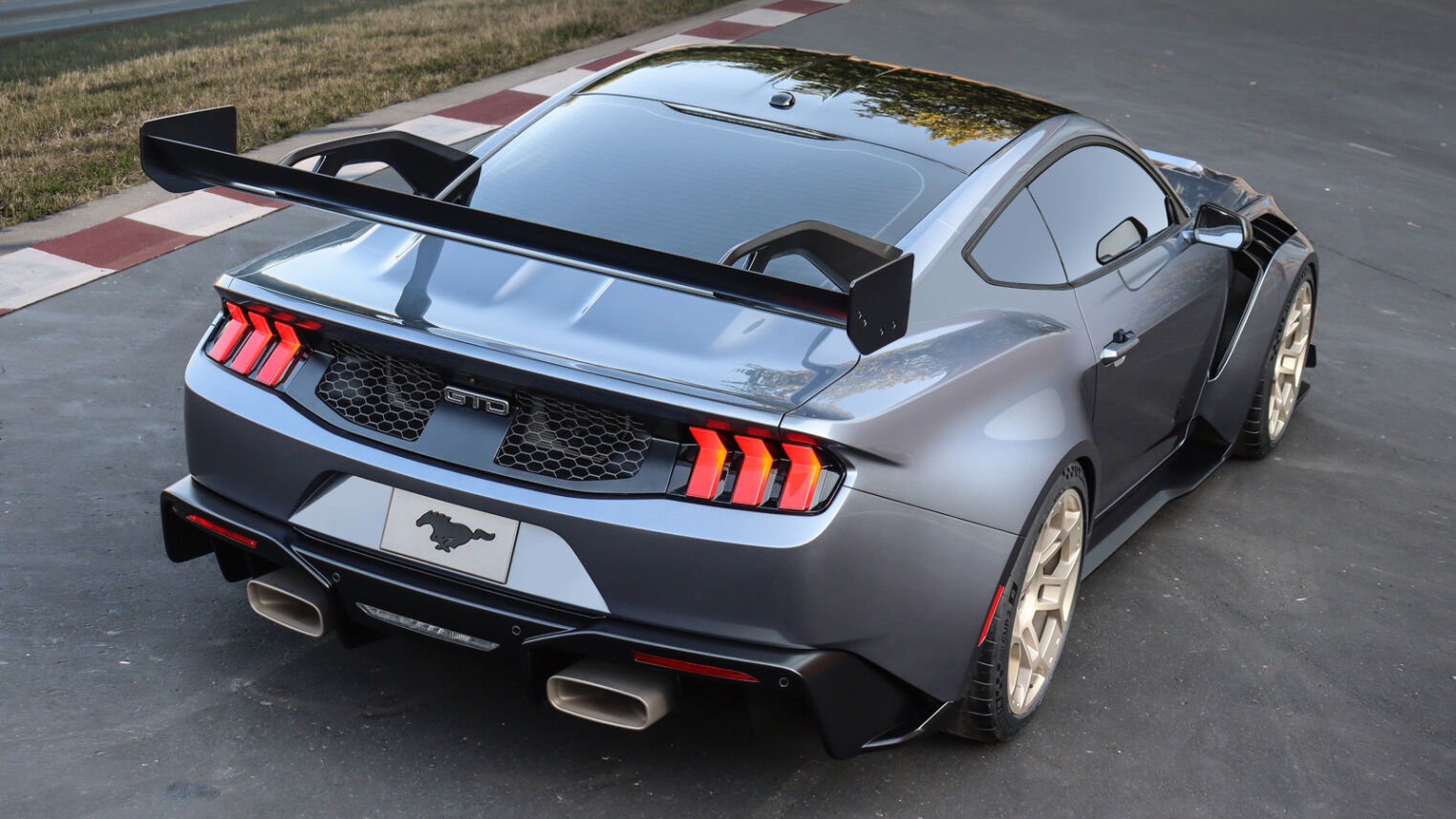 Carbon fiber, a new kind of suspension, and a lot of horsepower
If you do somehow get your hands on a Ford Mustang GTD, what will you actually be getting? In terms of raw power, the GTD has a supercharged 5.2-liter V8 that should get north of 800 horsepower. That vastly powerful engine won't be pulling much weight, as carbon fiber features heavily in the GTD's build. The body, rear diffuser, roof, fascias, undertray, interior, and even the drive shaft are all made of the durable, lightweight substance.
This isn't just a dragster, either. Ford aims to tackle the twists and turns of the 13-mile-long Nürburgring in under seven minutes. The vehicle's cornering ability is undoubtedly enhanced by the bodywork's aerodynamic features and never-before-seen suspension, which adjusts spring rate and ride height settings depending on conditions. Other features include carbon-ceramic brakes, magnesium wheels, an optional titanium exhaust, and many other tweaks that will undoubtedly give the Ford Mustang GTD a frankly obscene power-to-weight ratio.
The limited number of Mustang GTDs Ford will be producing are set to hit the road between late 2024 and early 2025.
Editors' Recommendations