Lamborghini Countach is one of the most iconic supercars ever made. If you were a kid in the 80s, you probably had its poster pinned on your bedroom wall while dreaming about how you would wish to own it one day when you grow up. It was the epitome symbol of success in the 80s, and even today, it's a beacon of nostalgia that takes you back to the Walkman days.
Besides its beauty, the Lamborghini Countach's allure is that it's extremely rare to find — only 52 Lamborghini Countach were originally sold in the United States. Lamborghini is reviving it with an electrified model, but if you grew up in the 80s, that may not be enough to tickle your fancy.
But what if you could get your hands on your childhood dream car? It's already up for auction on Cars and Bids. More succinctly, it's a yellow 1988 Lamborghini Countach 5000QV that was sold in the U.S. market. Since this Countach first left the factory, the car has only covered 10,800 miles and exchanged the ownership title three times over the past 35 years. It also doesn't have an accident history, and the maintenance schedule is up to date.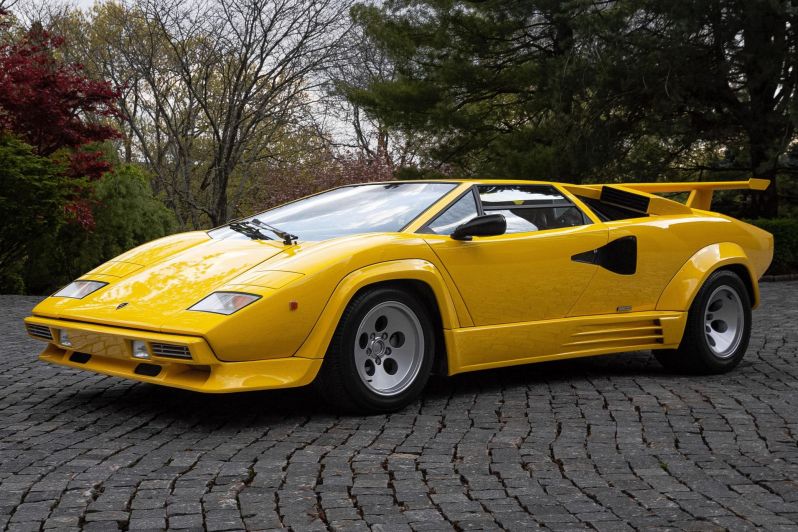 Under the hood, the Lamborghini Countach 5000QV is fitted with a 5.2-liter V12 engine and a 5-speed manual transmission that can produce 414 horsepower to the rear wheels. In fact, the 5000QV is one of the fastest Countach models ever made — it should be capable of hitting a top speed of 183 mph and accelerating 0 to 60 mph in less than 5 seconds.
What makes this specific Lamborghini Countach 5000QV even more special is that only nine similar models were painted yellow, or "Giallo Fly," out of the factory. Even better: the car looks exactly like it did on your bedroom poster, and only the front bumper, exhaust, fog lights, reflectors, and rear bumper have been slightly modified to European specifications. Everything else is in stock, and beautiful. Keep drooling, we won't blame you.
At the time of writing, the highest bid was $355,000, with less than 48 hours to go before the hammer drops. However, the bid could go higher considering that Lamborghini Countach 5000QV is an extremely rare supercar, and most car collectors would love to own it.
Editors' Recommendations