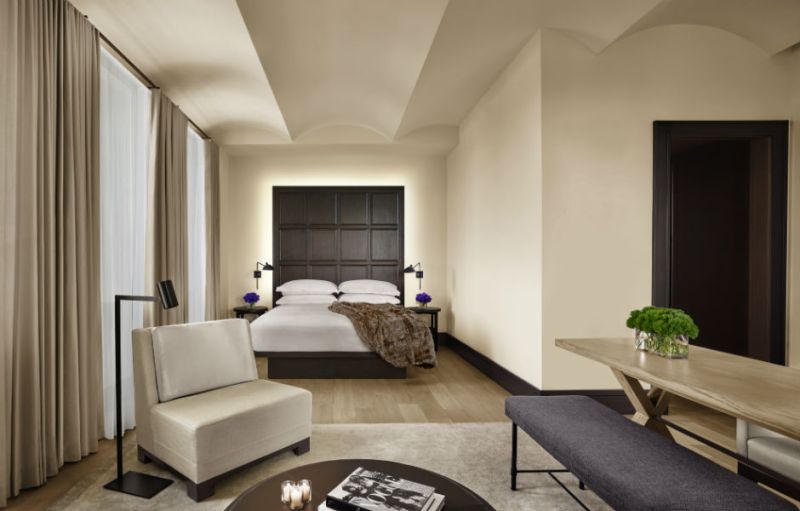 Ian Schrager's EDITION Hotels has some of the coolest accomodations in the world; its London location is the place to be during London Fashion Week, and during Art Basel in Miami Beach, the Miami Beach EDITION hosted some of Miami Art Week's best parties. This May The EDITION will open its doors in New York's Flatiron District in the Clocktower building right across from Madison Square Park.
The New York EDITION will no doubt be one of the coolest places to stay and socialize once it opens. With 273 rooms that feel like residences, a 2,900-square-foot restaurant, a lobby bar, and a fitness center and spa.
When you enter in one of The New York EDITION's 273 guest rooms, which were designed by architect David Rockwell, through a dark oak wood paneled foyer, you feels as if you're entering a luxury New York apartment in the 1920s. Several of the suites come with 180-degree views of Manhattan, and if you're lucky enough to stay in the 1,400-square-foot penthouse, you'll have 360-degree vistas. Set up your workstation at the extra long and deep floating white oak desk that was inspired by French designer Jean-Michel Frank. When you're ready to sleep, indulge in luxurious bed.
In the mood for a bite? Head over to the restaurant, which is helmed by hot young London chef Jason Atherton, who has set up a menu that Atherton told Bloomberg Pursuits would be "like a slice of old England in a modern New York hotel." The vast space will feature three dining rooms, a parlor with a billiard table, and a library.
So if you want to be on the pulse of what's cool in New York, book a room in The New York EDITION pronto, and if that's a bit too much, head over to its restaurant, which is sure to be the next spot to see and be seen in the Big Apple.
For more information, visit editionhotels.com/new-york.
Photo by Nikolas Koenig
Editors' Recommendations