Here's something they won't teach you in school: The United States has more than one canyon! Really, it's true. The Grand Canyon is big and beautiful, but it's not the only chasm in our land worth visiting. Our canyons stretch from New York to Hawaii, span the spectrum of colors, lengths and foliage and all may be experienced in various manner, by your outdoor-loving self. September and October make some of the best canyon-experiencing times in 'merica—gone are the hoards of tourists and face-slapping heat. And since you've all heard about the Grand Canyon, and that crazy Bright Angel Trail, here are ten more must-do canyon hikes to check off the list.
1—Antelope Canyon, Arizona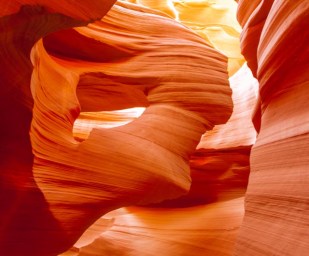 Thank you flash floods and sandstone for bringing this sublime slice of naturally occurring artwork to planet Earth. This slot canyon has long been a sacred sanctuary of the Navajo Indians on whose land Antelope Canyon is still located, but it only opened to the public in 1997. Since then, canyon hikes here have been filled with tourists, no thanks to that movie about James Franco getting trapped in there; not so great for photos or feeling the vibe. So here's a little secret: Canyon X. Not only is the name more badass than Antelope, but it's not too far away and is so off-road that it's nearly impossible to get to without the help of a guide, which means less tourists. It's not as big, but it's just as photogenic and way more quiet.
2—Bryce Canyon, Utah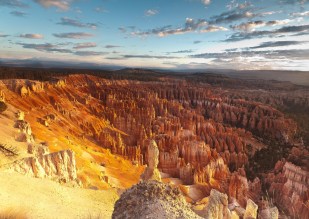 Fun Fact: Bryce Canyon isn't technically a canyon. It's the side of a plateau, but that's not stopping us from slapping this copper colored knock-out on this list of good looking canyons. That's because of hoodoos, those magical spires of rock that can be as tall as a 10-story building and make this place look like someone scythed a cave clear in half and let the sun shine in. We suggest taking a Full Moon hike down to an area called the "hoodoo graveyard". This is the largest concentration of hoodoos on Earth, and if they want to call it a canyon because "plateau side" doesn't sound as catchy, we're cool with that.
3—Providence Canyon, Georgia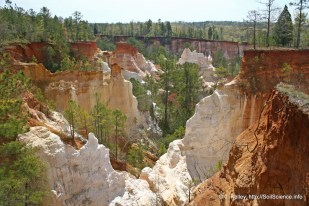 The shocking thing here isn't that the Peach State has a canyon or that it's remarkably beautiful, but that it was caused only 150 years ago by accident. The 1000-acre area of gullies—16 canyons in total, was formed when farms first moved into the area. They felled all the trees to make way for farmland, and then watered the soil into this hyper-erosive state. The cows and chickens are long gone but there are three miles of fairly easy hiking trails (they're often muddy) that traverse the vibrantly colored walls as well as camping sites to soak up the beauty overnight.
4—Hell's Canyon, Oregon/Idaho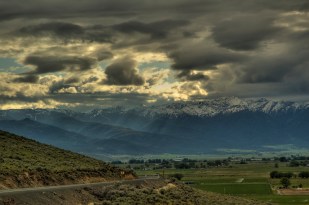 Sure it's the deepest gorge in the US, sinking about 8000 feet from its rim, but what you'll find most profound is the striking, 213-mile scenic byway encircling the Wallowas Mountains that flank it. But then again, who needs roads when you've got rapids—get down to the bottom and whitewater the gorge's creator—Snake River. It's an absolute must. Check out the Hell's Canyon Trail, one of the few places where cars can drive down to river level. You can get your rafting kicks or have a go at the 12.1-mile trail, that pretty much follows the course of the river. For you campers, it's all about the 56-mile, four to six day rim to river loop.
5—King's Canyon, California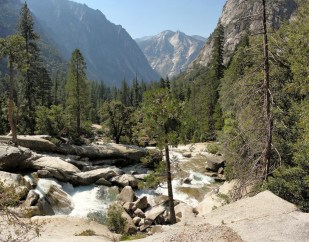 Some argue that this, not Hell's Canyon, is the deepest canyon in the country, but who really cares when it's stocked with so many damn, good-looking trees? It's home to the largest remaining grove of sequoia trees in the world and John Muir, the Yoda of naturalists, called this place a rival to Yosemite. No big deal. Tree admirers should quickly do the half-mile walk to General Grant Trail, and then check it off the list—it's full of tourists. The better, less crowded experience is the four mile Redwood Canyon hike. But best of all is the ridiculously beautiful, 41-48-miles long Rae Lakes Loop that is considered one of the best in the Sierras. It goes through the John Muir Trail and offers a view of the Rae Lakes at 10,500 feet before a backdrop of cragged, Sierra peaks.
6—Black Canyon of the Gunnison, Colorado
With the steepest walls of any canyon in the country, the bottom only gets 33 minutes of sunlight a day. That means all of the area's best hiking and scenery-soaking is done along the rim on the 7.2-mile round-trip North Vista Trail that takes you to Green Mountain for a jaw-dropping view. That is, unless you're experienced in canyoning and borderline crazy, in which case you may attempt to scramble the sharply inclined and mostly hidden path littered in dead ends, poison ivy and bears.
7—Ausable Chasm, New York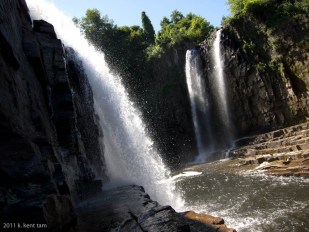 The Ausable Chasm might not be the biggest, baddest slice into Earth, but it sure is pretty. Waterfalls abound, hiking hits the spot and there's rafting, tubing, rappelling, mountain biking, rock climbing and even late night lantern tours. Adventure hounds should check out the aptly named "Adventure Trail," where you crisscross over the Ausable Riber along a ferrata—it's not backpacking the Appalachian, but you'll get your fix.
8—Red River Gorge, Kentucky
Tucked away in Daniel Boon National Forest, this series of misty, tree-lined canyons are one of the best rock climbing spots in the East. Climbers like to call it simply, "The Red". If you're not hiking up walls, walk along the floor—it's a lush forest that passes through plenty of waterfalls and over 100 natural sandstone arches.
9—Waiamea Canyon, Hawaii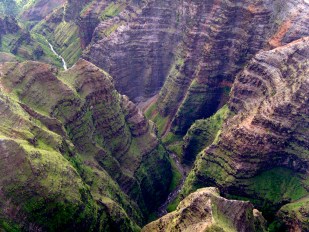 Thanks to the devastatingly beautiful Na Pali Coast, you're not traveling to Kauai to walk around a canyon, but just inland from the famed coastline, is this place dubbed "The Grand Canyon of the Pacific." The ten mile long and mile wide chasm is nearly vacant of visitors and is largely considered one of the most colorful gorges on Earth. The most popular walk is the 3.4-mile Canyon Trail that takes you to Waip'o Falls, and a gorgeous view that opens up into the mountains.
10—Grand Canyon of the Yellowstone, Wyoming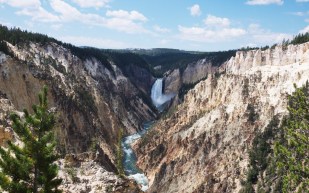 Okay, so it's not really fair to include any portions of Yellowstone National Park, which will always win beauty contests, but how could we not mention the subject of this famous Thomas Moran Painting that was used to convince congress to protect this land anyway? Basically, the definition of picture perfect. Try the South Rim Trail, six easy miles that skirts past the bus tours, or go for the 11-mile round trip Seven Mile Hole Trail. It passes active hot springs and is popular with fishermen.
Photo Credits: Antelope Canyon Flickr User Frank Kovalchek, Ausable Chasm Flickr User Kent, Black Canyon of the Gunnison Flickr User Mark Byzewski, Bryce Canyon Flickr User Al King, Grand Canyon of the Yellowstone Flickr User Clay Shonkwiler, Hell's Canyon Flickr User bcdixit, King's Canyon Flickr User Miguel Viera, Providence Canyon Flickr User Soil Science, Red River Gorge Tina Karle, Waiamea Canyon Flickr User Ben Browne
Editors' Recommendations