While airplanes have been expanding for decades, the amount of personal space afforded to each passenger has dwindled to almost absurd levels. Even JetBlue's relatively "capacious" seats offer just 34 inches of legroom. Now, it seems the only way to pack more of us into an even smaller space is by adjusting not the seats, but the passengers themselves. Behold the "standing-room-only" airplane cabin.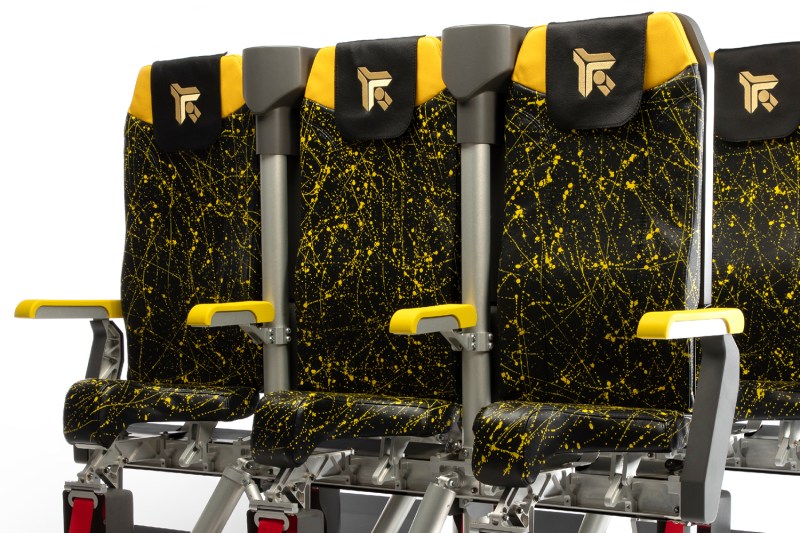 Aviointeriors unveiled their "forward-thinking" (we're using that term very liberally here) Skyrider 3.0 design at this year's Aircraft Interiors Expo 2019. The concept photos hint at a strange future where passengers in some cabins could spend entire flights in a near-standing position. The seats are similar to a horse saddle where a passenger's legs would straddle a raised middle section designed to keep them in place. Opponents decry that the saddle-like design looks anything but comfortable, especially when you consider the legroom is a scant 23 inches. Aviointeriors' retort is that cowboys can ride horses for hours in relative comfort. Still, they admit that these seats would only be viable for short-haul flights of no more than three hours.
The design comes at a time when airlines are desperate for ways to both cut costs and put more asses in more seats. The Skyrider 3.0 concept would allow for cabins with an "ultra-high density" design capable of squeezing in 20% more passengers in the same amount of space. That the seats weigh half as much as standard economy class seats also mean reduced weight and lower maintenance costs.
The concept may sound crazy, but it's not new. In fact, it's been floating around since at least 2003 when Airbus first proposed the idea. In 2010, Ryanair announced they were looking into ultra-high density seating, though the concept never got off the ground. Aviointeriors reintroduced the concept as Skyrider 2.0 at the same expo in 2018 and Skyrider 3.0 is just the latest incarnation. So far, airlines and civil aviation authorities have yet to announce any official implementation.
If ultra-low-cost carriers like Spirit Airlines can offer roundtrip tickets from New York to Fort Lauderdale for as much as a decent bottle of bourbon, imagine how cheap standing-room-only airfare could be. We're not going to lie: We might be willing to forego the dignity of a proper seat if it means $20 flights from New England to the Florida Keys.
Editors' Recommendations