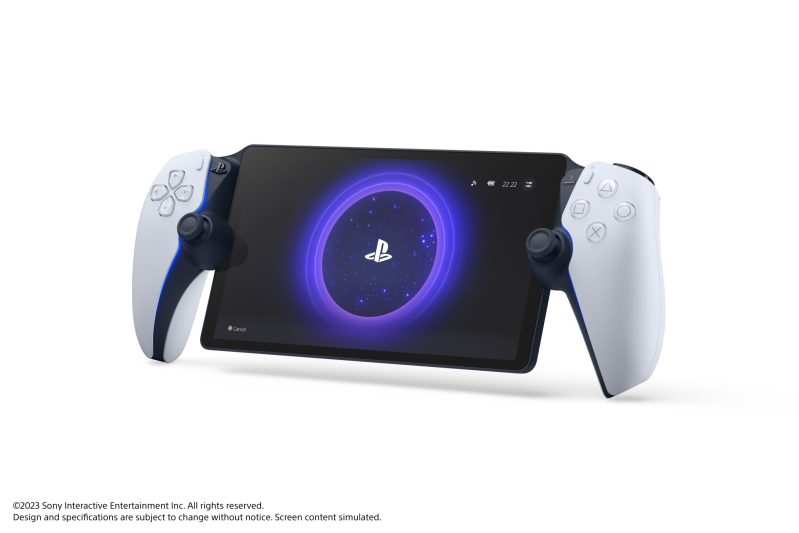 If you want to travel and play video games remotely, you can connect your smartphone to your PS5 at home using the PS Remote Play app. However, there are two limitations to using your smartphone or tablet to stream your PlayStation games. For starters, most smartphones don't have the ideal visuals to get the best performance out of PS5 games. But even if you own a smartphone with a display that exceeds expectations, you may find it inconvenient to use on-screen buttons.
Well, Sony has a solution for gamers who want a handheld gaming console that's better than a smartphone — it's called the PlayStation Portal remote player. It comes with an 8-inch LCD screen that can support 1080p at 60 frames per second. But the best part about it is that the LCD screen is sandwiched between a PS5 DualSense wireless controller. This means you can enjoy the full gaming pad experience, including the haptic feedback when you're playing your PlayStation games remotely.
Of course, you can travel with a PlayStation Portal remote player to enjoy your PS5 games anywhere in the world. The catch is that both your PlayStation 5 console and PlayStation Portal must be connected to Wi-Fi so you can play games remotely. According to Sony, you need at least 15Mbps Wi-Fi internet speed to have the best gaming experience on your PlayStation Portal — but if that's beyond reach, you can still play with a minimum internet speed of 5Mbps.
Using the PlayStation Portal remotely
If you're camping, the portable PlayStation Portal may not be convenient unless you have a fast Wi-Fi connection. However, most hotel rooms, Airbnbs, and airplanes have Wi-Fi speeds that can support the PlayStation Portal. Alternatively, you could use your smartphone as a Wi-Fi hotspot while traveling.
What about Bluetooth? Unfortunately, the Sony PlayStation Portal doesn't have Bluetooth connectivity to pair your wireless headphones or AirPods. Instead, Sony uses a new technology known as PlayStation Link, which enables you to connect its portable gaming device to compatible wireless headsets and earbuds. Since PlayStation Portal doesn't stream games from the cloud, you won't be able to use it if someone else is playing games on your PlayStation console at home. It also won't work if your home Wi-Fi is down or the PS5 console is unplugged from the socket. But once you set it up, you can wake up your PS5 console remotely using your PlayStation Portal.
The PlayStation Portal release date is November 15, and you can preorder it starting at $199. It's definitely cheaper than the Nintendo Switch or the Steam Deck. If you want the compatible PlayStation Elite headset, you can purchase it separately for $149. However, the Pulse Explorer earbuds are more expensive at a price of $199. As for the battery life, Sony hasn't disclosed how long you can play PlayStation Portal without recharging it — but it could be similar to the PS5 DualSense wireless controller.
Editors' Recommendations