The backstory of RV travel brand Drivin' & Vibin' reads like a rom-com penned by John Steinbeck. In a little town on the gulf coast of Alabama, musician Kyle and waitress Olivia met, fell in love, and dreamed up a life of freewheeling freedom. In 2015, that dream became reality — they set up housekeeping in a 16-foot vintage trailer, started an Etsy shop, and set off to discover America.
Today, Drivin' & Vibin' is more than just a couple living the van life dream. It's an online community of 100,000 (known as the Vibe Tribe) that shares a love of mindful travel, embracing nature, and living within one's means.
This year, Drivin' & Vibin' is making some big new moves: a new home in a 1979 Airstream (which they rehabbed by hand with no prior renovation experience), an off-grid approach to life on the road, and another significant development that you'll have to read to the end to find out about. We caught up with Kyle and Olivia to get the lowdown.
The Manual: Give the readers a little background about yourselves. What drew you toward a life on the road and how did you get started?
Drivin' and Vibin': We loved the idea of traveling the country and were inspired to see that some people actually traveled full time and lived a mobile life. We dove into research and found YouTube channels, blogs, and Instagram accounts of people documenting their journeys. We realized you could legitimately live and work from the road and what we once thought was reserved for expensive vacations, could become a normal part of everyday life.
Our Etsy Shop was our first mobile income stream and allowed us the freedom to begin this journey. We didn't know what to expect, so we also saved up a nest egg for emergencies and knew we could always pick up some music gigs or work at campgrounds along the way should our Etsy prove to not be consistent or sustainable.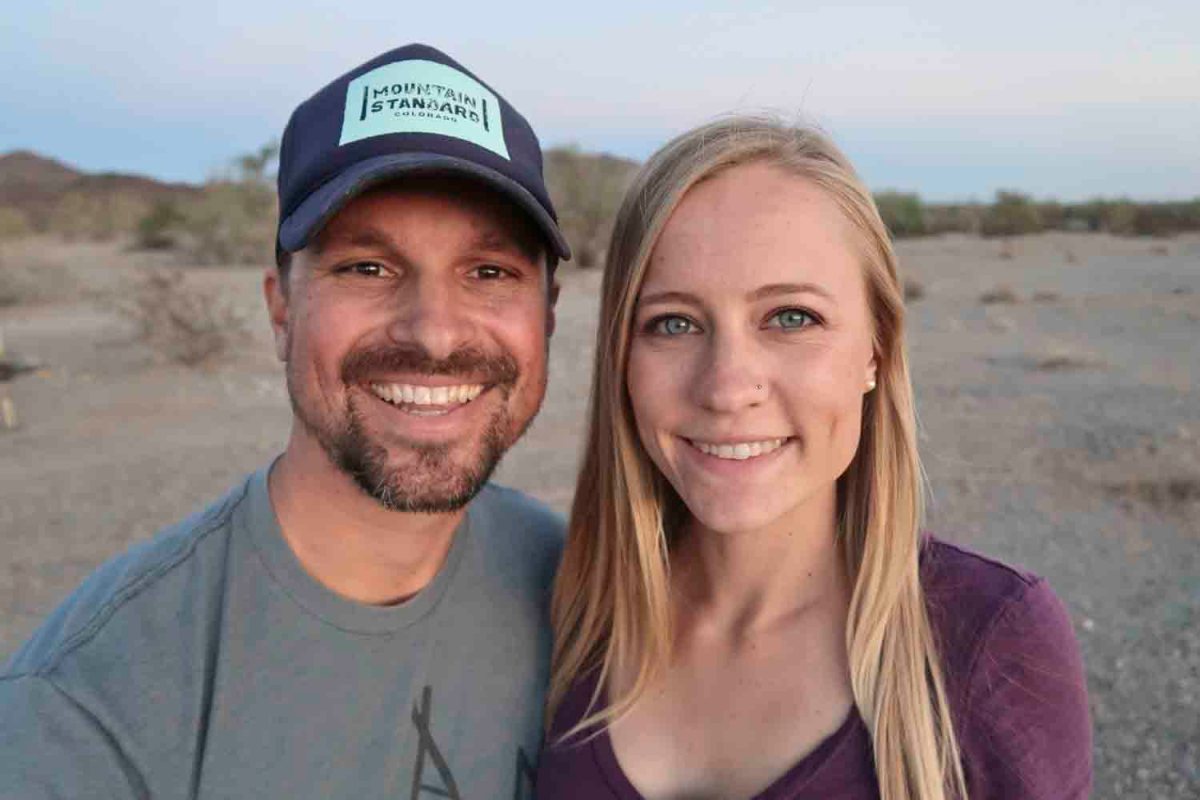 We wanted to be extra prepared for any and all possibilities, so we actually spent a whole year planning, saving, and finding the perfect rig to start our travels.
TM: Tell us about the details of your nomadic lifestyle. How often long do you usually stay in a given location? Do you have a home/crash pad that you return to sometimes?
D and V: We really live on our own time and schedule. Being self-employed gives us a lot of freedom with our travel plans. We may stay in a place a few days to a month depending on how we're feeling and how much we like an area. When we're ready for a change of scenery we may drive just two hours to the next spot.
It's not really about big destinations anymore and more about the journey as a whole. We definitely lived like tourists for a while but we realized that pace wasn't sustainable and being on the go constantly can be exhausting if we don't have time to actually settle in and get to enjoy an area. We do move rather fast though, we usually start getting antsy after about 2 weeks and are ready to change our view and explore a new area. It could be as simple as moving to the next town over though.
We don't have a home base really, although we keep our eye out for property and houses for potential future investments. We play a game where, when we find a place we love, we ask ourselves, "Could we live here?" Although I imagine any permanent residence would still be a part-time living situation where we go to recharge our batteries, because we can't imagine not traveling anymore.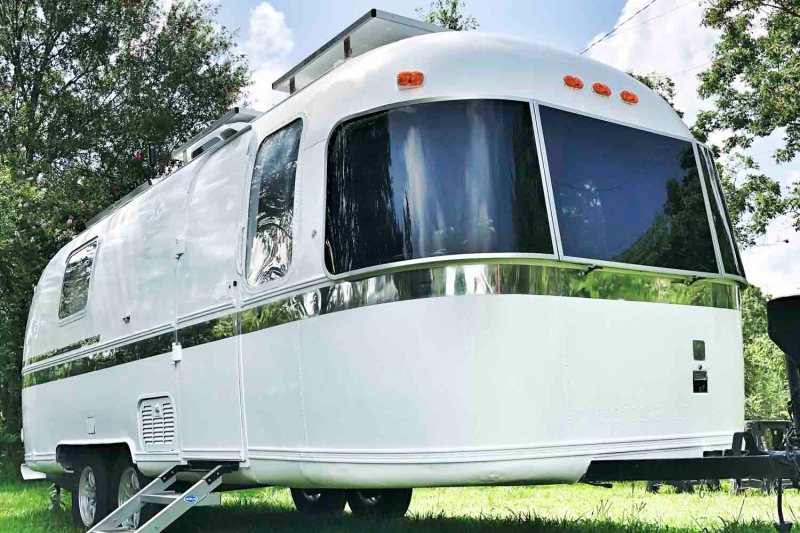 We also enjoy visiting our family all over the country and try to time our visits around the holidays. They always have a place for us to park while we visit.
TM: What do you love about living on the road? What are the challenges?
D and V: We love living on the road for the freedom it allows us, the diverse community, the many natural wonders and the unique small towns we fall in love with. We get to connect with so many people from all walks of life…whether it's a fellow RVer, a barista at a coffee shop, or a local farmer at a fruit stand.
We experience so many different cultures and communities and it's wonderful to see how kind and welcoming complete strangers can be and how eager they are to share their love and pride of their hometown with us. We learn all the best places to eat, where to find the best markets and soak up some local history while we're at it.
The biggest challenges we face are mostly just life things. Many people think living on the road is a permanent vacation, but a lot of our day is still consumed with mundane chores, laundry, grocery shopping, and balancing our work life. We might get a flat tire or need a truck repair occasionally, but mobile life requires maintenance just like living in a home.
I think the hardest part is probably being away from family for long stretches of time. We might only see them a couple months out of the year, but we try to fit in all our family and friends and we value our time together dearly when we are there.
TM: What motivated you to transition from an RV to an Airstream?
D and V: We started our travels in a small vintage 16-foot travel trailer. It was affordable and the right size to tow with our midsize truck. It was very important to us to start this journey debt free and keep our overhead as low as possible. We wanted as much flexibility as possible — both financially and with the types of remote campsites we could access if we stayed small.
We traveled in that rig for three years and it served us well as we learned the ropes. We definitely had outgrown it though and we're ready for a little more space to spread out and work more efficiently.
We still weren't ready to buy a brand new rig off the lot and honestly didn't care for the design of many of them. We decided we were ready for a project to build out our very own custom rig, so we bought a gutted Airstream Argosy, and drove home to pick it up and see what we got ourselves into.
We loved the vintage aesthetic and that the Argosy was a more unusual cousin of the classic Airstream. It seemed to fit with our current theme of giving vintage things a new life and we were excited to tackle this new massive project.
TM: What guided your renovation design for the Airstream? Did you see examples that you admired, or did you dream it all up yourselves?
D and V: Our design was inspired by our experience and needs after years of life on the road. We knew what features were a priority for us, and we strove to make the rig as functional and useful as possible, while also being aesthetically pleasing.
Olivia designed the layout using an architectural program she learned on the fly, and after many many different variations, we finally settled on the one that felt like home.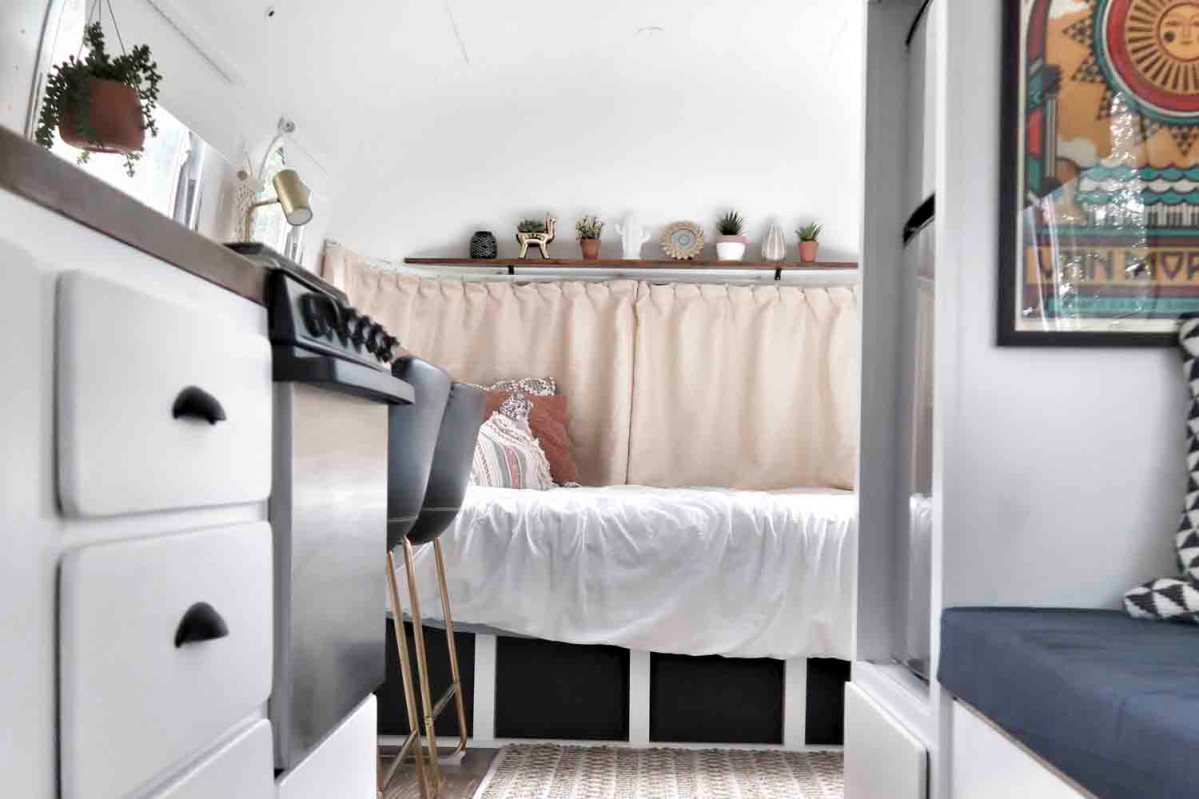 We definitely had many great examples before us of wonderful rehabs and learned from their experience and drew strength from their stories of overcoming the many struggles associated with a project this big. The community of people our there that do these renovations are so helpful and eager to share their knowledge when you run into a wall. The design itself however, is uniquely our own, suited to fit our specific tastes and needs.
TM: Any great stories you can share about taking on renovations to your trailer with no prior renovation experience?
D and V: I think the whole renovation was one of the most laughable, difficult, educational, and rewarding experiences we've ever had. We had no idea what we were getting into and it was the hardest thing we've ever done. Thankfully, we had a lot of help from friends and family to pull it off.
We learned a lot of new skills, a lot of wrong ways to do things, and a lot about ourselves as individuals and a couple. I wouldn't trade it for anything, but we aren't in a hurry to do it again, either.
TM: What are some of the coolest new features on your trailer that you're particularly proud of?
D and V: Our pride and joy is our battery and solar system. We love to camp off the grid, also known in the RV community as "boondocking." This requires us to be completely self-contained and supply our own power to enjoy camping in these remote locations without electric hook-ups.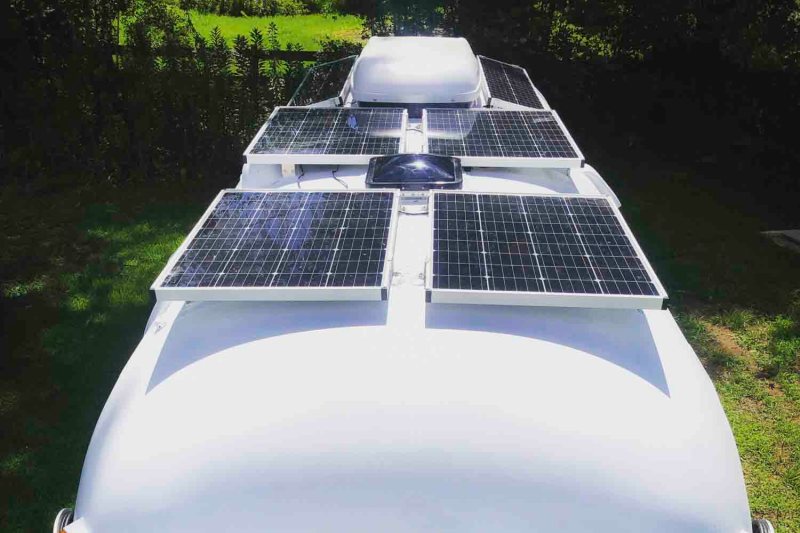 We have 500 amp hours of lithium-ion batteries and 640 watts of solar. That can pretty much keep us powered indefinitely, as long as we are getting a little sun to keep the batteries topped off.
TM: How do you anticipate this rehabbed trailer improving your experience of living on the road?
D and V: We are expecting to feel a lot more relaxed in our new space with more room to spread out and work. It should allow us to boondock for much longer periods of time and overall be a much more comfortable space.
TM: By now, you'll have just welcomed your first baby — congratulations! How do you anticipate having a child impacting your nomadic lifestyle?
D and V: Thank you! We are thrilled to be new parents and excited about sharing these wonderful experiences and memories with our daughter.
We obviously know our travel rhythm will change a bit. We'll probably move a bit slower and stay in one place for longer periods of time, but it will all be worth it to see the world through her eyes.
We've been lucky enough to meet many awesome families that travel full time, and they have shown us that it's not only possible to do this, but to be thriving and happy. Those kids are so cultured and wise and adventurous. It's really inspiring and we can't wait to see how our daughter interacts with this big beautiful world around us.
Editors' Recommendations