Even after years spent as a former vanlifer, trusting my fate to the vagaries of potholes, closed roads, and blood alcohol content of various long-haul truckers at 3 a.m., I still get a frisson of excitement whenever I see a camper van chugging along in the lane ahead of me. I pull out into the left lane and take my time passing it, trying my best to get a glimpse of the goods — do they have the built-in kitchen? Is there a pop-top? Did they kit it out with paneled wood compartments or are they going old-school hippie style with mandala curtains and a mattress in the back?
You don't need to have spent years on the road to feel that same tug of wanderlust. There's just something about a self-contained home on wheels that gets us all thinking, "What am I doing all this for, again? And do I really need a fixed address to do it?"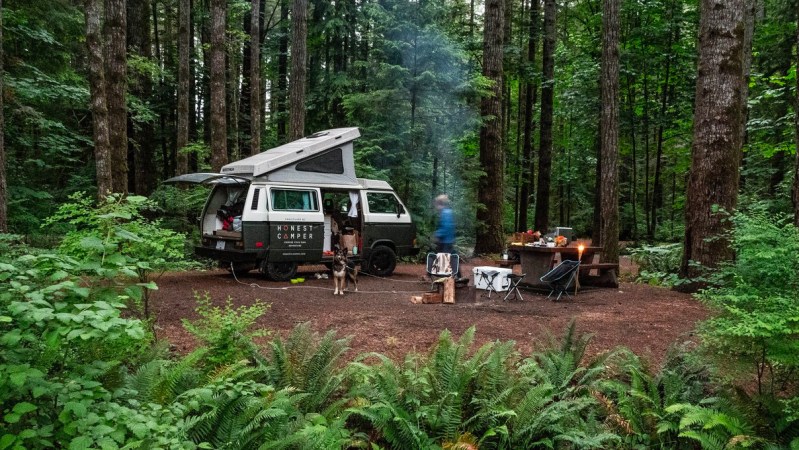 However, having lived the van life for many years, I'll admit to feeling occasionally irked by the supremely souped-up vehicles that routinely cross my social media feed. These McMansions of the road are marvels of compact design, but they can be so feature-heavy as to entirely box out the sense of adventure, the charm of roughing it.
That's what makes Honest Camper one of the more awesome overland tour services, at least in my view. Based out of Vancouver, Canada, this company does one thing and does it supremely right: camper vans, ready for a weekend adventure or a cross-country road trip.
The Honest Camper fleet of camper vans includes two models: a retro VW Westfalia and a sleek Mercedes-Benz Sprinter, both painted in a shade of woodland green designed to blend right into your backcountry habitat. Inside, you'll find all the basics covered in sinfully plush style: Casper memory foam mattress, upgraded stereo system, built-in Wi-Fi, and a kitchen setup that includes a 50-liter Domestic fridge/freezer and a two-burner propane cooktop and sink, thoughtfully stocked with the necessities (dishes, coffee grinder, towels) as well as a few extras, like environmentally friendly soap and fragrant candles. The interiors, while spare, are as aesthetically pleasing as a Scandinavian boutique hotel, with blonde wood countertops and crisp white curtains. (Owner William Jarvis cops to being as much a fan of Dwell magazine as he is of outdoor life.)
The Westfalia includes an upgraded engine with 40 percent more power and all-terrain tires, while the Sprinter offers ultra-modern features like Bluetooth, a backup camera, and (we must be honest) better gas mileage.
A rental rate $200-230 per night gets you 150 km (a little over 90 miles) of driving per day, plus insurance. Add-ons include unlimited miles, a packed fridge, and gas prepay. To get in an Honest Camper, just book online with your selected Vancouver pickup location, meet your van valet at the site, grab the keys, and hit the road.
The company provides a host of recommended routes out of British Columbia but encourages meandering wherever your heart desires. You'll know you've arrived when you experience, in William's words, "a giant exhale" at having escaped the confines of mundane life and reconnecting with your natural roots.
It's been a few years since I hung up my Nothing's made me want to get on the road again like this.
Editors' Recommendations