Struggling to fall asleep on a plane — or, even worse, a bus — is a special kind of hell. The seats are too small, they never recline far enough (if at all), and you're inevitably fighting for every square inch of armrest with your seatmates. Now, one startup is looking to change all that with what it's dubbed "a luxury hotel on wheels."
San Francisco-based Cabin began as an answer to the question, "What if someone combined travel and accommodation?" The company worked with hotel designers and hospitality specialists to create a purpose-built bus that recalls the heyday of luxury train travel. On the outside, the Cabin bus maintains the same general silhouette as most modern buses with only minor detailing that hints that it might be something altogether different.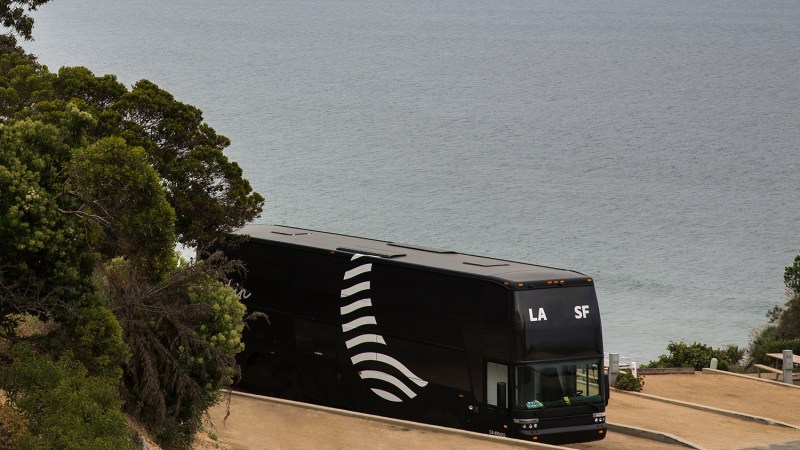 Inside, however, the double-decker cabin features dual rows of compact sleep "pods" that recall Japanese capsule hotel design, but smaller. Each pod includes a soft memory foam mattress, the same sheets used by Ritz-Carlton, a personal power outlet with USB plugs, a reading light, free Wi-Fi, and complimentary ear plugs. The point of the journey is clear: to maximize sleep between destinations, to the point that passengers feel as if they're teleporting rather than traveling. Cabin's drivers intentionally choose slower, smoother driving routes to maximize the potential for catching some shut-eye. The journey on Cabin's sole California route consequently takes a leisurely eight hours — perfect for a full night's sleep en route.
For travelers unable to catch their zzz's, there are 24/7 attendants (dubbed "The Dream Crew") onboard to provide nighttime tea service. Upon arrival, passengers are provided complimentary bottled water, freshly brewed coffee, and a large bathroom to freshen up and get dressed. The central pick-up and drop-off locations in each city ensure the travel process is seamless from beginning to end. Plus, the company abides by the same hospitality industry standards as any reputable hotel, ensuring the interior is fully cleaned and fresh bedding provided after each trip.
As of August 2017, Cabin is just getting off the ground with a single route between San Francisco and Santa Monica (just outside Los Angeles). However, the company plans to add new route options in the near future. One-way tickets start at $115 USD with no hidden baggage or other fees.