Iceland is one of the most fascinating countries in the world: an oversized island of fire and ice between North America and mainland Europe in the North Atlantic. While this island is somewhat larger than Ireland, Iceland is the most sparsely populated country in Europe, which means Iceland abounds in open spaces and natural wonders. And with Reykjavík as its cultural center, Iceland touts additional great lures, from a thriving art and music scene to intriguing cuisine and colorful architecture.
One of the country's greatest features has to do with its positioning. Being so far north, Iceland is treated to wildly long days right around the summer solstice. The weather tends to be cool and wet, but it's compensated for by the hyper-extended days. During June, the sun there tends to set around 23:00 (or 11 p.m.) and come up around 4:00 (or 4 a.m.). It's prime time to cross things off your Nordic bucket list, like driving around the whole country via the gorgeous Ring Road, or trekking up north to dip in the restorative waters of Mývatn.
What happens in a year in Iceland?
Iceland has many merits, regardless of when you're visiting. Winter is really something else up here, as the sun generally barely comes up in time for lunch, and sunset follows a few short hours later. However, Icelanders have creative ways of dealing with such a dilemma, like colorful lights throughout the city. Though snow usually falls this time of year, it's actually surprisingly light for a country this close to the Arctic Circle thanks to the warming effect of the North Atlantic Current. And, if you're lucky, you may even sneak a peek at the Northern Lights. If nothing else, you can cozy up in a great bar, cafe, or take in a show at the remarkable Harpa.
Spring tends to be pretty blustery and cool, and many of the more remote seasonal roads reopen as the snow recedes. You'll enjoy less-expensive travel rates, but the weather can be more tumultuous. The fall doesn't last long in Iceland, and the dark days return rather quickly, but there are some intriguing draws, such as late-season salmon fishing. Also, there are some great gatherings, namely Iceland Airwaves, an eclectic music festival that takes place every November in various locations throughout Reykjavík.
When is the busy season?
Summer is certainly the busiest tourist stretch for Iceland, but it might be worthwhile if you enjoy traveling to a lively destination with bustling cities and a wide array of open activities. In contrast, things tend to open later (if at all) and close earlier during the colder off-season. In the swinging (relative) heat of summer, there's generally more energy in the air in Reykjavík, and the city especially comes to life.
Visiting Iceland is no longer a secret, since many major U.S. cities now offer direct flights. With that said, it remains a fairly affordable European destination, even during the summer high season. If you insist on traveling during the warmer months, we suggest booking on the early side, given the heightened interest.
When is the best time to visit Iceland? Well, what are you hoping to do here?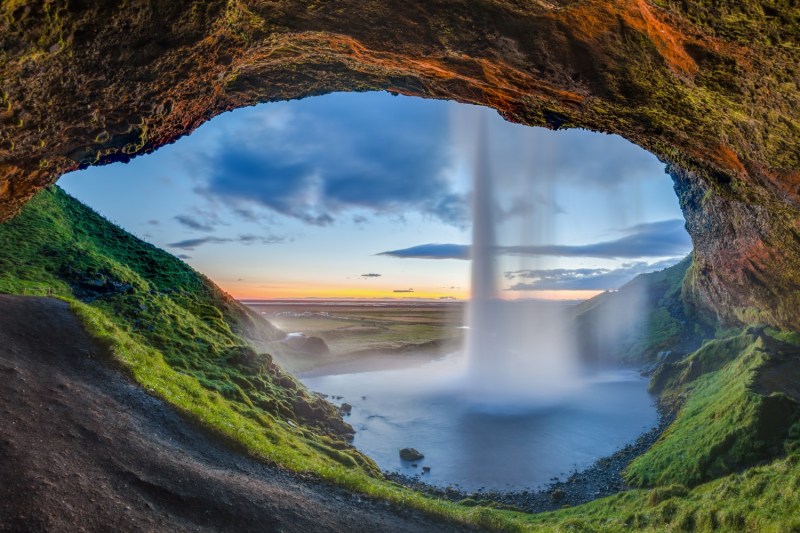 Again, if you really want warmer weather, more hiking and outdoor exploring opportunities, longer days, and livelier city nights, then late spring and early summer are the best times for you to visit Iceland. You'll see other tourists, sure, but with the extended days, vast open country, and Reykjavik's many accessible shops, museums, restaurants, and more, you might feel like you can have your Icelandic hot dog and eat it too. May, June, and July generally produce the longest days, warmest weather, and best opportunities to explore area attractions like geysers, national parks, waterfalls, and puffin-filled cliff sides.
But if you prefer fewer crowds, more opportunities to experience Iceland's iconic Northern Lights, trips to explore the island's incredible ice caves, and excursions to spot orcas swimming in the open sea, then the winter season is probably the best time to visit Iceland for you. More specifically, February and March are usually the best months for whale watching, the vernal equinox makes for a particularly spectacular Northern Lights "show", and November and January tend to be the quietest and least crowded months on the island.
Fortunately for all of us, Iceland offers a treasure trove of unique experiences year-round. But now that you have a better sense of the best time to visit Iceland for specific experiences and happenings, you now have a better idea of when's the perfect time to plan your ideal Icelandic getaway.
Editors' Recommendations