For many, the term "resort food" conjures images of marginal, processed food served by the metric ton to indiscriminate budget travelers who value quantity over quality.
Thankfully, those days are (mostly) long gone. As the farm-to-table and sea-to-plate movements continue to sweep the United States, there are plenty of stateside resorts with world-class food options. Here are just four of the best resorts for foodies.
Shutters on the Beach (Los Angeles)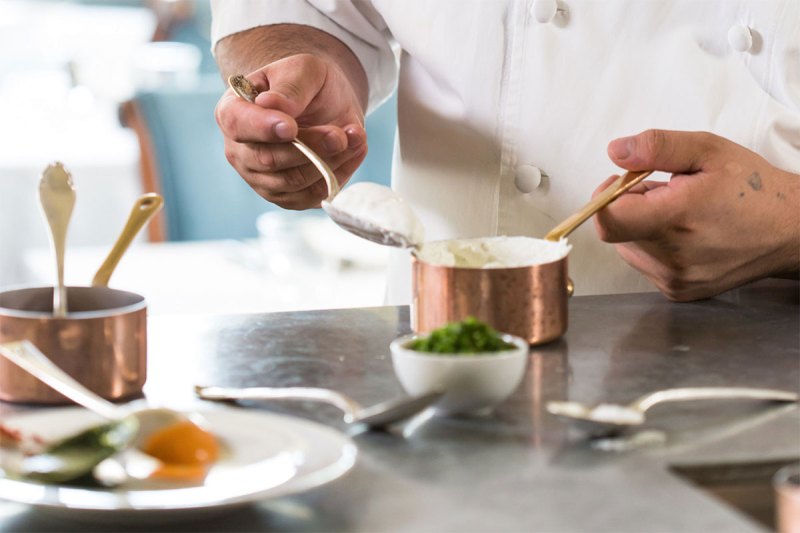 From the chic rooms to the sprawling, oceanfront grounds, Shutters on the Beach nails "beach luxury" in every way. The three on-site restaurants — Coast, The Living Room, and 1 Pico — all offer stunning Pacific Ocean views and extensive, locally sourced menus to boot. The Living Room is an excellent spot to grab coffee or afternoon tea; 1 Pico is the property's flagship dining room with a casual, understated elegance and seasonal market menu; and Coast offers a relaxed, beachfront space for afternoon wine flights.
Don't miss: it's one of Santa Monica's best hotel spots for celebrity sightings.
Related: Burkman Bros. Foodie Guide to Manhattan
The Wauwinet (Nantucket, Massachusetts)
Even on the upscale island of Nantucket, The Wauwinet stands out. Every aspect of the 33-room property represents classic New England cottage luxury at its finest. With sweeping views of Nantucket Bay and a 1,450-bottle wine cellar, the sole on-site restaurant, TOPPER'S, is no different. The menu features an excellent, rotating selection of locally sourced entrees like oyster chowder and butter-poached lobster.
Don't miss: the Retsyo Oysters on the half-shell are harvested just 300 yards away — it just doesn't get any fresher than that!
Aria (Las Vegas)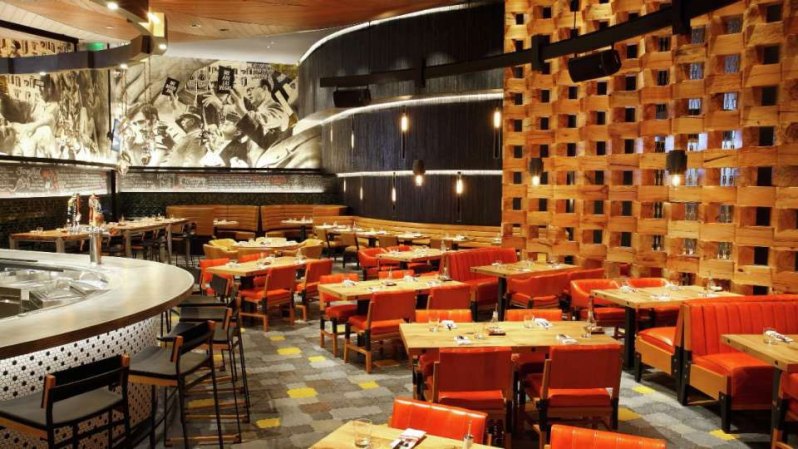 Only within the past decade has Las Vegas evolved as a foodie destination in its own right. The city's ubiquitous all-night buffets have been usurped by gourmet, celebrity chef-owned eateries. The modern and impossibly large (more than 4,000 rooms!) Aria is a foodie destination not only for the quality of its restaurants but for just how many are located under one roof.
Adjacent the lobby, Julian Serrano serves high-end tapas and traditional sangria; at Sage, James Beard Award-winning chef Shawn McClain offers up elegant dishes like Foie Gras Brulee, Golden Osetra Caviar, and Wagyu Filets; and Bardot Brasserie (so named after the well-known actress) does French haute cuisine including Bone Marrow Au Poivre and Rack of Lamb Basquaise.
Don't miss: Five50 Pizza offers an extensive craft beer menu and creative takes on East Coast pizza like Roasted Bone Marrow and Pork Belly.
Inn at Langley (Whidbey Island, Washington)
Washington state's Inn at Langley may not be a "resort" in the traditional sense, but it provides everything most guests would want in a full-featured hotel. That includes a world-class, minimal "lodge chic" restaurant helmed by multiple award-winning Chef Matt Costello. Most entrees focus around locally sourced Pacific seafood — the braised crab meat with coconut, black garlic, cilantro, and peanuts is a particular favorite. The tiny dining room accommodates a limited number of guests and only one three-hour dinner is served nightly, so reservations are mandatory.
Don't miss: in the chef's own words, he enjoys "mess[ing] with guests' minds," so almost every course offers an unexpected twist.
Editors' Recommendations