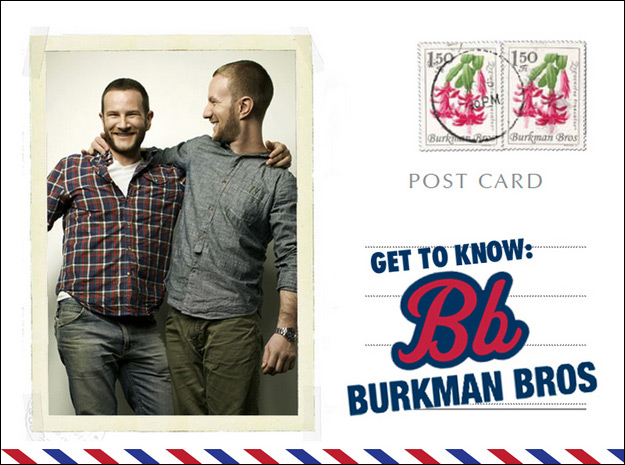 When brothers Ben and Doug Burkman aren't designing their calm and cool (and hella comfortable) menswear brand – Burkman Bros. or traveling the world for work inspiration, you might find them in the gym.  Be it a CrossFit in London, Rio, Sao Paolo, New Delhi, Bangkok, Tokyo or Hong Kong. As they explained to us, all of that traveling and airport food isn't the easiest on the body, so this is their way to acheive balance.
But when they're in the Big Apple, they get down with some serious grub.  We caught up with them to hear about their favorite market, food trucks and restaurants.
THE UNION SQUARE FARMERS MARKET:
P.E. & D.D. Seafood – This fish is guaranteed to melt in your mouth. The ultimate source for tuna steaks.
Sycamore Farms – This is the one stop shop for eggplant, zucchini, fennel, and amazing heirloom tomatoes when in season.
Greener Pasture – The ultimate wheat grass in town. Get a shot a keep moving.
Sakaya – Perhaps the best sake shop in NYC, where they buy up bottles for rooftop enjoyment.
FOOD TRUCKS (and their Twitter handles so you can keep up on their daily location):
@NeaExpress Neapolitan Express, the first pizzeria on wheels that runs solely on compressed natural gas anywhere in the world.
@waffletruck Waffles & Dinges Belgium's best export on wheels, now roaming NYC
@TaimMobile Famous for theirfalafels and the ultimate fresh fruit smoothies
@fritesnmeats A killer burger and killer fries
 THE BURKMANS FAVORITE DINNER SPOTS:
Red Farm – An inventive take on Chinese cuisine, featuring a farm to table sensibility.  Great food, but know there'll be a wait for a big table.
ABC Kitchen – An ever changing menu that bring the best from organic and local sources, and in a space that is as amazing as the food
Gobo – The ultimate in vegetarian food that will engage your five senses
For more on the Burkman Bros. check out their website Burkman Bros. and follow them on Twitter @BurkmanBros
Editors' Recommendations