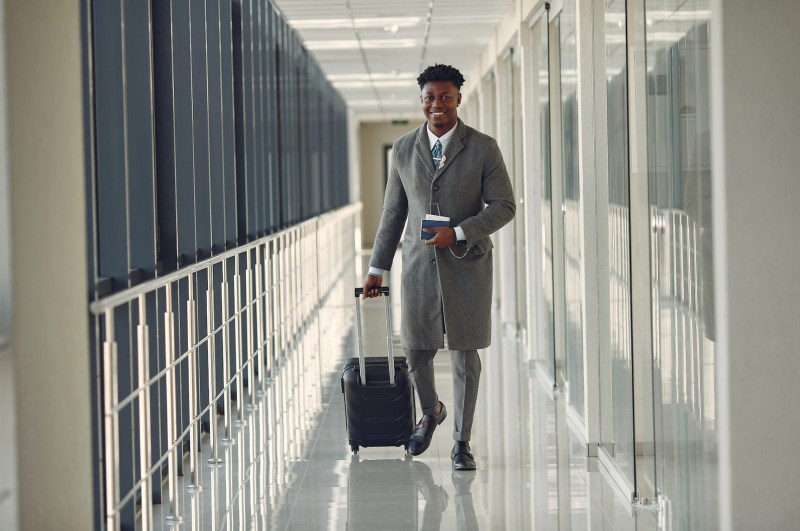 Dependable carry-on luggage can make the difference between a fabulous foray to your destination and the absolute disaster that ensues if your checked bag is lost. First-class travelers know that the right carry-on can define a trip. If you're ready to streamline your travels and do so in style, these luxurious picks from top luggage brands are worth every penny.
Rimowa Classic Cabin Carry-On
Price: $1,525

Dimensions: 21.7 x 15.8 x 9.1 inches
If you're looking for quality construction and a carry-on that will hold up through everything your travels bring, there's no contest. In a word, this carry-on case is iconic. A travel staple since the 1930s, Rimowa's aluminum luggage, with trademark grooves and shiny exterior, is synonymous with luxury. With time-tested engineering using only the highest quality materials available, each piece of Rimowa luggage takes more than two hours to craft. Machine-produced components are meticulously assembled by hand and then thoroughly tested to ensure the superior quality of every piece.
You'll see the grooves of their hard-sided cases mimicked by competitors, but just like a classic sports car, the original version is almost always preferred for those in the know. The Classic Cabin Carry-On's design is beat-for-beat the same as the brand's Original Cabin, but the leather handles kick this case's elegance and comfort for carrying by hand up a notch. Made from high-grade aluminum-magnesium alloy metal, this carry-on isn't the lightest choice at 9.5 pounds, but there's no comparison in this suitcase's durability. A quartet of wheels glides effortlessly on ball-bearing mounts and cushioned axles, and the handle locks in at the height of your choosing, so this case won't let you down when rushing from gate to gate.
In addition to the classic appeal of this pick, Rimowa offers various customizable internal features so travelers can modify and personalize their carry-on. Flexible dividers give travelers space to pack efficiently, while compression straps ensure everything inside stays securely in place. The TSA-approved double-locking closure may take some getting used to if you've never traveled with anything but a zipper bag, but the secure closure is worth the hassle.
A lifetime guarantee on new purchases covers functional repairs both in-store and in-hotel at select locations internationally, adding convenience and peace of mind to the case's already superior construction. Though the lifetime guarantee does not cover normal wear and tear, travelers who depend on Rimowa know that over time, the occasional scuff or ding adds character and serves as a reminder of time well spent. The Rimowa Classic Cabin Carry-On in silver is an optimal choice for anyone who cares not only about the performance of their luggage but the way their carry-on exudes an air of luxury and is flashy in the most elegant way possible.
Montblanc MY4810 Cabin trolley with front pocket
Price: $1,085

Dimensions: 21.65 x 14.96 x 9.06 inches
Best known for their perfectly luxurious fountain pens, Montblanc's foray into hard-sided luggage draws on the brand's opulence with a lightweight polycarbonate shell, elegant Italian forged iron leather trim, and four Japanese-made ball-bearing wheels. First-class design, coupled with the brand's recognizable logo front and center, means everyone in the terminal will know that you care about traveling in style.
Inside Montblanc's Cabin Trolley, the smart organization system is one of the best on the market. Your travel essentials will ride nestled in a stylish jacquard lining with an opulent hexagonal motif. Multiple components inside, including an interior envelope-style pocket with a velcro closure and compression straps, provide packing flexibility. Whether gearing up for a weekend away or a long-haul trip, you have plenty of space to organize whatever you need to carry with you. The exterior zipper closure comes complete with TSA-approved locks to ensure that all your essentials stay secure.
The versatile front pocket on this case's exterior sets this piece apart from the original MY4810 Cabin Trolley — the secondary zipper pouch is accessible without entering the main luggage compartment. Inside, you can store things you want to access quickly, like travel documents, your laptop, headphones, or even a pair of comfy slippers to wear on a long flight.
This chic bag glides effortlessly on four frictionless wheels, and the telescopic handle can be set at nearly any position, adding to the overall versatility of the Cabin Trolley's design. Available in black, as well as an oceanic turquoise called Ottanio, an earthy British Green, and steel grey Forged Iron colorway, any color you choose will have you looking stylish and put-together on your journey.
Briggs & Riley Sympatico International 21″ Carry-On Expandable Spinner
Price: $599

Dimensions: 21 x 14 x 9 inches
A remarkable choice for international travelers, this carry-on has a unique expandable design that lets you pack more into your bag and then compress everything back down to the original 21-inch size to fit international airline requirements using Briggs & Riley's patented CX expansion technology. Made from resilient 3-layer polycarbonate material, the case is lightweight at 8.6 pounds, but exceptionally sturdy.
In addition to increased capacity, this pick's wealth of interior features will enhance your packing experience. The adjustable garment compression panels, equipped with speed buckles, work to minimize wrinkles and prevent contents from shifting during transit. The interior lining boasts a smooth and soft-touch texture, and the 70/30 top lid opening lets you pack just like a traditional suitcase. This carry-on embraces optimal organization with its large zip-around pocket and two smaller mesh pockets, ensuring your belongings are elegantly arranged. The pocket at the back of the case accommodates a pass-through USB cord for convenient on-the-go charging.
Crafted from aircraft-grade aluminum, the telescoping handle system has two stop heights, and an ergonomic grip assures seamless maneuverability, while the molded soft-touch top and side carry handles make carrying comfortable and effortless. The built-in Travel Sentry Approved Lock ensures hassle-free security inspections even when traveling internationally. Proprietary lightweight ball-bearing double spinner wheels offer a lower center of gravity that glides seamlessly through packed terminals.
The framed leather personalization patch at the front of this piece adds a touch of elegance that can also be monogrammed. Another nice extra from Briggs & Riley is the included fabric drawstring bag with a drawstring to protect your luggage while in storage.
This pick is a timeless design backed by a generous lifetime guarantee, so you can rest assured that your investment is well-protected. In fact, Briggs-Riley doesn't even require proof of purchase to repair broken or damaged carry-on luggage. Simply send your bag to their repair center, choose a local authorized repair center, or opt to receive a self-repair kit — all free of charge for life. Available in a standard black, matte navy, or a deep plum color, this elegant spinner carry-on ensures a put-together travel look wherever you're headed.
No matter which luxury carry-on luggage choices you choose, you can embark on your next journey with the perfect travel companion that combines thoughtful design with unmatched functionality.
Editors' Recommendations