Cancun, Cozumel, Cabo San Lucas — Mexico's best-known tourist destinations start to feel interchangeable. Ixtapa is no different. As a government-planned resort town, its towering resorts and chain restaurants popped up almost overnight. Over the decades, some — but not too much — of that hustle and tourist traffic spilled over into the neighboring fishing village of Zihuatanejo, Mexico, just four miles away. But, Zihua — as it's affectionately known to locals — never lost its authentic Mexican appeal.
Zihua technically ranks as a "resort town," don't let that moniker dissuade you. There's a reason Andy Dufresne was hip to its allure even back in 1994. Zihua offers some of the country's most laid-back hotels and sleepy, small town vibes that deftly balance the needs of tourists with the feel of old-world Mexico. There's no shortage of unique hotels in the area — here are our top three picks.
If "only the best will do," look no further than Viceroy Zihuatanejo — it's Zihua's undisputed boutique experience. Against a backdrop of no-frills beach hotels and backpacker hostels, the already luxurious property feels like Xanadu. On the surface, there's a golf-course-like polish to the sprawling and immaculately landscaped grounds. However, the traditional Mexican architecture and uniquely designed rooms give it a flavor and charm that's a departure from the cookie-cutter resorts of Ixtapa. Every room offers a well-stocked minibar, flat-screen TV, and private balcony (some with ocean views); suites boast private plunge pools. The real star is the long list of amenities: three pools, a Moroccan-inspired spa, and two beautiful, open-air, beachfront restaurants. It doesn't hurt that Viceroy is also situated on a semi-private slice of Mexico's longest beach. Keep in mind that hurricane season runs during the summer through the end of November on the Pacific coast; Viceroy currently isn't accepting reservations (and we suggest factoring in the weather when planning your coastal vacation).
Tucked on a quiet, residential hillside high above Zihuatanejo Bay, Amuleto is a pitch-perfect example of honeymoon-worthy lodging. It's difficult to imagine you or your significant other wanting for anything here. Every square foot of this tiny inn is uniquely designed with rustic, traditional materials and methods. Thatch roofs, freeform stone walls, and plenty of intentionally overgrown landscaping all provide an intimate atmosphere where it's easy — and welcome — to feel blissfully lost. All six rooms intentionally omit televisions and alarm clocks (don't worry, you won't miss them). Essential creature comforts, like well-stocked minibars, air-conditioning, and free Wi-Fi, are standard in every room. Suite upgrades include outdoor garden showers and wide balconies with private plunge pools overlooking the beaches of La Ropa and Las Gatas. The best part? The sunset views from everywhere on the property are literally breathtaking.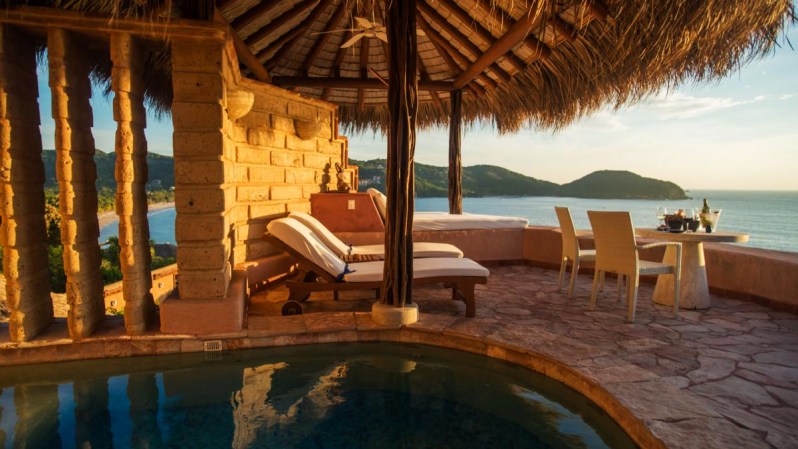 Like Amuleto, La Casa Que Canta (Spanish for "the house that sings") sits high above La Ropa Beach with stunning bay vistas. That the grounds are tucked neatly into a hillside means there are plenty of hidden nooks and private corners to steal away to for an hour or two. All 25 suites boast contemporary Mexican decor and ocean-side terraces (some with private plunge pools), with not a TV to be found anywhere. The two pools — one upper infinity pool and a second of the saltwater variety — provide sunset views every evening. The outdoor terrace at the on-site restaurant, Mar y Cielo ("sea and sky"), is a destination in its own right. The three-course, prix fixe menu is among the best in Zihua and focuses on locally sourced seafood (which was likely to have been swimming in the Pacific Ocean mere hours before it arrived on your plate). Given all of the above, it's no surprise Travel + Leisure readers voted the hotel the "No. 1 World's Most Romantic" in 2016.
Editors' Recommendations