There's something fishy about the fishing industry. More and more we're learning about the negative impact of commercial fishing– we're overfishing, we're polluting, we're killing the wrong things. Some fish have crazy high levels of mercury. On top of that, we may not even be eating the fish we think we are. Fish Fraud they're crying!
So what on earth do you do if you love to eat aquatic things? Well, in honor of Earth Day, we've caught up with award-winning Chef Michael Cimarusti at LA's famed Cape Seafood and Provisions. Cimarusti, who knows a thing or two about good seafood (he's behind both Providence and Connie and Ted's), opened Cape Seafood to provide people with not only sustainable, largely local seafood, but also fish we generally overlook. In addition to fish, shellfish, shrimp, lobsters, crab, caviar, even uni, they provide provisions– ingredients, sauces, stocks, broths, chowders, even platters– almost anything you'd need to cook up the goods.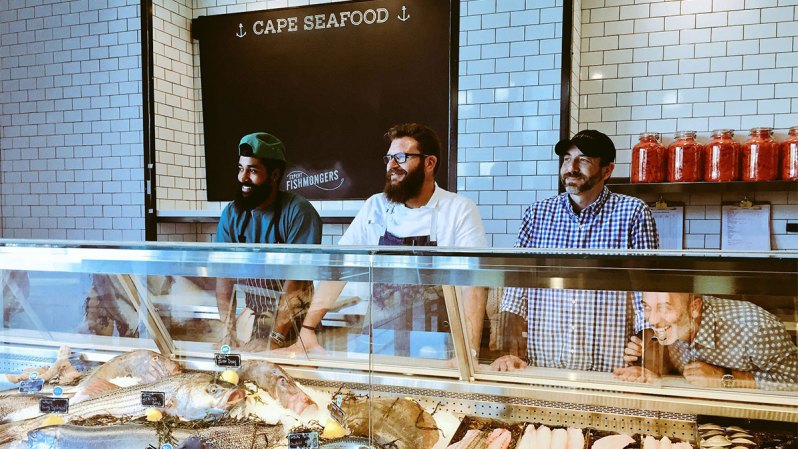 Plus a heaping helping of knowledge. Chef Cimarusti talks to us about sustainability and how to be a smart consumer in the murky world of seafood.
Are there any species we should not consume right now? Grouper for example?
First and foremost, avoid Bluefin tuna at all costs. They are literally on the brink of extinction. If you go out to an omakase dinner, just tell the chef you don't eat Bluefin.
We are partners with Monterey Bay Aquarium, meaning we only sell what is listed as a yellow or green option in their seafood guide. The species that are yellow or green change often, so keeping the Seafood Watch app handy is the best way to see what's sustainable or not at any given moment. Right now, grouper is yellow or red, depending on where it comes from.
Farm raised fish seems like the sustainable alternative to traditional fishing– is that always the case?
I applaud the people who are doing farm-raised fish sustainably, but for me, the flavor really doesn't compare. There is one exception—I think shellfish is OK. They are filter feeders and their lifestyle is not going to be changed in any way, shape, or form. A farm-raised oyster and wild oyster will taste the exact same.
There is a possible health risk with farm-raised fish as well, because farmers often pump the fish with antibiotics, growth hormones, and dyes. We all worry about what we put into our bodies and where our vegetables come from, and where our meat is coming from, but with fish, people tend to not pay as much attention, and I'd like to help change that.
What are some of the things we need to be aware of– or look for– when it comes to buying sustainable seafood?
Try to buy American seafood whenever possible. We have well-managed fisheries in the U.S., so if you go to any seafood market and buy wild-caught American seafood, it is sustainable (with the exception of Bluefin and a couple of other tuna species). Do some research, come prepared, and trust your purveyor.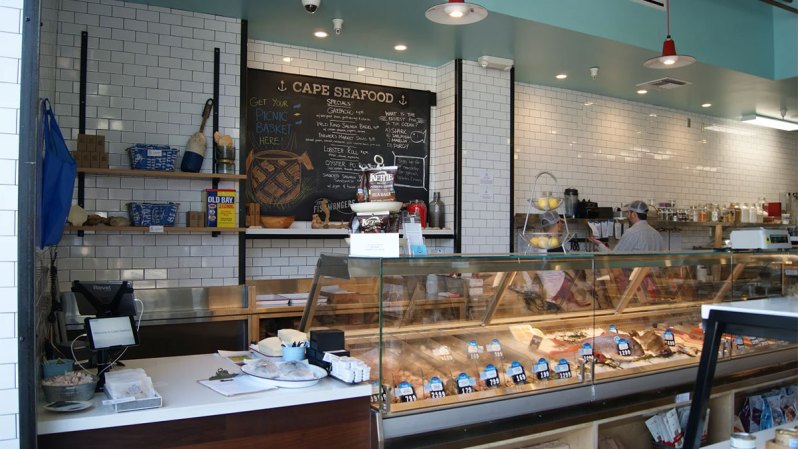 Will more stringent legislation and oversight of the sport fishing industry help bring about sustainability for our fish?
Yes, I believe it will, but we are at a crucial point. We must move to make a positive change now, or we'll reach a point where we will have done so much damage that it will become irreversible. Maybe not for all species, but for many. The EDF recently released a study claiming that with proper management, all commercially harvested, threatened marine species could make a recovery in ten years.
Tell us more about the Dock to Dish initiative you're a part of– how does it work? Do you find if local fisherman are better supported by restaurants and local laws, the fishing methods become more sustainable? Any plans to expand the Dock to Dish Initiative beyond the West Coast of the United States?
Dock to Dish is like a CSA for restaurants—the participating chefs and restaurant get a weekly delivery of local, sustainable seafood (ours is from Santa Barbara), but we don't know what's going to be in it until the night before. It's been an eye-opening experience to receive an ingredient you've never worked with before, like turban snails, and figure out how to use it in your restaurant.
Dock to Dish actually started in New York, but has since expanded to Southern California and Costa Rica. Providence was one of the first restaurants on the West Coast to sign up.
What are some overlooked fish you wish people would begin to eat? Any tips for preparing those fish?
Local rock cod and East Coast porgies are great. We regularly sell those at Cape. They're flavorful, sustainable, and actually more affordable. Black Cod is great pan roasted with crispy skin, and Spanish mackerel is perfect for the grill.
Any tips for people who might be new to cooking fish and shellfish at home?
Temper your fish, which means pulling it out of the fridge before cooking so that it doesn't take as long to raise the internal temperature.

Cook your fish slowly and gently, using smoke or very low heat.

It's very important to let your fish rest after cooking.

Once it's cooked, use a pastry brush to coat the fish with a little olive oil or melted butter just before serving—it gives the fish a bit of shine and adds extra flavor.

Acidity is important too. It doesn't necessarily have to be lemon juice, but could be vinegar…

Keep it simple, and let the fish shine and be the star of the plate.