Amsterdam is among the most popular travel destinations in the world. With its world-class art offerings, charming cityscapes, laid-back café culture (and even more laid-back cannabis culture), and lively nightlife, along with its many other excellent qualities, it's no wonder why you'd place it near the top of your list of must-visit European cities. But with so many Amsterdam hotels, how do you choose?
I've passed through the city numerous times over the past six months, and along the way, I've stayed at most of the best hotels in Amsterdam. So armed with this knowledge, let's take a look at where to stay in Amsterdam. These recommendations will span a range of budgets and needs.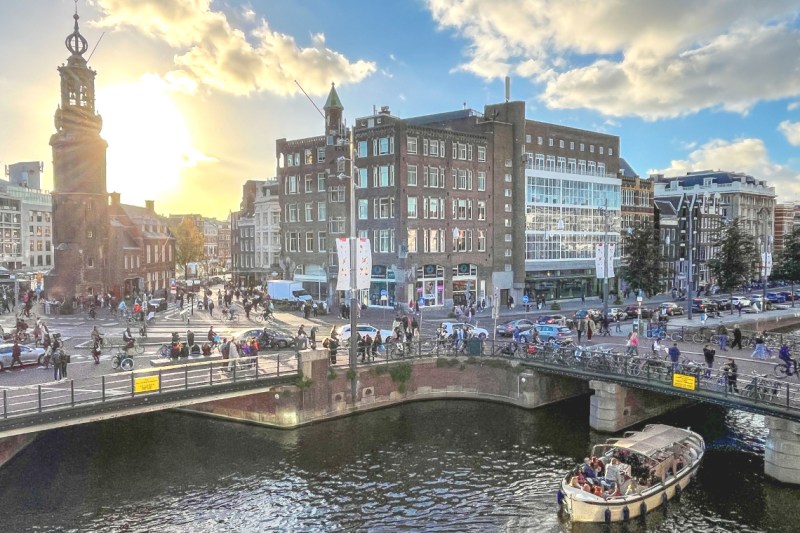 Best overall: De L'Europe Amsterdam
Located directly in the heart of the city and luxurious to the point of downright extravagance, De L'Europe is outstanding by pretty much every metric. Its castle-like façade looms impressively over one of downtown's main intersections, and you feel like you're staying in a great hotel just looking at the place.
The rooms are supremely comfortable. If it's within your price range, I particularly recommend booking one of the expansive suites facing the canal. These suites boast twin balconies that provide such a pleasant view, you might not want to leave. The onsite restaurant offers an a la carte buffet breakfast that is a delightful way to start each day. Its spa offerings are solid, and its fitness center is decent.
Suffice to say that it checks all the boxes.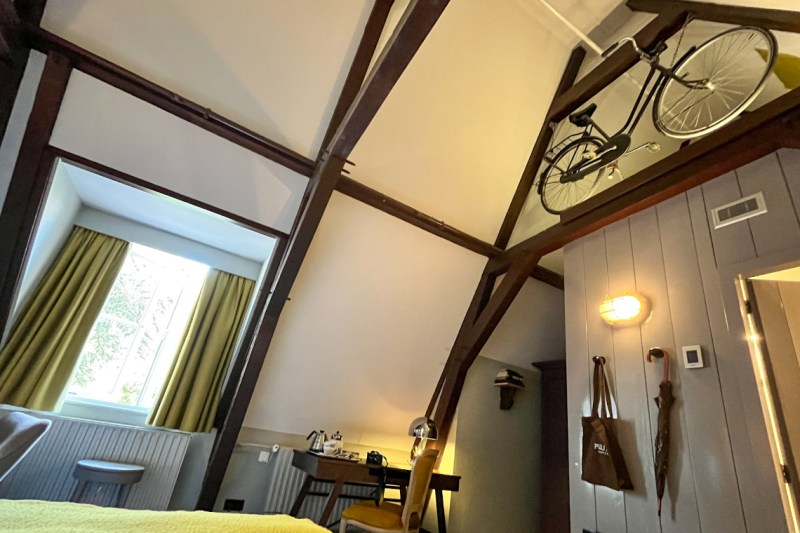 Most historic: Pulitzer Amsterdam
The Pulitzer is a great hotel for many reasons. Its amenities are outstanding, the service is fantastic, and the onsite food and drink options are impeccable. But what really makes the Pulitzer stand out as a historic stay is the setting itself. Established within an interconnected row of 25 Golden Age canal houses from the 17th and 18th centuries, it gives off the sense that you've traveled back in time. The décor is appropriately classic, with art and vintage elements of Dutch lifestyle all over the place. It's got a vibe, if you catch my drift.
All in all, it's a gorgeous space in which to spend a few days.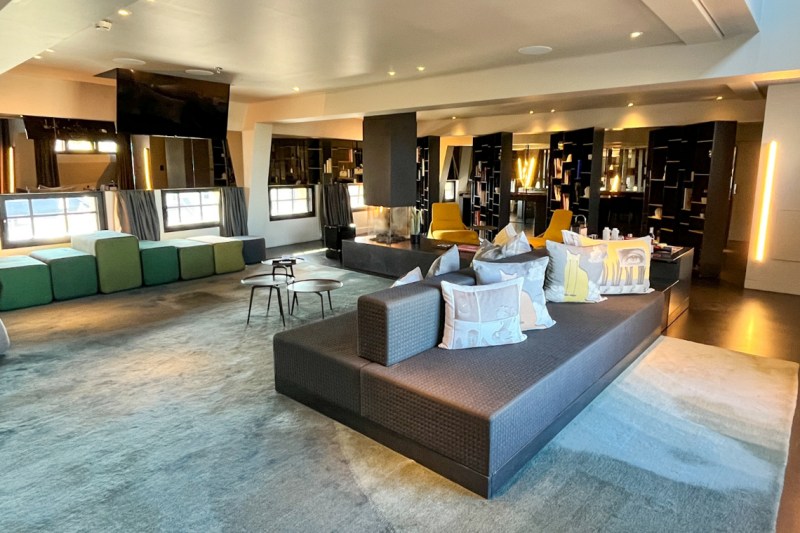 Best for partying: W Amsterdam
Enormous, labyrinthian, and boasting flashy modernist décor that's so fun it verges on absurd, the W Amsterdam is a supremely fun hotel. Even the staff has a good-humored attitude that helps to set the mood for a good time. Located at the center of downtown, it's the perfect place to book a group of friends on the hunt for a wild night out.
If you're really going all out, the W offers a massive, luxurious party apartment replete with sprawling lounges, couches, and beds, a multi-person jacuzzi, and space for a DJ and dancing.
Most sustainable: Pillows Maurits at the Park
Amsterdam is one of the most sustainable cities in the world, and if you're looking for an appropriately eco-friendly stay, check out Pillows Maurits at the Park. The hotel is part of the Travel Sustainable program, which means that it's taken plenty of steps to reduce its carbon footprint: Renewable energy usage, low-flow plumbing, water dispensers for refilling bottles, responsible food planning and waste collection, and so on.
What makes it unique, however, is the building it's in. Housed in what was once a university building, the architecture is not only unique from other hotels, but it also represents a massive undertaking to repurpose an existing structure rather than wastefully create a new one. It's also nestled into the massive Oosterpark and boasts an array of nesting boxes, feeding areas, and an aviary for the park's birds.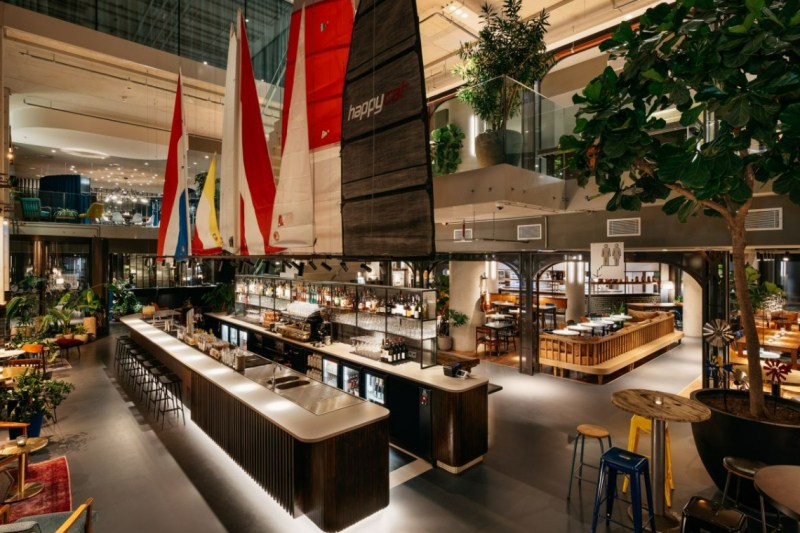 Best budget: Ruby Emma Hotel & Bar
Finding an affordable hotel in Amsterdam is not easy, but located 20 minutes outside the city center via several bus or metro lines is Ruby Emma Hotel, a tech-centric establishment that has a rock-and-roll vibe. Downstairs you'll find a hip bar and café setup, while the second floor is dedicated to an expansive co-working space. Scattered around it all are several guitars that can be brought up to your room, where they can be played through an en suite guitar amp.
The rooms themselves are modern and comfortable, and the entire place has a fun, youthful vibe. It's a whole lot of hotel for under $200 a night.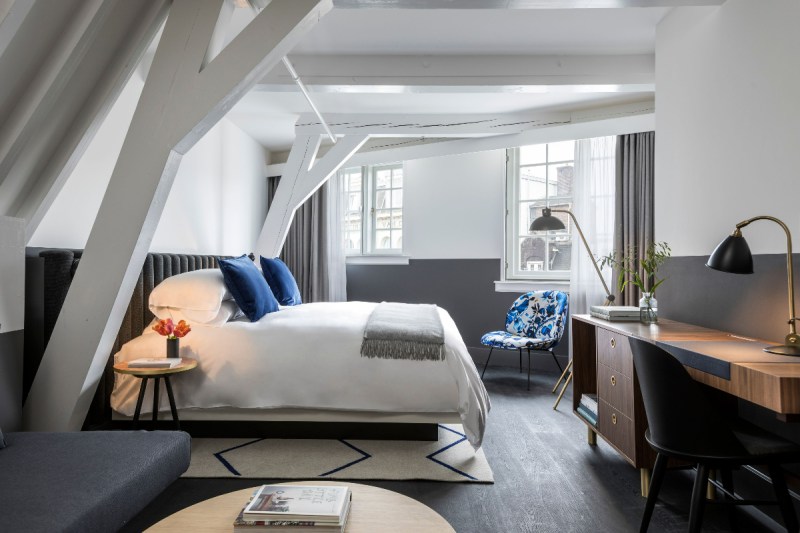 Best mid-range: Kimpton De Witt Amsterdam
Moderate in price but big on refinement, the Kimpton offers a high level of comfort that verges on luxury without breaking the bank. Located just a few minutes' walk from the central station, it's an ideal jumping-off point to anywhere in the city or even for taking the train down to the Hague or Rotterdam.
The hotel itself is modern and well-appointed, and it has several avant garde-decorated sitting areas and lounges scattered about the grounds. While some of its buildings and structural elements date back hundreds of years, it still has a decidedly cool, almost futuristic aesthetic.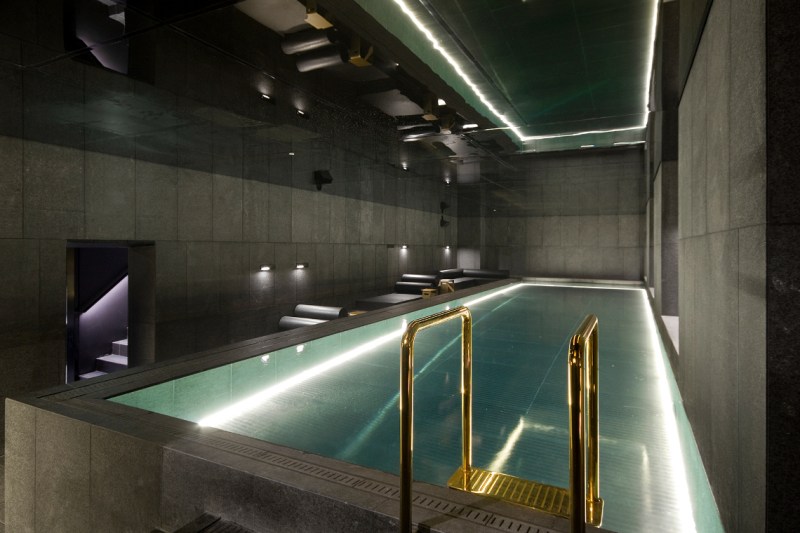 Best for wellness: W Amsterdam
The W scores a double win with its second appearance on our list, this time thanks to its outstanding spa offerings. Something I hadn't mentioned before is that one of the W buildings used to house a bank, and today, its spa is located downstairs in the bank's vault. As you might imagine, not a peep makes it from the outside into the vault walls, ensuring a perfectly tranquil experience in its luxurious, elegant bath, massage, and treatment spaces. It also has one of the best-stocked fitness centers that I've ever seen at any hotel anywhere.
Editors' Recommendations