Travel enough, and all that moving around can start to feel like a part-time job unto itself. Between remembering flight check-ins, debating what to pack, keeping your S.O. apprised of your travel plans, and knowing what the TSA security checkpoint status is at your departure airport, it's overwhelming. What's worse: this year's looming second shutdown of the U.S. government is guaranteed to make the experience much, much worse. App in the Air is like a personal assistant to help ease (most of) your travel headaches with one convenient mobile app.
App in the Air is designed to help digital nomads juggle multiple itineraries and boarding passes while also tracking reward points and miles for airlines, hotels, and rental car providers. However, it simplifies almost every other aspect of pre-trip, day-of, and post-trip travel too.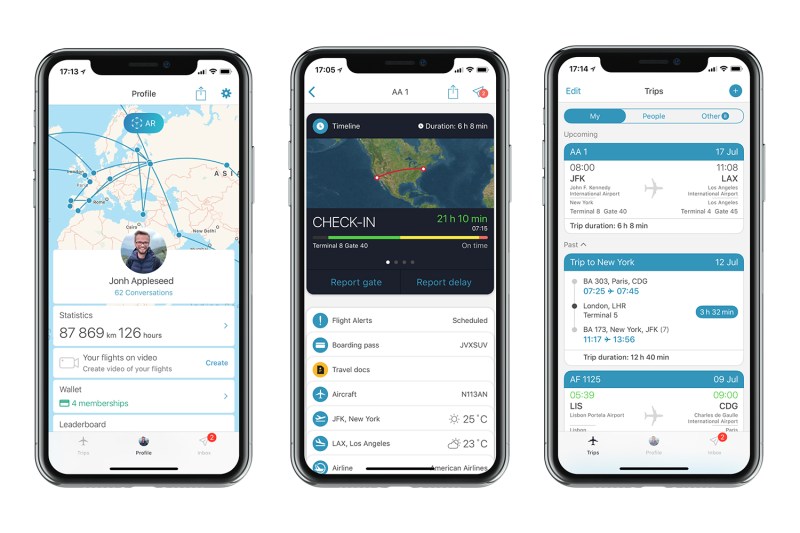 For day-of travel, users can check up-to-the-minute boarding and landing times, the latest wait times at airport check-in and security checkpoints, and ensure their carry-on luggage doesn't exceed their airline's maximum dimensions. Once at the airport, the app can display detailed maps of shops, restaurants, parking, and where to pick up local transportation. App in the Air also keeps tabs on flight delays and can alert users when they may be entitled to compensation.
Airports, flights, and wait times all change minute-to-minute, which is why the app's crowdsourced feedback is one of its best features. App users can submit feedback about their recent travel experience including thoughts on airport statuses or gripes about their specific flight. They can also share insider tips about "hidden" power outlets at the airport, where to find a quiet place to work in the terminal, or which cafes might still be open at 4 a.m. Using geolocation, App in the Air users can also connect with one another directly to, for example, share a cab out of the airport, grab a coffee together in the city, or discuss where to spend the night if they were bumped from their flight or, even worse, the flight was canceled altogether.
The App in the Air mobile app is free to download for iOS and Android. However, the best features, like offline access and automatic flight check-ins, are part of the paid annual $30 plan.
Editors' Recommendations