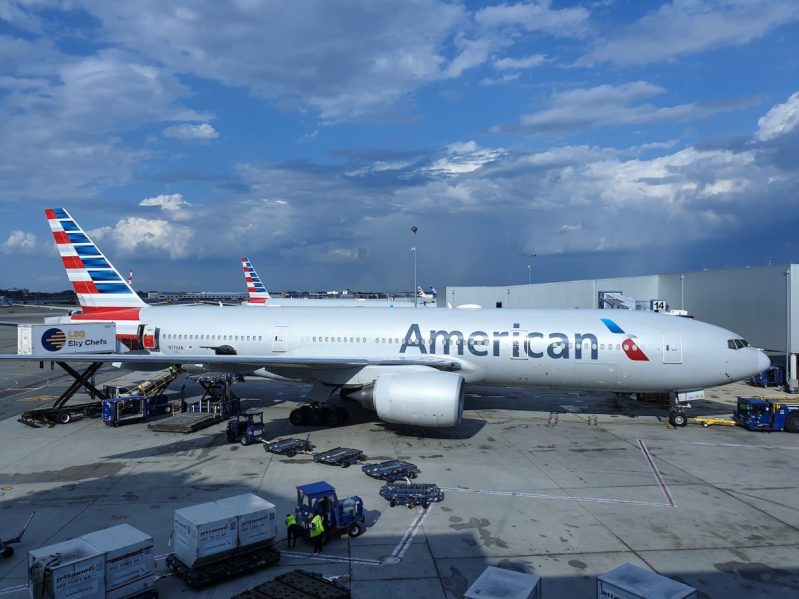 Nothing upsets us more when flying than getting hit with fee after fee after fee. One specific downer is that darn baggage fee. We wear layers to save space in our suitcase and will try any tips we see on TikTok to pack way more than we need into one bag. Packing cubes are everyone's friend. Well, you might need more help because the American Airlines baggage policy changed, and it's not for the better.
For passengers flying American's basic economy fare, American Airlines no longer offers one checked bag on flights to and from Europe, Asia, the Middle East, and Oceania — and the rates are pretty steep. (Note: the basic economy policies for both domestic flights and for those going to Canada and Latin America have not changed.)
The price of our over-packing problem
Your ticket (be it economy or first class), where you are flying to, and where you are flying from all factor into the cost. We know — that's annoying and confusing. Here's the deal for transatlantic and transpacific flights:
Carry-ons are still free
Each passenger still gets one carry-on and one personal item for free with their basic economy ticket. As always, check with your airline about what counts, the weight and size requirements, and all that fun stuff. But otherwise, those two are business as usual.
First and second checked bag fees
That first checked bag is where the fees start to stack up. First bags start at $0 if you grab a first-class ticket and go up to $75 for economy seats. But if you're looking to check a second bag? That will cost you $100.
Third and fourth checked bag
At this point, you might not even want to know. You'll spend $200 per bag checked in. It might be cheaper to ship your stuff ahead of you.
The nitty gritty details
Now, if you thought that was a one-time fee, we are sorry to tell you that is not the case. The specifics don't make us feel any better.
Each fee is
For each way

For each person

Non-refundable

Going to accrue at each connection
That would add up quickly, especially if you were a family traveling for any extended period of time or had multiple connections.
How to get out of the fees
Is there any way to not have these fees? Yes, with stipulations. You'll have to read the fine print to know where you land.
There is a way to skip the extra costs
The first checked bag fee is waived if you have a certain AAdvantage or oneworld membership status.

When landing at specific destinations with business or premium seating, check your first bag free.

Certain levels of AAdvantage, oneworld, active military status, and other memberships allow you to check up to five bags for free.
Signs point toward American Airlines catering to their elite and prestigious passengers and pricing out other customers. Airlines like Delta and United haven't done this to travelers yet, but there's no saying what might happen if they follow suit. Between pilot shortages, fewer flight times to pick from, and now increased checked baggage fees, will road trips make a comeback as the preferred family vacation option?
Before you book your ticket across the pond, there's one more thing to check if you fly with American Airlines, and it might make you want to repack your bags.
Editors' Recommendations