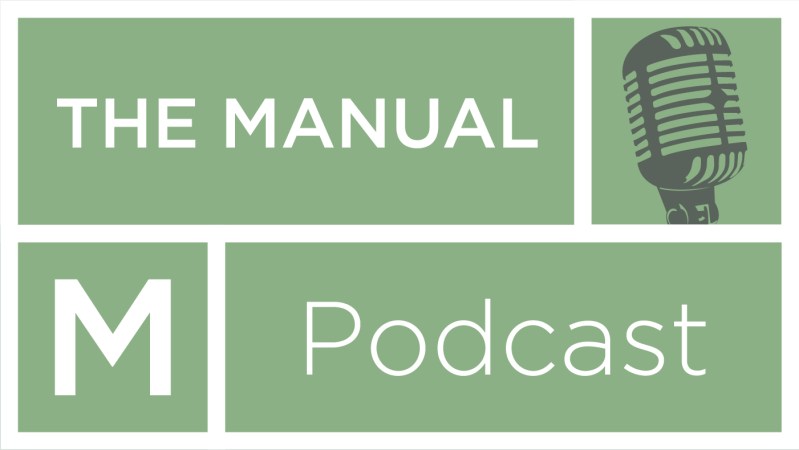 There are a few milestones in every person's life. Learning how to drive. Cooking your first perfect steak. Creating 100 episodes of a podcast.
OK, the last one may not apply to everyone, but we're damn sure to proud to share the news that this is The Manual Podcast's 100th episode.
Introducing The Manual Podcast
Which new bourbon are we pumped about? What does it take to be a master journeyman? Where are we excited to travel to next? The Manual is dedicated to helping men live a more engaged life – and that means learning new things. Each week, our podcast crew invites an expert, artisan, or craftsman for a roundtable discussion on what's new, exciting, and unique in their trade. While food and drink tend to dominate the conversation, we touch on everything from travel to fashion.
If you're a regular listener to our podcast series, you'll notice that we've changed things up a bit. Our original name — Beards, Booze, and Bacon — has served us well since we launched nearly two years ago in October 2017. However, we felt that the name didn't really represent the conversations that we have weekly with the most interesting people from a variety of trades, from the restaurant business to design and manufacturing. The Manual Podcast is simple and straightforward, much like our publication's mission: to show men how to live a life that is more engaged.
The 100th Episode
For our 100th episode, our roundtable — nonpareil host Greg Nibler, Food and Drink Editor Sam Slaughter, Managing Editor Nicole Raney, and returning legend Jake Rossman — talk about a topic near and dear to our hearts (and livers): day drinking.
Day drinking is a fun but risky endeavor. You want to enjoy a steady buzz all day, but you also don't want to cross over into dangerous drunken territory. The Manual Podcast crew discusses some of our worst day drinking experiences and the important lessons we learned from each. And, of course, since we were celebrating our 100th episode, we did this all while day drinking:
Our day drinking tips include:
Hydrate. Sticking to a 1:1 ratio is what Nicole recommends.
Eat: Start with a good meal and continue snacking.
Play. It's best to pair day drinking with some sort of activity, such as tailgating or camping.
Plan. Be smart with your drink choice and pacing.
Listen. Get your playlist situated ahead of time. Music sets the tone.
If you ever have a question or comment for The Manual podcast folks, give us a shout at podcast@themanual.com — we're always around! Be sure to follow us on Facebook and Twitter and subscribe and rate on whichever app you use to listen to podcasts.
Expect a new episode of The Manual Podcast every Thursday.
Our Favorite Episodes
We've had some great times over the past 100 episodes and (almost) two years. We've highlighted some of our favorites guests and discussions below.
Chad Traeger, pitmaster
Casa Noble Tequila with Pepe Hermosillo
Hugh Acheseon, celebrity chef
Ken Tomita, co-founder of Grovemade
Murray Carter, master bladesmith of Carter Cutlery
Matthew Shaer, journalist and podcast host
David Savona, editor of Cigar Aficionado
Tim Herlihy, ambassador for Tullamore D.E.W.
Zach Veach and Dalton Kellet, professional racecar drivers
Mario Andretti, racing legend
Katherine Cole, wine expert and author
Ben Jacobsen, founder of Jacobsen Sea Salt
The Manual Podcast live at the 2018 Portland Podcast Festival
Editors' Recommendations