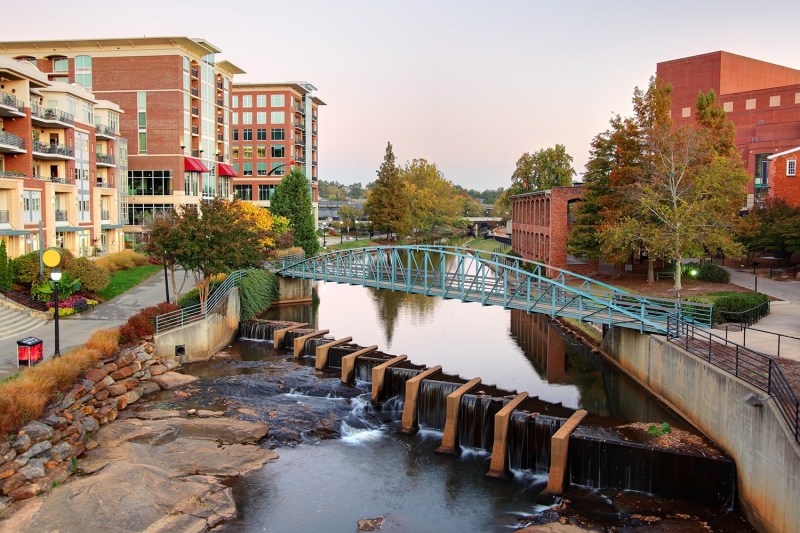 Which new bourbon are we pumped about? What does it take to be a master journeyman? Where are we excited to travel to next? Each week, The Manual Podcast invites an expert, artisan, or craftsman for a roundtable discussion on what's new, exciting, and unique in their trade.
For this week's episode of The Manual Podcast, Greg, Nicole, and Sam sit down with Jamarcus Gaston, TV Host with WSPA TV to talk all things Greenville, South Carolina!
With its slogan Yeah, That Greenville, the Upstate South Carolina city is a force unto itself, garnering notice in publications around the country for its culture, its livability, and Sam's booze bunker (only kidding on the last one), so we decided to sit down with Sam and Jamarcus to see just what makes Greenville so damn special.
As it turns out, a lot.
Whether you're looking for small-town charm, high-quality restaurants, craft beer, or a show to watch, Greenville has it all. Not only that, but its location makes it a perfect place to live or visit. If you want the beach, it's only a few hours away. Mountains? Well, you can see them right out the window practically. Located close to multiple major cities, Greenville offers a lot (including Swamp Rabbits) without being overwhelming.
Gaston gives the low-down on this upstate city, with personal picks from both him and Sam along the way.
Ever been to Greenville? Thinking about visiting and want to know where to go? Want to hang out in Sam's booze bunker? Let us know, we want to hear from you. If you ever have a question or comment for The Manual Podcast folks, give us a shout at podcast@themanual.com — we're always around! Be sure to follow us on Facebook and Twitter so you can join the discussion. Don't forget, too, to rate and review the podcast where you download it.
Further Reading
Editors' Recommendations