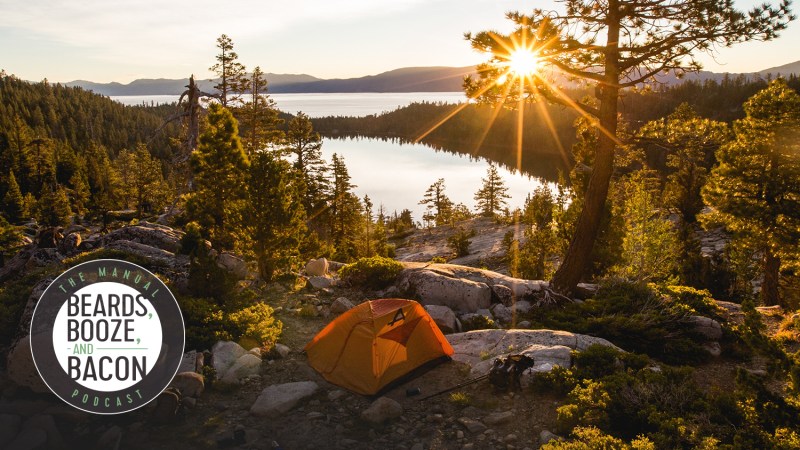 What new bourbon are we pumped about? Which hiking trail are we exploring? Why is the next supercar so cool? The Manual is dedicated to helping men live a more engaged life. Each week, our editors and guests get together for a round-table discussion about what's new, exciting, and unique in the men's lifestyle world. So pop open your favorite brew, step into your man cave, and start streaming. 

For this week's episode of Beards, Booze, and Bacon: The Manual Podcast, the round-table chats about one of our favorite activities: camping. Specifically our favorite tips, prep, and gear for camping in the spring. The cast includes host Greg Nibler, Managing Editor Nicole Raney, and special guest Rick Stella, the Outdoors Editor of our brother site, Digital Trends.
We start off by sharing some of our coolest — and strangest — camping experiences. Pro tip: avoid ghosts and whippets.
Next, Stella talks about his recent backpacking trip with REI in the Great Smoky Mountains in North Carolina. In addition to being one of the best marketplaces for outdoor gear, REI also offers curated adventures around the world. While we're the DIY kind of people, we have to admit: going on one of these guided getaways doesn't sound too bad.
Finally, it's time to prep: Nibler, Stella, and Raney discuss our camping and backpacking essentials, as well as some of our favorite gear and techniques. One of the most important facets of any trip is food. Are you a hamburgers and hot dogs kind of camper, or do you plan out full spreads? Let us know at podcast@themanual.com and listen below:
Further Reading
More from Digital Trends
Editors' Recommendations