What new bourbon are we pumped about? Which hiking trail are we exploring? Why is the next supercar so cool? The Manual is dedicated to helping men live a more engaged life. Each week, our editors and guests get together for a round-table discussion about what's new, exciting, and unique in the men's lifestyle world. So pop open your favorite brew, step into your man cave, and start streaming.
This week's edition of Beards, Booze, and Bacon: The Manual Podcast revolves around the holidays. Our special guest for this episode is chef Brandon Parsons, who was brought in for his expertise on holiday preparation and unique philosophy about cooking on his own terms.
The guys start off by talking about their families' unique holiday traditions. Editor-in-Chief Cator Sparks reminds us its important to reminisce during the holidays with the tale of his family's custom of watching old home movies (on real film). Food and Spirits Editor, Sam Slaughter, talks about his mother's Christmas cookie-baking bonanza (which includes an astounding 14 different types of cookies). Associate Editor Chase McPeak discusses his family's tradition of searching for The Christmas Pickle as well as their Midwestern penchant for gambling. Host Greg Nibler recounts tales of shooting arrows into nearly frozen ponds for their family dog to retrieve, which the guys all agree is a very unique tradition and the guys all agree. And chef Parsons offers poignant thoughts on the changes in holiday traditions after grandparents or parents pass away.
Finally, we end this episode with a few holiday cooking ideas— including brisket as a substitute for ham or turkey — and a discussion of the best holiday cocktails. Liquid apple pie, anyone?
Chef Brandon Parson's Holiday Recipe Recommendation
Finex Pig 'n' Potato Hash
This recipe is perfect for Christmas morning, boxing day breakfast, or New Year's Day. Who can say no to bacon and potatoes.
Ingredients:
5-7 potatoes, sliced into thin wheels
4 tablespoon unsalted butter
2 bell peppers, small diced
1 large yellow onion, small diced
5 cloves of garlic, chopped
1/4 pound cooked thick cut bacon
1 teaspoon Spiceology ground Aleppo pepper
fresh sage
fresh parsley, chopped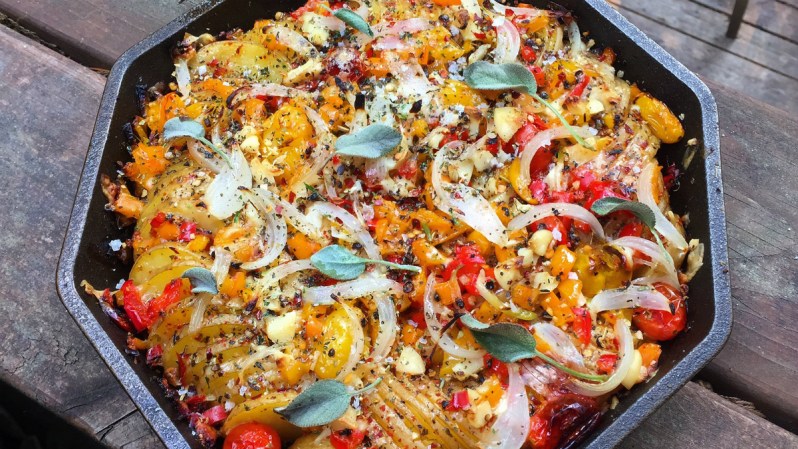 Instructions:
Preheat oven to 400 degrees.
Melt butter in a 10-inch Finex cast iron pan.
Arrange potatoes in the pan so they stand vertically in a spiral from the outside in.
Distribute the onion, peppers, and garlic evenly across the potatoes. Top with cooked bacon.
Throw in the oven until the potatoes are browned and the veggies are crispy. About 20 minutes.
Pull the hash from the oven and garnish with whole sage leaves and chopped parsley and serve!
Further Reading
Giveaway: Columbia Star Wars Luke Skywalker Echo Base Jacket: The Manual, along with our brother site Digital Trends, are offering one lucky winner a Luke Skywalker Echo Base Jacket created by Columbia in honor of the release of the latest installment in the series, The Last Jedi. Enter now and you could win the coat inspired by the gear worn by Luke on the ice planet of Hoth in The Empire Strikes Back.
Yule Love These Holiday Cocktails: From cinnamon tequila toddies to the Buttered Bourbon Ball, Sam Slaughter rounds up all the latest and greatest additions to the traditional holiday cocktail roster.
Our 2017 Holiday Gift Guide: If you're still searching for that last-minute gift for your brother, dad, uncle, etc, you're running out of time! Check out our top picks for 2017 and order now for arrival before Christmas.
Shout out to Portland-based No Kind of Rider for our intro/exit music.
Editors' Recommendations