What new bourbon are we pumped about? Which hiking trail are we exploring? Why is the next supercar so cool? The Manual is dedicated to helping men live a more engaged life. Each week, our editors and guests get together for a round-table discussion about what's new, exciting, and unique in the men's lifestyle world. So pop open your favorite brew, step into your man cave, and start streaming.

For this week's episode of Beards, Booze, and Bacon: The Manual Podcast, the round-table (Editor-in-Chief Cator Sparks, Associate Editor Chase McPeak, and host Greg Nibler) welcomes chef/pitmaster and Anthony DiBernardo of Charleston, South Carolina's acclaimed restaurant, Swig and Swine — which boasts 60 different bourbons, 14 beers on draft, 11 different side dishes, and, of course, barbecue.
The guys chat with DiBernardo about his first experience working as a cook on submarines in the Navy (at the tender age of 17) and learn more about how he got into the barbecue business, including some details about his early childhood as the son of an Italian butcher.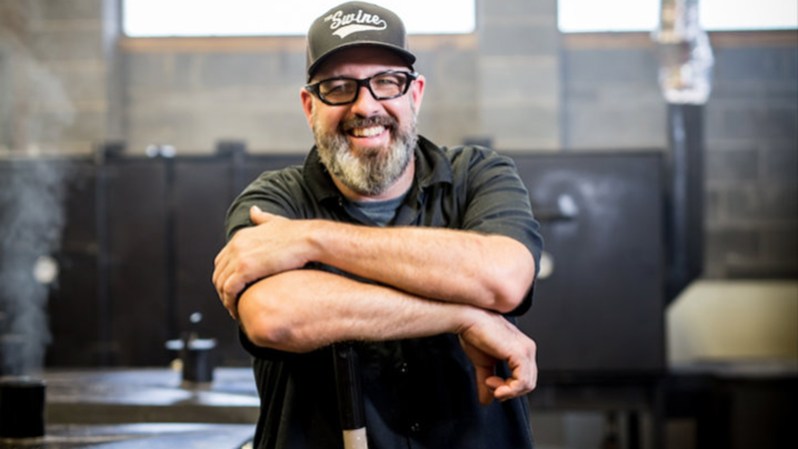 The conversation then turns to barbecue itself, with DiBernardo answering a few pressing questions: What is the primary difference between grilling and barbecuing? What is DiBernardo's favorite type of cut to barbecue? What are the some of the variables you encounter when cooking with live fire?
The group touches on whole-hog roasting, sauces versus dry rubs, Charleston's Blood on the River festival, and the importance of side dishes in barbecue food culture, including a run-down of Swig and Swine's famous Mac and Cheese (and the necessity of using shells instead of macaroni).
Finally, the guys get straight to the heart of the matter with the probing and eternal question of "gas vs. charcoal." DiBernardo's response is swift and, to many, unsurprising. Stream below to find out.
Further Reading
How to Make the Marty McRye (BBQ's Perfect Pairing): Learn Swig and Swine's step-by-step process of making a smokey, spicy drink that pairs well with a strong barbecue.
The Cowboy Cauldron Lets You Cook Like a Cowboy: DiBernardo uses it. Why shouldn't you?
American-Made Smokey Whiskies to Enjoy with BBQ: Everyone needs a little whiskey with their meat.
Beards, Booze, and Bacon: The Barbecue Episode: If today's episode wasn't enough barbecue for you, this previous episode dedicated entirely to barbecue will fill you up.
Best Dry Rubs for Barbecue: If you haven't got the time (or desire) to make your own dry rub, these store bought brands are more than fine.
Editors' Recommendations