A hearty meal of barbecue is no joke, and you're going to need a hearty drink to go with it. You can't just have any old cocktail, as light drinks might get swallowed up by the full flavor of the slow-cooked pork and whatever sauce or seasoning it's been cooked in/with. What does that leave you with? Whiskey! Specifically, rye whiskey, in this case. Even more specifically: the Marty McRye.
Not only do we love the punny name of this drink — which we discovered down at Poogan's Smokehouse in Charleston, South Carolina — but we're fans of the classic nature of the cocktail and how well it goes with meat. While we are of the school of, "If you try hard enough, any drink goes with barbecue," we will admit that there are certain flavors that go better with a heaping plate of pulled pork than others.
There are two main reasons why we love this cocktail with barbecue so much. First, the spicy nature of the rye whiskey — which is enhanced by the use of chicory liqueur — works perfectly to cut through the fat in the meat, leaving your palate balanced and ready to go for the next bite. Second, the sweetness (again from the liqueur, but also the brown sugar) helps create a rounded, balanced flavor. This roundness accompanies your chosen barbecue as perfectly as a piece of cornbread would.
We're not the only ones who think this. As bartender Jimmy O'Riordan described it to us, "The Marty McRye was a spicy, sweet take on a classic cocktail. A great drink from the '50s, '80s, and for today."
Sounds good, right? Well, you can now make the drink at home yourself. Below, check out the video and directions for how to make the Marty McRye at home. You don't need any fancy tools, either, just a good shaker and the will to hop on a hoverboard and go, go, go.
Where you're going, you're not going to need any other cocktail.
The Marty McRye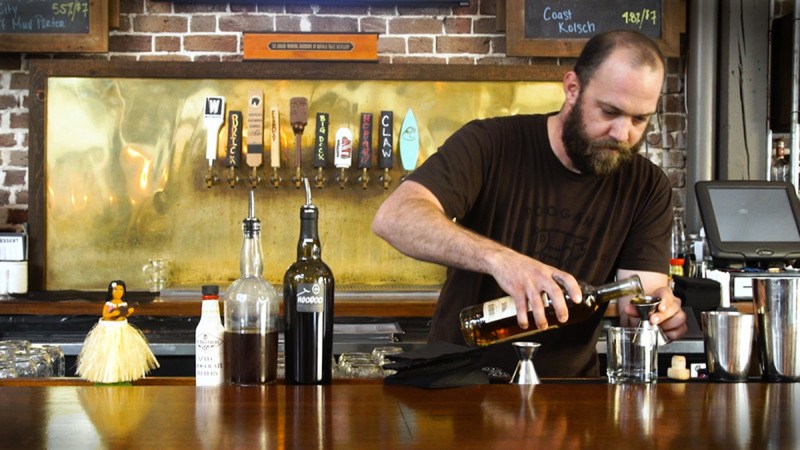 Method: Add all ingredients, shake, then strain over ice. Garnish with an orange peel.
Article originally published by Cator Sparks on April 4, 2017. Last updated by Sam Slaughter on June 7, 2018.
Editors' Recommendations