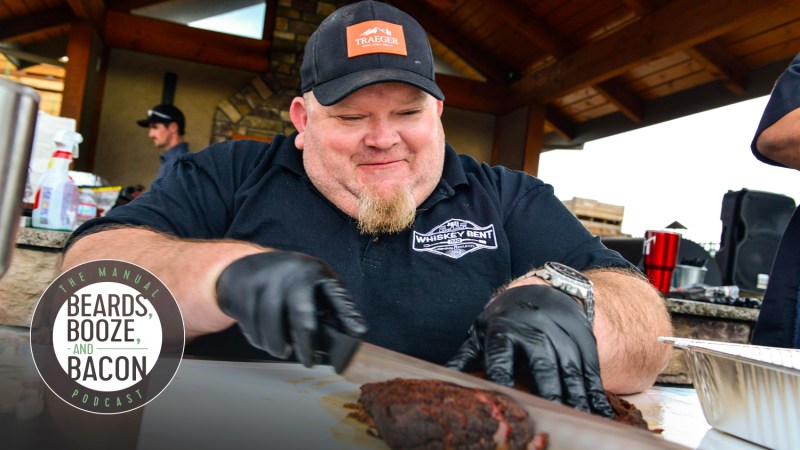 What new bourbon are we pumped about? Which hiking trail are we exploring? Why is the next supercar so cool? The Manual is dedicated to helping men live a more engaged life. Each week, our editors and guests get together for a round-table discussion about what's new, exciting, and unique in the men's lifestyle world. So pop open your favorite brew, step into your man cave, and start streaming.

For this week's episode of Beards, Booze, and Bacon: The Manual Podcast, the round-table — Food and Drink Editor Sam Slaughter, Managing Editor Nicole Raney, and host Greg Nibler — meet up with Chad Ward, professional pitmaster and director of "BBQ Marketing" for one of The Manual's favorite brands, Traeger Grills, to talk all things barbecue.
First, Chad sheds some light on what it takes to become a pitmaster and how he got into the game, from his young start at the helm of his family's grill to his eventual and impressive barbecue competition success. He then shares some expert tips and tricks to take to your grill, including how to keep meat from sticking to your grate, why the "redneck sous vide" is the best way to keep your steaks juicy, and how best to achieve an award-winning brisket. Chad also fills us in on his delicious dreams to eventually barbecue a bear and the weirdest thing he's ever put on a grill (hint: it involves gator, and we might start a petition to officially call this dish the "Florida State Flag").
Stay tuned for our barbecue-themed metal rock album with Chad. Confused? Don't be. Just listen to this hilarious episode to learn more about grilling (and meaty music):
Do you have a delicious recipe you would like to share? Is there something else you would like to know about barbecue? Give us a shout at podcast@themanual.com or hit up Chad on his Instagram — he's always down to help others make the most of their meat.
Further Reading
Editors' Recommendations