What new bourbon are we pumped about? Which hiking trail are we exploring? Why is the next supercar so cool? The Manual is dedicated to helping men live a more engaged life. Each week, our editors and guests get together for a round-table discussion about what's new, exciting, and unique in the men's lifestyle world. So pop open your favorite brew, step into your man cave, and start streaming. 
For this week's episode of Beards, Booze, and Bacon: The Manual Podcast, everyone is caffeinated and ready to talk about our everyday fuel — coffee, that is. The cast of characters includes Editor-in-Chief Cator Sparks; our Food and Drink Editor, Sam Slaughter; our Managing Editor, Nicole Raney; and our illustrious host, Greg Nibler.
We also have a very special guest from Charleston, South Carolina. Katie Weinberger, the marketing director for King Bean Coffee Roasters, chats with Cator about the importance of local coffee communities and what it takes to get the perfect roasts. (This is Cator's favorite from the King Bean lineup, by the way.)
Nicole gives us a quick rundown of the different ways that you can make coffee at home, and then the discussion moves on to the a more buzzworthy topic: booze! Because no podcast would be complete with it.  Sam give us a quick rundown on the history of Irish coffee (you can find more info below) as well as a delicious recipe that you can easily make at home.
Slane Irish Coffee
(Created by Pam Wiznitzer, Seamstress, New York City)
1.75 oz Slane Irish Whiskey
.5 oz Demerara simple syrup (2:1, sugar to water)
2.5 oz hot strong brewed coffee
1 oz cream float*
Method: In a heatproof Georgian glass, add Slane Irish Whiskey, Demerara simple syrup and coffee. Leave room at the top for the heavy cream. Stir gently. Float a thin layer of cream on top. Garnish with a healthy grating of fresh cinnamon.
*Cream Float
6 oz heavy cream
3 tsp powdered sugar
1 grating fresh cinnamon
Method: Combine ingredients in a Mason jar or protein shaker. Cover and shake for 20-30 seconds. Do not over-shake. They consistency should become denser, but still pourable.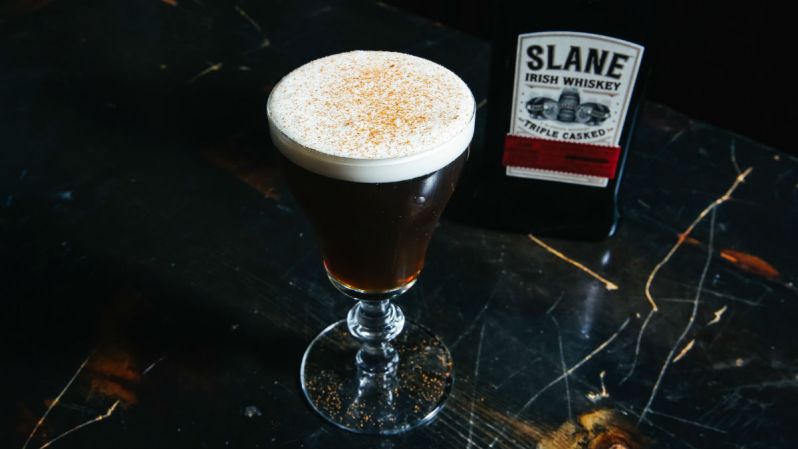 Further Reading
The History and How-To of Irish Coffee:  This classic caffeinated has a long and interesting back-story. We make up for any boring details by providing five tasty recipes.
Brew the Perfect Jolt of Java with these Home Espresso Machines: Complicated, professional-grade equipment is super expensive. These machines can satisfy your fix without requiring five-plus years barista experience.
What is a Scrub, Rub, and Chug? We almost didn't want to tell you so you imaginations would run while, but here's the mysterious procedure that Sam mentions in the podcast.
Need Something More? Here are Some of Our Favorite Coffee Products: Kuju Coffee Pocket Pourover and Nomad Espresso Machine, for when you're on the go; HuskeeCup, to reduce coffee-related waste; and the best travel mugs on the market. While you're at it, learn some more about civet crap coffee.
Editors' Recommendations