The bicycle you picture when you hear the term "beach cruiser" was first developed during the Great Depression. The bike was designed to be stable, easy to ride, durable enough to last for years, and affordable enough for people who were living through the goddamn Depression. The style was largely based on motorcycle design of the day, and partially informed by the simplicity of the parts and materials used to construct them. The thick, almost clunky tubular frames and broad balloon tires were not designed for speed or distance riding — they were built to last.
And last the best cruiser bikes did, enjoying immense popularity throughout the middle decades of the 20th century. In the 1960s, the allure of cruiser bikes began to ebb as ever lighter, faster, sleeker bicycles became available. While the cruiser could never compete in a race with a carbon fiber street racer or beat a mountain bike in terms of off-road ability, there was a charm to these bicycles that assured they would never truly go away.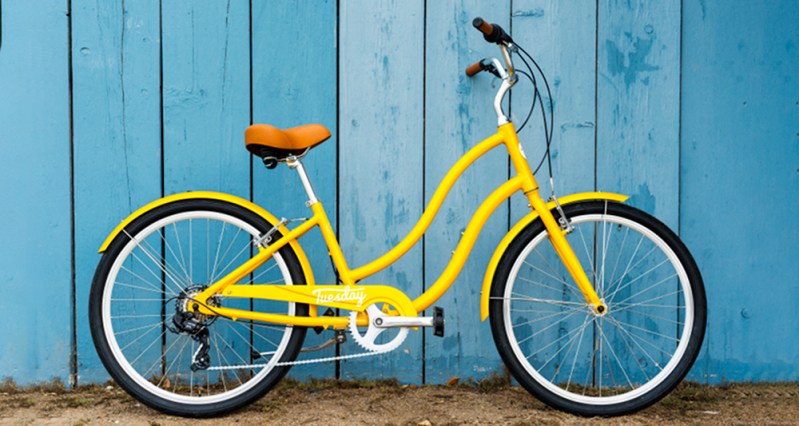 In the early decades of the 21st century — yet another era in which everything old is new again (vintage pants, speakeasies, and the Macarena are all the rage these days, amiright?) — the beach cruiser bike is enjoying renewed popularity. More and more people who live in or near cities are eschewing cars in favor of bikes for commuting, and bicycle riding as recreation is more popular now than it has been in many years. (In the United States, anyway — bikes never really experienced a lack of popularity in The Netherlands, last I checked.)
Cruisers are the ideal bike for the person who isn't concerned about breaking speed records or conquering uphill terrain, but rather more interested in a fun and easy ride. A cruise, if you will. If that sounds like your kind of bike riding, then a bike from Tuesday Cycles is the right choice for you, sir or madam.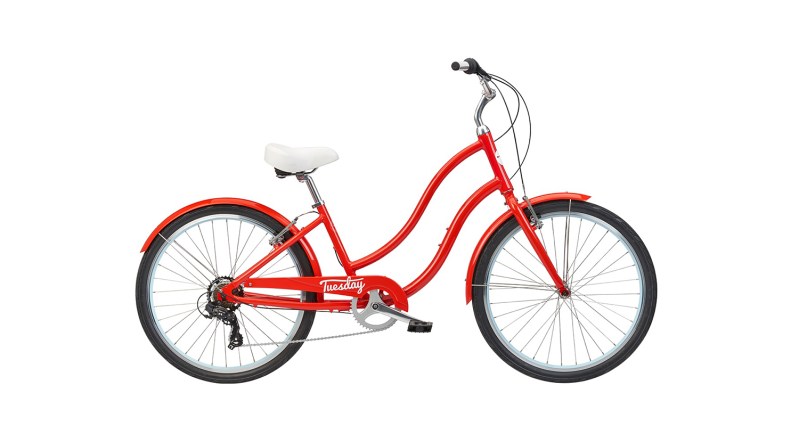 In the company's own words: "The Tuesday lineup is full of bright and boldly colored cruiser and pavement bikes designed for a carefree and laid-back ride, whether you're headed down the strand to the beach or across town to your local coffee shop."
I had the opportunity to see several Tuesday bikes earlier this year at an event in downtown New York City. The bikes manage to be both elegant and relaxed at the same time, something few products or people can pull off. (A genuine Swiss Army Knife and actor Adrien Brody are other good examples.) Every bicycle Tuesday makes looks like a beach cruiser, even though they are divided into two categories: Pavement and Cruisers. The tires are broad, the frames are made from thick tubes, and the saddles (that's the bike seat for those not in the know) are large and designed for comfort, not for racing.
Many Tuesday Cycles are single-speed, but there are a few are three-speeds and seven-speeds. These multi-speed bikes have hand-operated brakes; you control the gears with a twist shifter. The single-speed bikes use a good old kick-back brake, the same kind you used when you were a sunburned kid zipping around a San Francisco suburb back in the late 1980s. (If that description aptly applies to you, please let me know so I can wink and point with a finger gun.)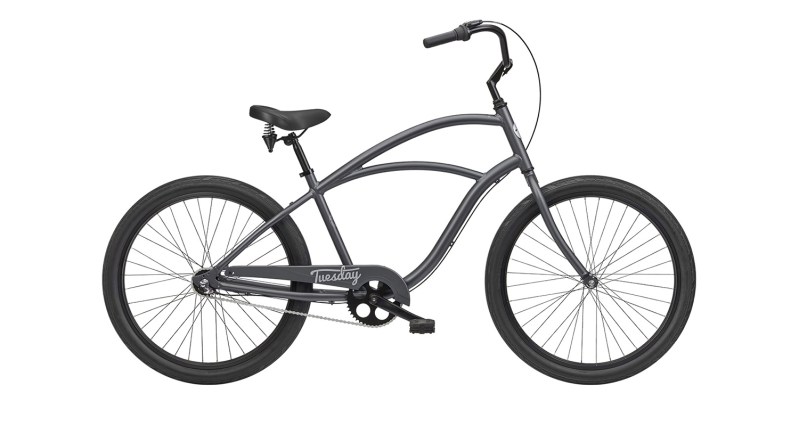 You can raise or lower the saddle and, thanks to the placement of the pedals and the wide-set curved handlebar design of their cruisers (the Pavement series bikes have a more linear handlebar shape), riders of all sizes will find a Tuesday comfortable and, above all, easy to ride. In keeping with the easy, breezy mentality of it all, many bikes come on one size option; a few come with either 24- or 26-inch wheels. And that's it.
The pricing of Tuesday Cycles starts around $250, while the most expensive selections are closer to $600. As these bikes are built to last for years, even if you're actually cruising along the beach — the "rust-buster chain" and stainless steel hardware won't corrode in salty air — that's money well spent. If you put fun ahead of fast when you're out for a ride, and you like a bike with classic cruiser style, then a Tuesday Cycles bike might just be the best best for you.
Editors' Recommendations