We live in a glorious age of portability for adventure gear. From modular surfboards to inflatable stand-up paddleboards to collapsible "briefcase" kayaks, it's possible to road-trip with a full arsenal of outdoor kit while leaving the rooftop cargo carrier in the garage. Now, French brand TIWAL has joined the fray with the most compact collapsible sailboat we've ever seen.
To be sure, the company's latest generation TIWAL 3.2 is no party boat, but it's not trying to be. It's designed as a spur-of-the-moment pleasure craft for tooling around mountain lakes or roadside ponds without worrying about hauling a full-size boat. By the numbers, it's a surprisingly solid, full-featured watercraft. The 10.5-foot-long TIWAL weighs just 111 pounds but is capable of ferrying nearly 420 pounds of passenger weight. In practical terms, this equates to two reasonably sized adults or one adult with two children.
The V-shaped underbody is built wide for added stability, even when loaded to bear. The design ensures it's able to tackle relatively rough waters without capsizing. This also means it's capable of maximum acceleration in three- to four-force winds (depending on load). The base 56-square-foot sail offers a good balance of performance in almost any sailing condition, while the upgraded 75-square-foot canvas ensures higher-performance in even the lightest winds. The hull is crafted from the same durable double- and triple-layer PVC material used in the manufacture of many semi-rigid motorboats.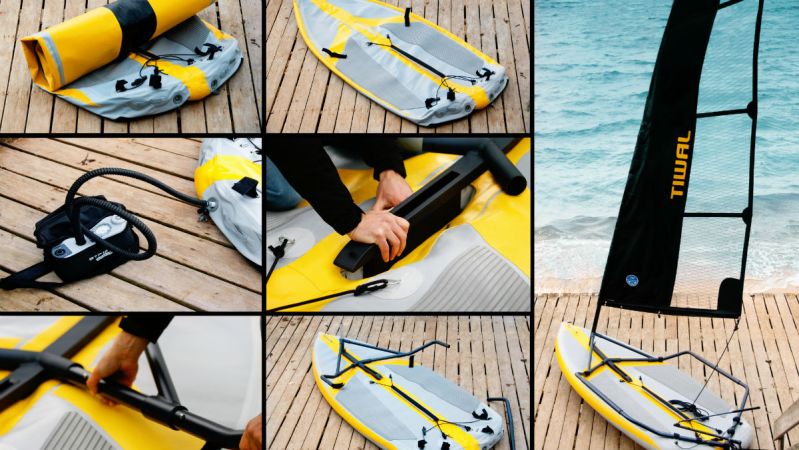 The TIWAL packs down to a surprisingly compact footprint. The entire inflatable dinghy fits into just two medium-sized duffel bags that are collectively small enough to fit in the trunk of a car or the rear of a small SUV. Setup is simple. Unpack the two bags along the water's edge, inflate the hull, assemble the structure, and raise the sail. With a little practice, the two-person task can be tackled in less than 20 minutes. Take-down requires a bit less time.
The entry-level TIWAL 3.2 with a 56-square-foot sail starts at $5,200 (plus shipping). Upgrade to the larger, 75-square-foot sail package for $5,500, or score both sails with the company's flagship, $6,200 package. A two-year warranty against manufacturer defects is included.
Editors' Recommendations