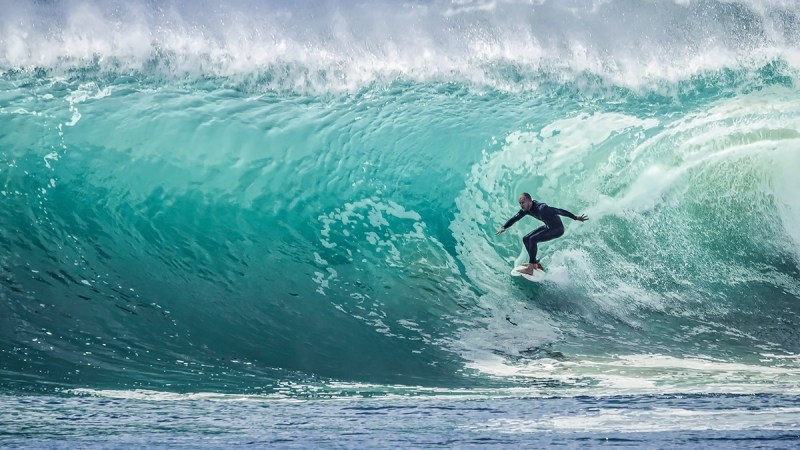 Surfing in an exotic location halfway around the world is awesome. Getting to that exotic location with your board (or boards) is another matter entirely. Thanks to little help from the airlines, it's often inconvenient, cumbersome, and pricey. Renowned product designer Thomas Meyerhoffer is changing the game with the most travel-friendly surfboard concept we've ever seen.
The aptly named 2PRT modular surfboard solves the travel problem first and foremost. With a design that splits just ahead of the fins, it becomes portable enough to pack on a train, bus, or airplane. Airlines, in particular, are notorious for hitting surfers with oversized luggage fees — as much as $150 each way, in some cases. Depending on the exact components of the 2PRT and the specific airline being flown, a traveling surfer could break down his board small enough to skirt any excess fees at all.
Since this forward-thinking design is modular, it allows for a mix-and-match approach to combining nose and tail options. It's infinitely adaptable to a variety of waves and surf styles, from longboard to fish to thruster.
Meyerhoffer's project has been nearly two decades in the making, although he's not the first to rethink the footprint of a surfboard and make it more portable and adaptable. Walden's Trifold surfboard was clever but over-complicated, which is why it never quite took off. Both North Shore Travel Boards and Carbon Compact offer innovative segmented boards as well, but reassembly requires clamps, bolts, and tube inserts to maintain their rigidity.
The 2PRT surfboard, on the other hand, makes use of an ingenious key-and-latch system to connect and separate the two parts. The entire affair can be disassembled or reassembled by one person in 30 seconds or less.
Meyerhoffer expects preorders for the 2PRT to become available on his website December 2017. The anticipated $1,600 price tag secures a custom board with one nose and two tails. This clearly isn't a board for surfers looking to dip their toes (pun intended) into the sport, but rather a niche product for anyone serious about traveling to find the world's best — and often most difficult to get to — surf spots.
Editors' Recommendations