Forget waterskiing and old-school banana boat rides. We're living in a golden age of personal watercraft with access to everything from hydro jetpacks to "flying" Jet Skis. Now, thanks to one Swedish brand, even surfing has gone high-tech making the sport possible without waves.
Radinn's G2X Jetboard combines all the fun of wakeboarding and surfing without the need to rely on mother nature. The high-tech board boasts an ultra-quiet, brushless, electric motor capable of pushing the G2X to a top speed of 36 miles per hour. Even for avid surfers, that's pretty damn fast over open water. It's controlled via a waterproof, wireless, handheld remote that puts full control of the board exactly where the rider needs it. The remote allows the rider to easily fine-tune their preferred speed, and a series of LED indicators displays the remaining juice left in the battery pack. The standard swappable battery is good for 25 minutes of riding, and the intelligent remote vibrates when the pack gets low. So, you'll have plenty of time to head back to shore before getting stranded.
The G2X Jetboard is Radinn's second go-round with an electric surfboard. The first iteration, the Wakejet Cruise, was released in 2015 and touted as the world's first electric wakeboard. However, it was slower, lacked a swappable battery (forcing surfers to wait more than two hours between rides), and priced at an eye-popping USD $20,000. The next-gen G2X is better in every way and features a lower — though not exactly cheap — price tag.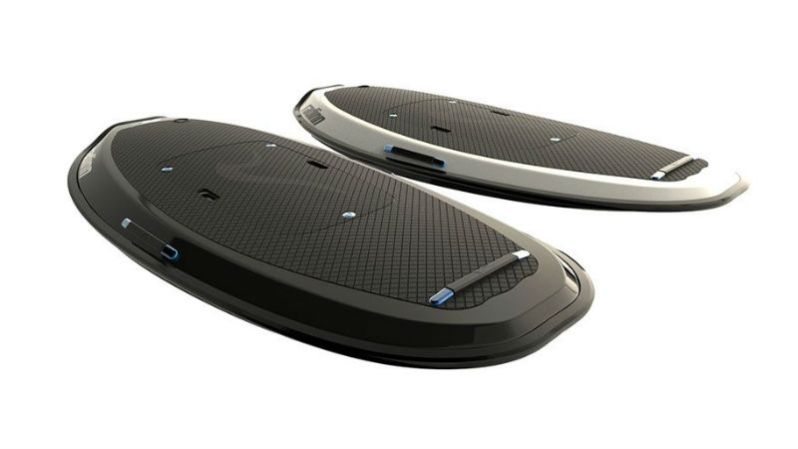 The Radinn G2X Jetboard Electric Surfboard is scheduled for official release later this year. The standard kit is currently available for pre-order in white or black for a cool €9,900 (approximately USD $12,200) which includes the G2X board, a powerpack L, the remote controller, standard charger, and a board bag. Numerous upgrades are available including a rapid charger, a beefier 3,700-watt-hour Powerpack XL (for 10 minutes of additional ride time at full speed), and a "Radical Upgrade" option to push the Jetboard's top speed from 50 kilometers per hour (31 miles per hour) to 58 kph (36 mph). Sure, that extra 5 mph will cost you nearly €1,000 (USD $1,230), but can you really put a price on fun?
Editors' Recommendations