Get ready to resent your flashlights, lanterns, and head lamps.
How in the heck did a simple lantern earn more than $500,000 on Kickstarter? Well, a Hong Kong-based grassroots product design company called DACH opened our eyes to the fact that our lighting devices today really don't do enough.
DACH's response is called Project Lunar— a multifunction lifestyle lantern inspired by the shape of vintage camping models, but with a clean, metallic and matte color-pop design.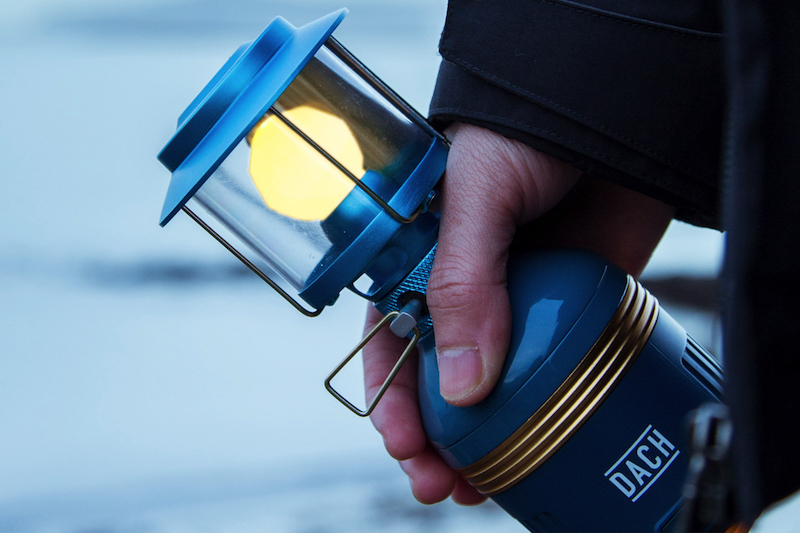 With three lighting modes controlled on the side by a gas valve stimulator, we're given just enough brightness and mood-setting options without the device feeling haughty.
And the light isn't just light on Project Lunar. Let us explain…
The lantern's twin Cree LED chips generate a white "Golden Glow" of 2700 lumens, which evokes the sensation of being warm and cozy. Even crazier, the combination of Lunar LED spectrums makes the lighting less attractive to mosquitos and other insects that traditionally swarm to the glow of flashlights and other outdoor lighting devices. The soft glow also promotes better sleep versus bright, almost fluorescent lanterns or glaring phones (Gahh!) and instead mimics the soothing blaze of a campfire.
Other wicked smart features on the Lunar include a built-in USB powerbank, 240 hours of straight burn time, 100-percent waterproof durability, a glow in the dark feature so we can find it in the middle of the night while camping (when you gotta go…), and two alternative modes that turn the lantern into a torch-style flashlight and hands-free body lamp.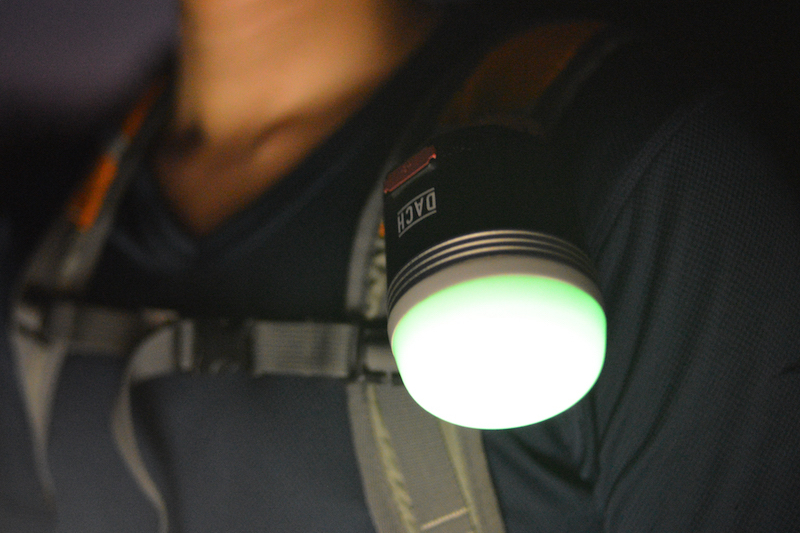 By screwing off the base and attaching a new head where the lantern was, Lunar becomes a mega flashlight with a zoom feature to expand or contract glow range. In its compact mode, it clips to a backpack and lights your general area during evening hikes. And unlike the bulky multi-part accessories we're used to being weighted down by, Lunar charts in at only 600 grams— that's less than 1.5 pounds, people.
As far as function goes, we've only grazed the surface of Lunar's abilities and cross-use, but it's safe to say we're freakin' impressed. * Slow clap. And yes, we've decided to use Project Lunar both on camping trips and while winding down in our apartments… which is exactly what DACH wants.
The light was meant for indoors as much as outdoors, acting in lantern mode as an easy-to-move table or bedside ornament. Not to mention an excellent item to have on hand in an emergency or when the power goes out.
What were we saying about a simple lantern earning half a million dollars? We're not surprised anymore. In fact, we wish we jumped on the bandwagon last year during its Kickstarter campaign (which has closed). The first Project Lunar models will be shipped in March, so be ready to resent your current blasé lights until DACH takes liftoff.
Photos courtesy DACH