In early 2018, Outdoor Retailer, the largest outdoor sports gear and clothing trade show in the country, was held in Denver, Colorado, for the first time (after being in Salt Lake City, Utah, for decades). From July23-26, Outdoor Retailer Summer Market 2018 descended upon Denver once again, providing outdoor brands big and small the opportunity to showcase their new products, lines, and more for the summer sports season. After walking dozens of miles around the closed-to-the-public expo floor and seeing plenty of stuff to excite us, we narrowed down our long list of favorite stuff to just five "Best of Show" winners. From the best environmental brand to the best backpack, these are the best new pieces of gear and tech for 2018.
Best Innovation
Tentsile Universe Tent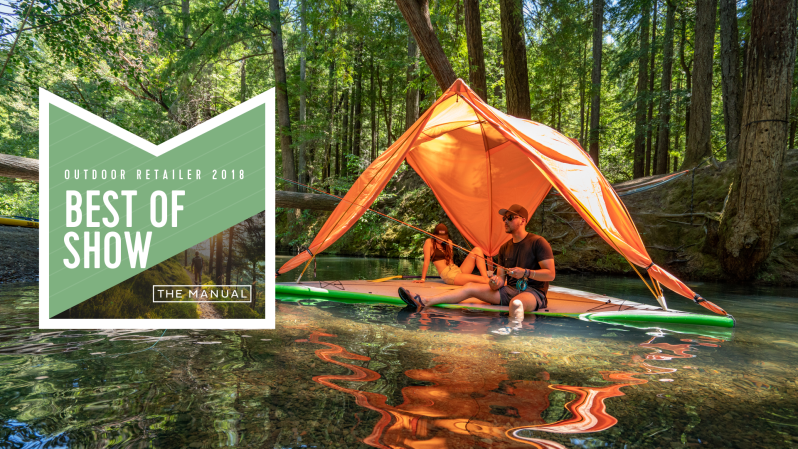 It's a raft! It's a hammock! It's a tent! No, it's a Tentsile Universe Tent, which is all those things (and if you're brave and have some rope, a hang-glider … we kid, we kid). Hot off the immense popularity of the its suspended tee tents, Tentsile decided to go one better and amp up the basic tree tent format to be the ultimate tent transformer. Using the classic triangular base of a typical Tentsile tree tent, the brand simply made the footprint inflatable and, voila!, the tent is now a raft or giant SUP board, whichever you prefer. Tack on the canopy and it's now a floating party barge! Lift it out of the water and tie it to the tree and bam, it's back to a tent again. Never before have we seen a tent that can be used on land, water, and in the air.
Pricing for the Tentsile Universe starts at $1,999. The second most expensive Tenstile offering, the Safari Stingray, is priced at $950 and a reasonably priced, extra-large SUP board costs upwards of $1,100, so it may be the better deal if you're considering both pieces of equipment. Pre-order will be available in August, with delivery scheduled for early 2019.
– Chase McPeak
Best Technical Pack
Ortelieb Atrack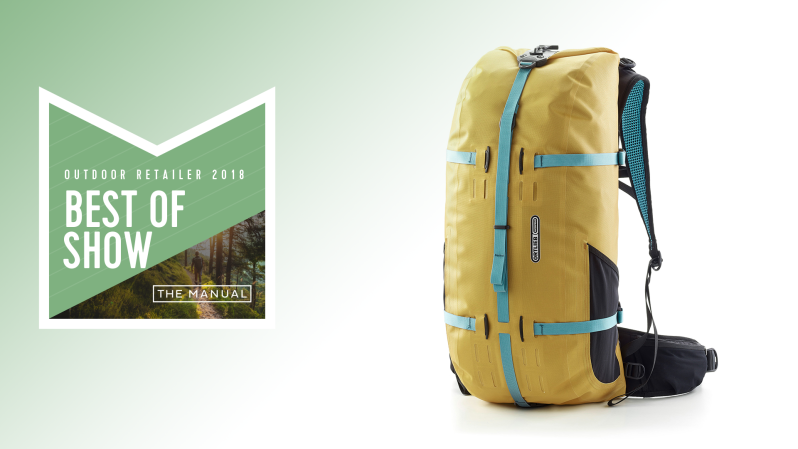 The new Ortlieb Atrack adventure pack is a completely waterproof backpack-duffel hybrid. Nothing shocking or new, right? It doesn't matter, because we're in love. The Atrack is both a full-featured outdoor pack for highly technical use (you just need $20 upsell gear kit that fits everything from skis to a helmet, snowshoes, hydration pack, and more) and a modern adventure travel duffel bag. Simply put, its completely waterproof fabric (these guys don't use as much as one thread in their seams) is the result of radio frequency welding, a procedure Ortlieb has been doing for 35-plus years that welds the fabric together in 3D, making the seams almost indestructible. A TIZIP zipper runs flat down the wearer's spine, so when you need gear, put the bag down on its front and access the entire contents. We've seen a lot of technical packs (we mean a lot) and Atrack hits every sweet spot.
The Ortelieb Atrack will be available in early 2019 for $265, $275, and $285 for the 25-, 35-, and 45-liter models, respectively.
– Jahla Seppanen
Best Heritage Product
Mountainsmith Mountain Tipi Tent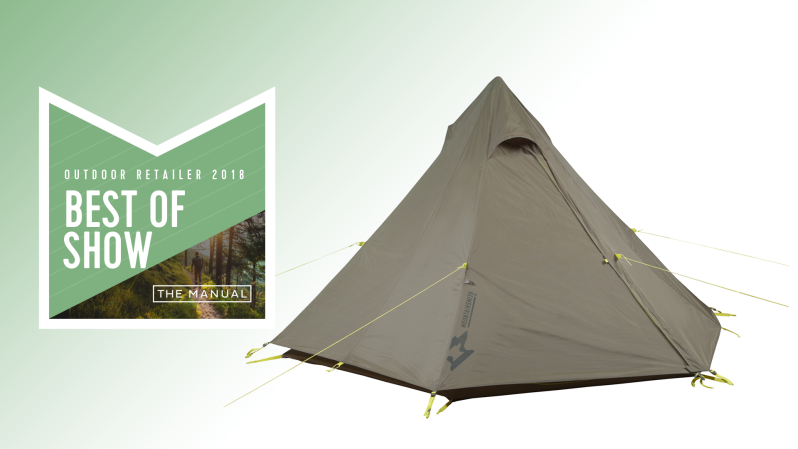 While not new in the traditional sense of the word, Mountainsmith's newly re-released Mountain Tipi Tent wins our pick for best heritage product from Outdoor Retailer Summer Market 2018. It was the simplicity of the design that gained it top marks from us. Stripped down to its bare essentials, the Mountain Tipi weighs just over 5 lbs and, with it fully packed, just under 7 lbs. With only a single central pole; space for two (and a dog); three ventilation windows with rain flaps, mesh wall panels, taped floor seams, interior storage pockets, and the oh-so-important reflective guy-lines and stake out points; Mountainsmith has re-created a tent that can be set up in a flash. It's high-angled design also allows for rain, snow, and other precipitation to slide off quickly, thereby preventing any residual moisture from seeping in during inclement weather.
Not much is known about the remaining details other than it will retail for $250 and will be available in the coming seasons directly from Mountainsmith.
– Chase McPeak
Best Environmental Brand
Toad & Co.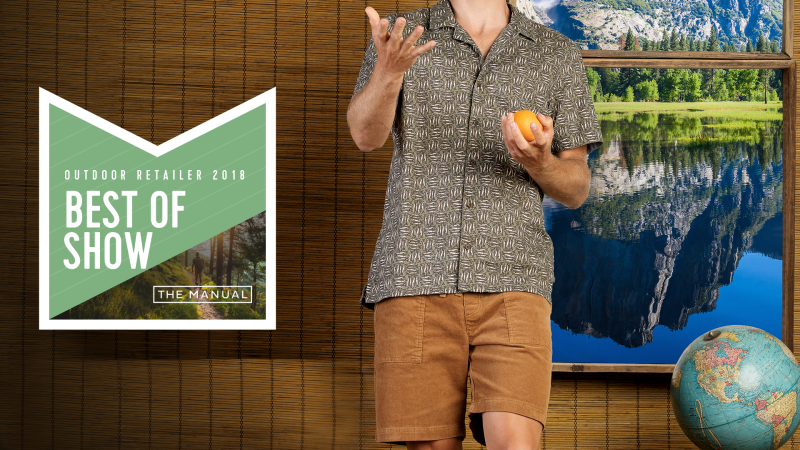 When asked to think of an environmentally friendly outdoor and apparel brand, Patagonia probably instantly comes to mind. And for good reason: The venerable brand has done some great things for nature and wildlife all throughout the world, and we applaud them for that. However, one apparel brand, Toad & Co. has gone to the limits of environmental sustainability and come out on top. Starting with the Toad & Co.'s spring and summer 2019 line, 100 percent of all styles will meet the brands "eCo" standard. But what is an "eCo" standard? Well, for many companies, being "eco" can mean that as little as 10 percent of the raw material used in the production of the piece of clothing is composed of sustainable fibers. Just 10 percent! With Toad & Co. however, a minimum of 80 percent sustainable fibers or fabrics must be used in manufacturing. How do they do it? By using all-natural hemp fiber in many of the brand's new T-shirts, sweaters, shorts, and certified indigo-dyed travel pieces, as well as with recycled denim.
As the brand says itself, "At each step of the garment production, there is a sustainable option or a cheap option. Choosing sustainability isn't always the easy route, but for Toad & Co., it's the only route." And for those reasons, Toad & Co. wins The Manual's top spot for the best environmental brand of 2018.
– Chase McPeak
Best Tech
Waka Waka Connected Kit+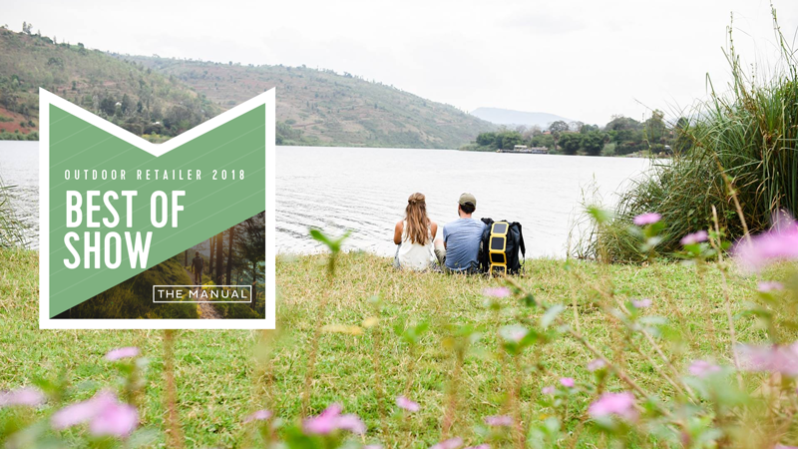 We're no stranger to portable solar power kits. We've written about other brands in the past, but none have struck us quite so completely as Waka Waka and its Connected Kit+. Made from as many recycled materials as possible, Waka Waka's solar kits are water-resistant and durable, providing on-demand power when you need it — that is, as long as the sun's out. The Waka Waka Connected Kit+ comes with a fold-out, four-board solar panel that produces up to 10 watts of energy, a Power10+ battery pack with a 10.000 mAh battery that can fully recharge your smartphone up to four times, a smaller Power+ portable charger, and a light, charging cable and power adapter. The whole shebang will set you back $273, but that's a small price to pay for peace of mind when the power goes out or you're lost in the forest without power on your GPS.
Harnessing the power of the sun alone isn't the only skill Waka Waka has up its sleeve. The brand also gives back in a bright way with the Waka Waka Foundation, a non-governmental organization (NGO) that raises funds to provide sol­ar products to families in humanitarian crises and improve access to safe and sustainable solar in rural communities. Now, that's what we call a bright idea.
– Chase McPeak
Outdoor Retailer returns November 8-11, 2018, for the Winter Market, followed by the Snow Show in January 2019.
Editors' Recommendations