It's no secret that Nemo Equipment is one of favorite outdoors brands. From comfy sleeping bags to some of the best tents on the market, Nemo's meticulous design is evident in every product. Since they are celebrating their 15th anniversary this month, Nemo's founder, Cam Brensinger, wanted to release a limited edition product that reflected his love of design and craftsmanship. The Spoon Shaper Kit ($130) reflects Brensinger's love of wood working, and Nemo's dedication to personalized, and carefully curated products.
Nemo's dedication to building unique products began with Brensinger's careful eye for detail and design while attending the Rhode Island School of Design. Following graduation, he brought careful design and focus to the outdoors market with Nemo's first AirSupported tents. That heritage has guided every product since, from award winning sleeping bags to ultralight backpacking tents.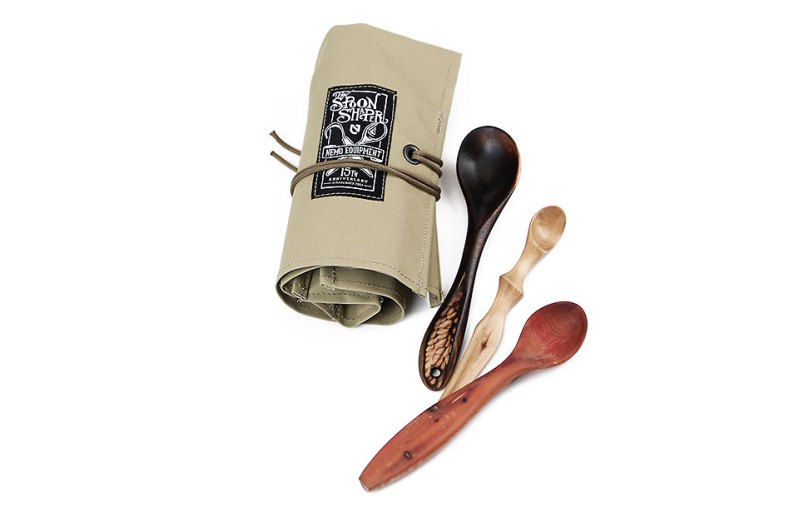 The Spoon Shaper Kit reflects both Nemo's commitment to innovation, and Brensinger's love of working with his hands on distinctive, personalized products. The kit is purpose built to help you carve and shape a camp spoon (hence the name). Each tool included serves a purpose, with no superfluous inclusions. It's important to note, no instructions or wood ships with the kit, so you're on your own to head out on the trail and find some local deadwood to start carving your own spoon.
First up is a folding Opinel No.12 Saw. It made short work of some scrap wood as we explored options with pine and apple branches for our own spoons. The Morakniv 106 Woodcarving Knife makes an excellent option to start roughing out your design. The polished wood handle and short blade are as at home shaving small bits off your spoon as they will be on display in your office. Finally Nemo included a hook knife that works very well in hollowing out your spoon's bowl – beware though, this little tool is incredibly sharp.
Nemo's 15th anniversary, and beyond, will bring us more of our favorite sleeping bags, tents, and pads. Until then, you couldn't make a better choice for a personal project or Father's Day gift than the Spoon Shaper. Grab one fast though, as only a small batch will be available before they are sold out forever.