The humble bicycle has seen only incremental changes since it was invented in 1817. Now, however, lightweight motors and lithium-ion battery technology are creating the fastest, easiest, and highest fun-factor method of transportation: the e-bike.
E-bikes, or electric bicycles, have a small motor and battery that either help you pedal or push you along without any effort at all. Hills and distances that would otherwise take a massive amount of effort, sweat, and maybe some tears can now be surmounted with a fraction of the energy. The possibilities: ride to work without breaking a sweat, haul groceries and/or kids around with ease, trek 50 miles to the next town for an overnight trip while carrying all your gear.
Haven't been for a ride yet? You should. Here's a quick intro to e-bikes.
An Introduction to E-Bikes
Although commuting can be a cinch on an e-bike, they aren't limited to urban cruisers around town. Every type of bike is getting an electric makeover to increase the distance and speed — and don't forget the sheer fun of ripping around at 20 mph with hardly any effort.
Types of Ebikes
While it would be great to slap a 5-horsepower engine to a bike and head to work, chaos would likely ensue on the streets. To safely use these zippy bicycles on roads and trails, we need some sort of system to organize all the motor and battery sizes. Europe already has this structure dialed in and the United States is learning as we go. California signed this structure into law in 2015 and other states are following suit.
E-bikes fall into Class 1, Class 2, or Class 3, categorized by top speed and battery output. All classes are bicycles with pedals and a battery less than 750 watts. Class 1 e-bikes only move when pedaled and have assistance up to 20 mph. Class 2 e-bikes have a throttle that pushes the bike up to 20 mph. Class 3 e-bikes only move when pedaled but can go up to 28 mph and have a speedometer.
E-Bike Recommendations:
Fully suspended mountain bikes have the electric Specialized Levo to look up to. Adventurers can pack all their gear and hit the road and dirt with the all-new Yamaha Wabash gravel bike. If you're into travel or just don't have a lot of storage space, a RadMini Electric folding bike should be high on your list.
Range depends on the watts and how hard you push the e-bike — just like your phone when you have GPS, Spotify, and other apps running, the battery on an e-bike won't last long if you push. E-bikes have three or four different power modes to help you ride: Low or Eco gives you a small amount of assistance, Medium or Standard helps out more, High or Turbo requires only light pedaling to take you up hills. The higher the setting, the faster it drains the battery. You can ride 35 miles to 100 miles depending on how hard you're pedaling.
Each of the classes has different limitations in different states. Typically, Class 3 and sometimes Class 2 are more limited to where they can go. Some states will restrict Class 1 e-bikes from riding in certain areas, like trails, so check your local laws before buying a bike.
A final note about batteries: you can't fly with them, at least not with their batteries. To travel with your e-bike, you'll need to rent a battery or a whole bike at your destination.
Pedal Assist or Throttle?
There are three types of motor units or drives available for e-bikes today. The most basic and least expensive is the front hub setup. A motor is placed in the center of the front wheel, pushing the wheel around. This makes the wiring to the controls on the handlebar easier.
Next up is a motor in the rear hub. It requires a little more work to set up but is relatively easy to do yourself; if you're buying an e-bike, then the work is already done for you. This layout distributes the weight farther back but works well for Class 2 e-bikes with throttles.
The final and most balanced setup is the mid-drive motor. Attached to the bike near the pedals, the mid-drive keeps weight centered and low, improving the bike's handling, especially off-road. Pedals are connected straight into the motor, making it easier to measure your torque to provide a smoother ride.
Price and Safety
E-bikes fall into Class 1, Class 2, or Class 3, categorized by top speed and battery output.
The cost for e-bikes can vary considerably — you're buying a bicycle plus a motor system and a large battery. About $1,000 can get you an entry-level, hub-driven commuter that can replace a car for many purposes and get around town with no problem. At around $2,000 to $3,500, the e-bikes get better drive systems and higher quality parts; here, e-bike types expand into electric mountain bikes, road bikes, and folding styles. Above $3,500, you can get any type of e-bike equipped with higher capacity drives and batteries — sometimes two — and stronger e-bike-specific parts. Any of these options are still cheaper than a Tesla, at least.
Because e-bikes can get much faster than a traditional bike, you'll need to watch what you're doing a little more. Just as with operating a motorcycle, riding defensively can keep you off the pavement and on your bike. And with an extra 20 pounds attached, stopping can take a little longer, so plan for that. And always have that brain bucket (helmet) on.
Why E-Bikes Are the Future of Transportation
The pace of technology is bringing us better e-bikes every year — lighter, faster, and stronger. Getting to work or the grocery store is no longer a sweat fest.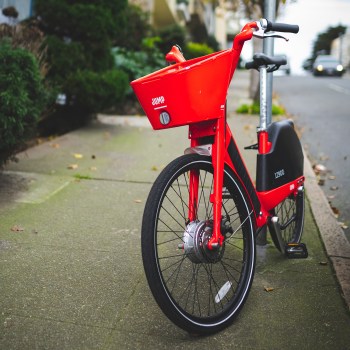 Access to bike paths and trails is also getting better. The bike advocacy group in the United States, People for Bikes, works with governments and other groups to allow Class 1 e-bikes everywhere traditional bikes are allowed. The organization helped California draft its current e-bike laws, which allow all e-bikes access on bike paths, lanes, routes, and protected lanes (except that Class 3 e-bikes are barred from bike paths that host walkers and runners, because of their speed). New York has made Class 1 e-bikes legal, even using them to shuttle users over the Williamsburg Bridge during its L train tunnel closure.
A growing number of cities are participating in bike shares involving e-bikes. Instead of getting a ride-share with Lyft or Uber, you can get a ride with Citi Bike or Jump (owned by Lyft and Uber, respectively). Citi Bike will have over 4,000 e-bikes at hundreds of stations around New York City in 2019. Motivate (owned by Lyft) runs Ford's GoBike program in the Bay Area with 7,000 bikes, nearly 1,000 of which are electric.
Off-road bikes generally see a big uptick in sales and usage after big events like the 2019 UCI World Championship mountain bike race, which now has an e-bike category. (Electric mountain bikes can have up to a 250-watt battery and a top assisted speed of 15.5 mph.
E-bikes are looking like the future of transportation — and the future is approaching quickly.
And some can even charge your phone.
Editors' Recommendations