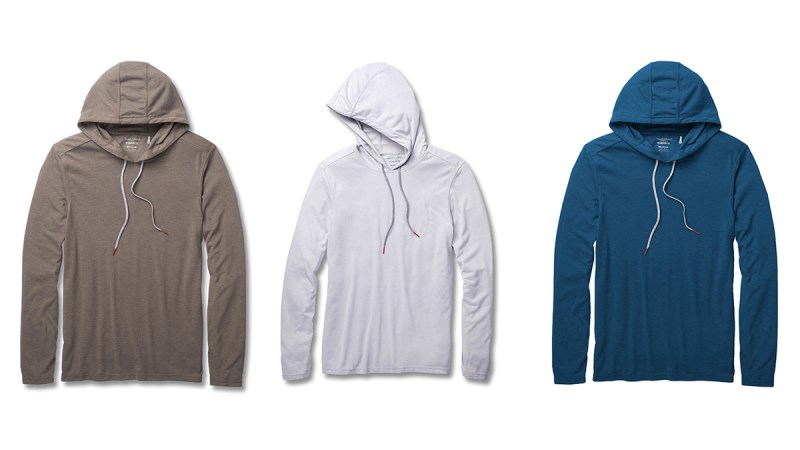 If you're like me, you are 6'2″, love Tolstoy, have climbed Mt. Whitney four times as of July 2017, you have one son, you're horrible at math, often spill beverages, you hate sunburns and bug bites, and you love a good shirt. (Also, you're clearly some sort of doppelgänger and likely of the evil variety. I guess we'll have to do battle.) Leaving out all the other strange coincidences, let's focus on the last three points, the ones about the sun, the bugs, and the garment.
As it just so happens, one garment in particular touches on all of those latter points. The Toad & Co Debug Solaer Hoodie is designed to block UV rays, repel insects, and to keep you cool and comfortable. To top things off, it even looks good. And if you think that's a lot to ask of one hoodie, then get this: there's even more to the story.
Let's start with the basics. The Debug hoodie is made out of a soft fabric with a jersey-style feel. It blends a standard polyester and a unique fabric made out of recycled coffee grounds. Yep, old coffee made into a new shirt. Which is just eco-friendly as hell, really. The hoodie is relatively light and suitable for use on those summer nights — especially at the campsite — and well into the autumn. (You can wear it all year if you want, though the insect and sun issues that make Debug clothes so enticing should diminish with colder weather, of course.)
Now to the debugging of it all. Toad & Co's Debug clothing (yes, they offer several additional Debug garments) is infused with Permethrin, a highly effective insect repellent (and in fact an insecticide in high enough concentration). This hoodie will repel mosquitoes, ants, ticks, flies, midges, and many other unwanted insects. And that repellent ability is rated to last for seventy washes. Seventy laundering sessions is, by the way, the same number that the brand thinks the sweatshirt itself will endure before it's worn to the point of disuse. Unless you wash your clothing compulsively, you can count on having this thing for several years.
Now to the solar aspect of the Debug Solaer Hoodie. The garment is rated as UPF 20+, so it will greatly reduce the damage your skin incurs from UVA and UVB light, though wearing additional layers and/or block is a good idea if you'll be out in the sunlight all day long. For jaunts through the city, a picnic in the park, or casual campsite lounging, it's pretty much got you covered vis-a-vis sun protection, though.
And don't worry about wearing a long-sleeved hoodie on a hot day: the Debug Solaer wicks moisture off your skin, actually helping to keep you cool. It will also suppress any bodily odors you create, so if the moisture-wicking properties are overwhelmed by the heat and/or your propensity to sweat, at least you won't stink.
Toad & Co Debug Solaer Hoodies come in Blue Abyss (which is… blue), Chrome (which is light gray), and Jeep (which is brownish-gray). And for my two cents, they come highly recommended.
Editors' Recommendations