Thirty years ago, CamelBak pioneered the concept of building a water bladder into a backpack. Athletes and adventurers instantly latched on, and other pack manufacturers have been playing catch-up ever since.
My first experience with CamelBak was sneaking beer into the college stadium for football game shenanigans. (Sigh … it was a simpler time.) I thought of it as a guilty pleasure — a CamelBak hack, if you will. But as it turns out, that spirit of fun has always been an integral part of CamelBak's brand.
In recent years, CamelBak joined forces with The Outbound Collective to launch the PURSUIT Series. Billed as an outdoor adventure camp for grown-ups, PURSUIT brings together committed athletes, weekend warriors, outdoor enthusiasts, and social butterflies who prefer to meet new friends in the wild.
For three days this summer, outdoorsy types of all skill and experience levels can explore their edges, expand their horizons, and hang out with like-minded adventurers. Classes, gear, and instruction are all included in the entrance fee, as are meals/snacks/morning coffee, an open bar, and even luxury "glamping" accommodations. (Those who prefer roughing it can BYOT.) It's like Sandals Resort, only better in every possible way.
PURSUIT features over 100 different field sessions guided in small groups by expert professional instructors — no prior experience necessary. Hardcore endurance athletes can expand their inner depths through meditation workshops. Yogis can up their balance game with slacklining and stand-up paddleboarding. Backpackers can add a new element to their outdoor experience with a fly fishing tutorial. And, of course, there's the ever-popular Trail X obstacle course. PURSUIT also offers a host of non-athletic sessions to complement your outdoor adventure lifestyle, with topics as diverse as night photography, basecamp meal preparation, and mountain bike repair.
Test your limits by day, then brag of your exploits by night around the fire pit. Every night features live music, games, entertainment — and we mentioned the free food and open bar, right?
CamelBak is hosting the PURSUIT series at three different venues this year: Reveille Peak Ranch in Austin, Texas, on April 27-29; upstate New York's Hunter Mountain on June 29-July 1; and the Bay Area's Bear Valley on August 10-12. Whether you choose the Texas Hill Country, the wild and woolly Catskills, or the sun-drenched Sierra Nevadas, you're guaranteed a one-of-a-kind outdoor experience, a brand new community of friends, and a few sweet new skills to take on your next adventure.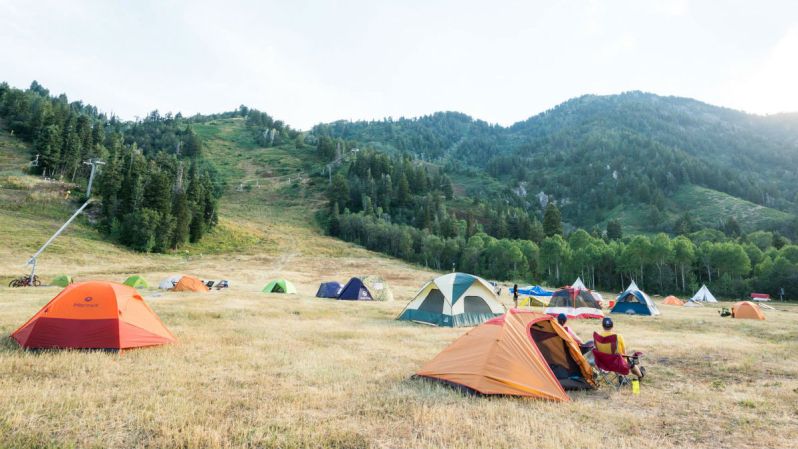 Right now, you can get in on the PURSUIT weekend for just $399 (single day passes are also available, but the three-day is a way better deal). Entrance includes all meals from Friday breakfast to Sunday lunch; a nightly open bar with cocktails, beer, and wine; a "welcome kit" featuring swag from event partners such as Backcountry, Red Bull, and CamelBak (obv); and all gear and instruction required for any of the activities.
Be advised that prices will go up as the events draw nigh. Early registration gets you the best deal, plus first-comer sign-up access to your choice of events. You know you wanna go, so sign up already!
Not convinced yet? Head here for photos of last year's PURSUIT experiences or here for a sample schedule.
Feature image courtesy of The Outbound Collective/Facebook.
Editors' Recommendations