All of your hard work has paid off, and you have that wonderfully landscaped yard. Whether it was a DIY project or you hired a professional, you have a space you can be proud of and enjoy. The neighborhood envies the work you put into the luscious green grass and vibrant flower beds.
Now all you have to do is worry about the maintenance. You have to make sure those pesky weeds don't pop up in the grass or kill the flowers you so painstakingly planted. Where do you start? There are some basics that you need to know about and if you follow a landscape maintenance routine, you're bound to have a beautiful garden and thriving yard year-round. Well, depending on where you live of course. That doesn't mean you can't prepare for the changing seasons, though.
The Farmer's Almanac has some great tips on how to maintain a beautiful yard. Maintaining your landscaping is more than just watering and mowing. You need to cultivate the grass, your flowers, and your vegetable garden.
Related Guides
How to Maintain a Healthy Yard
In addition to following The Farmer's Almanac, you should follow some of the basic steps for maintaining a healthy yard.
Watering. Give your grass about 1 inch of water per week. Of course, this will vary depending on the area you live in but you should be able to get a good amount of water into the soil. You can gauge the amount of water by using a small cup or glass and mark 1 inch on it and monitor the watering schedule.
Fertilize and Feed. Use some lawn fertilizers that promote growth. The grass is a plant after all, and it can benefit from plant food and nontoxic weed killer. The soil will help a lot, too, but give it a boost to be even more healthy.
Mow. Mowing your yard is more than just pushing the mower in eye-pleasing patterns. Each grass variety has an ideal cutting size to it. You should know the type of grass you have and what the best length for it is. As a general rule, grass should be about 2.5 to 3 inches tall and when you mow, you should only be trimming no more than ⅓ of the grass. This will promote stronger, healthier grass and encourage roots to grow deeper.
Recycle. Save the grass clippings for the flower bed or leave it where you cut it. Grass clippings promote healthy soil, retain moisture, and reduces landfill waste. Now, it may not always be convenient to leave the clippings on the lawn, but you can use them for the flower bed or garden.
What Equipment Do I Need?
We put together a great starter kit for your yard. These are some of the basics you will need to maintain your lawn. As you move through the year, you may realize you need to add more lawn care products to your arsenal, which will only help your efforts in the long run.
Lawn Fertilizer Program
Every region has a different type of grass. Choose your fertilizer program for the area you live in such as northern or southern. Your grass type may vary from coast to coast as well. This Scott's Lawn Fertilizer Program is broken down into four seasons, early spring, spring, summer, and fall. These products feed your lawn, kill weeds, and controls insects. If you follow the instructions, it will take the guesswork out of caring for your lawn. The trick is to keep the grass healthy and prepared for winter.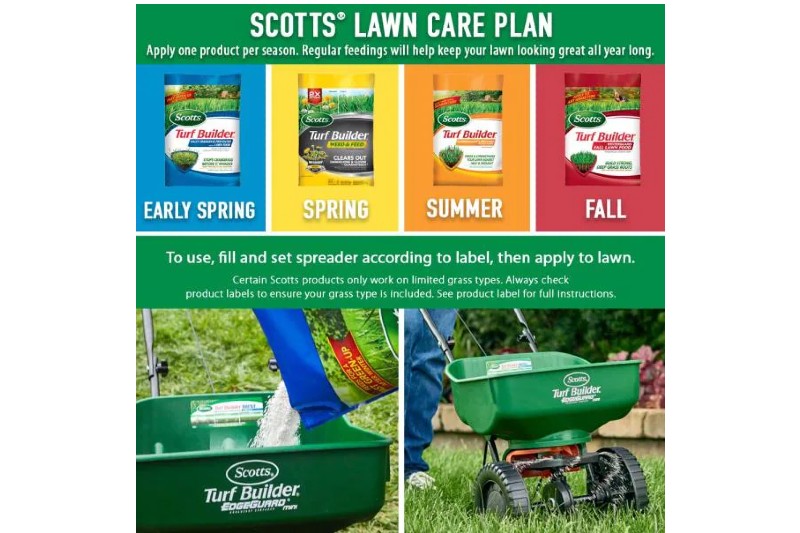 All-Purpose Plant Food and Weed Preventer
The Miracle-Gro Shake n Feed is more for your flower bed and garden. It promotes the healthy growth of plants while keeping weeds at bay. The all-purpose plant food is an easy application and will feed and protect up to 3 months. It is recommended to apply this early in the growing season to further prevent weeds from appearing.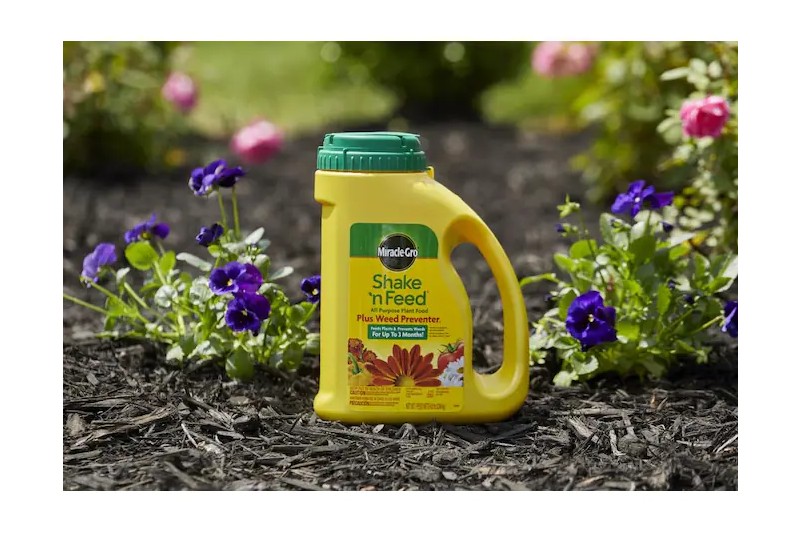 Turf Builder Mini Broadcast Spreader
Get accurate and even coverage when performing your lawn fertilizer program by using Scott's Turf Spreader. It's designed to keep all grass seed and fertilizer off your manicured landscaping, driveway, and sidewalks. It's a walk-behind spreader and stores easily and comes pre-calibrated for maximum efficiency.
Battery Lawn Mower Kit
This eco-friendly lawnmower kit is a 21-inch mower with a lithium-ion battery and exceeds the power of gas and is the power of gas but without the noise and fumes! It comes with a raid charger and can run up to 45 minutes without needing to be recharged. There is a 6-position cutting height adjustment, 3-in-1 mulching, bagging, and side discharge option, easy push-button starter, LED headlights, and it folds for compact storage. Extra batteries are sold separately.
24-Volt Cordless Electric Lawn Care System
Sun Joe's 24-Volt cordless yard care system features three adjustable and interchangeable tool heads and comes with a 5.3-foot extension pole to convert from a pole saw to a hedge trimmer or string trimmer. The lightweight 24-Volt battery pack recharges in about an hour and is the perfect portable yard tool. The kit includes an 8-inch pole saw, a 17.7-inch pole hedge trimmer, and a 10-inch string trimmer.
Remember, regular maintenance of your lawn and garden will produce quality results every time. Feed them regularly, water them weekly, and keep the grass trimmed and not cut too short. You want to promote growth, not stunt it.
Editors' Recommendations