The temperatures now are perfect for outdoor activities without getting scorched. One of those activities is lounging around in your very own personal flotation device in your brand new swimming pool.
Your backyard should be your own personal space where you can relax, unwind, and recharge. It's great for the mind and the body as well. You can get plenty of exercise from swimming laps — much better than doing all that cardio in the gym. It's not always about relaxing, however. Maybe you want to throw a lavish pool party. In that case, here's a list of the best above-ground swimming pools on the market today. Set up is easy and you can be enjoying your day by the pool in less than 24 hours. Not too bad if you ask me. We even found an inflatable hot tub that is perfect for those cooler nights or sore muscles.
Related Reading:
Intex Ultra XTR Frame Round Swimming Pool Set with Sand Filter Pump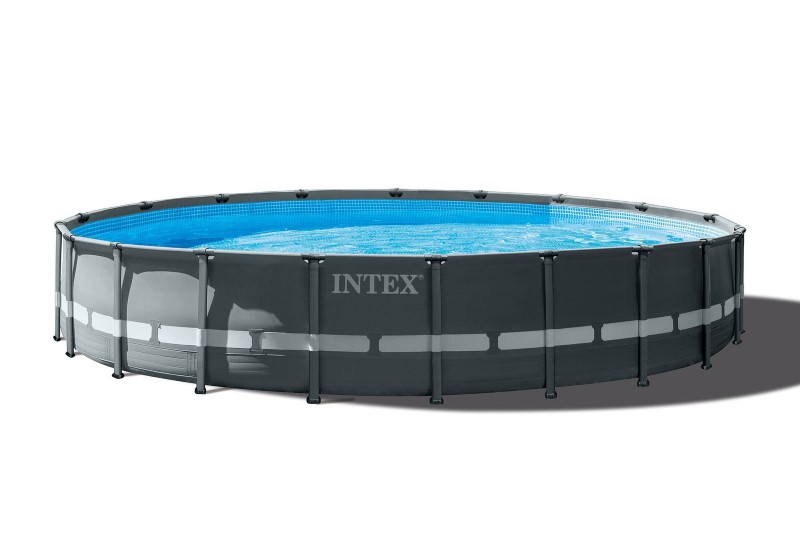 This 20-foot-wide, 4-foot tall Intex above-ground swimming pool will keep everyone cool. It is made from a powder-coated steel frame and laminated PVC siding material. It has 3 layers of material for added strength and durability to last several years. The easy-to-assemble pieces fit together without any locking pins and could be ready to fill with water in about an hour. The Intex pool holds almost 8,000 gallons of water. It includes an Intex Krystal Clear 110-120 volt, 2,100 GPH sand filter pump, pool ladder, ground cloth, and debris cover. There is a drain plug that connects to your garden hose for draining the pool and a dual suction outlet fitting to help improve water circulation.
Coleman Power Steel Frame Swim Vista II Round Swimming Pool Set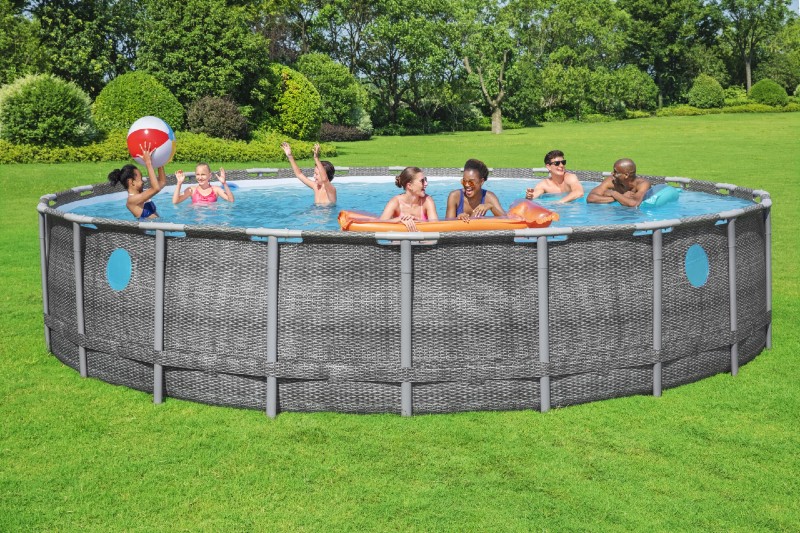 The Coleman Power Steel Swim Vista Series II is a big pool at 22 feet wide and a little over 4 feet deep. It's a second-generation pool with built-in portholes. The Vista Portholes are reinforced and fortified into the sides of the pool, allowing parents to keep an eye on children or so you can wave at people like an aquarium. The pool doesn't require any tools for setup and is made of a rust-resistant steel frame with Coleman's Seal & Lock System for a sturdy and secure frame connection. The puncture-resistant liner is made from ultra-durable Tritech material and the exterior design is a natural-looking rattan wicker print. The Coleman pool set comes with a filter pump, step ladder, and pool cover.
Intex Metal Frame Round Above-Ground Pool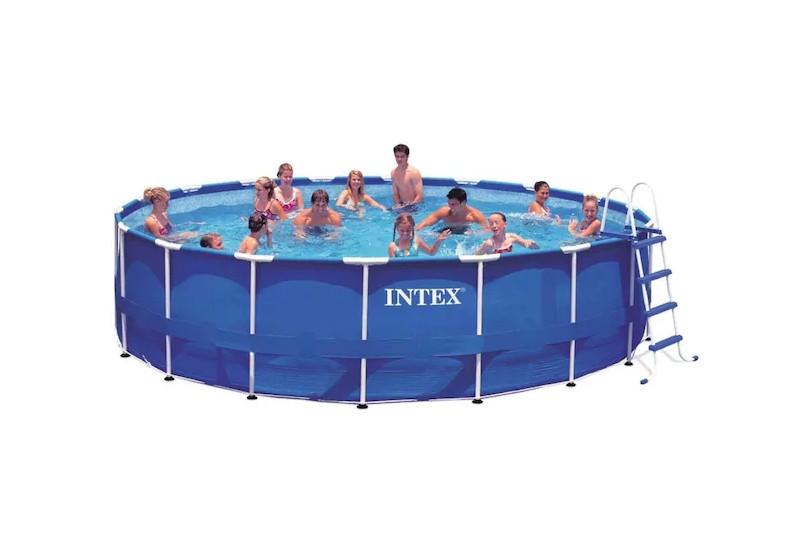 The Intex Metal Framed Above Ground Pool Set will let you beat the heat for the season. This above-ground pool is 18 feet wide and 4 feet tall and is the perfect size for cooling off. The easy-to-assemble and maintain swimming pool is made of durable PVC material and is an affordable alternative to steel-walled pools. The swimming pool includes an Intex 1500 GPH filter pump, filter cartridge, ladder, pool cover, ground cloth, and instructional DVD. Intex has designed this pool for easy assembly and is ready for water in an hour. When it comes time to drain the water, the convenient drain plug works with your garden hose.
Bestway Steel Pro Max Above-Ground Round Swimming Pool Set
The Bestway Steel Pro Max swimming pool is an easy-to-set-up pool with a corrosion-resistant steel frame and DuraPlus enhanced three-ply reinforced PVC material. The swimming pool is 14 feet wide and the water depth is 4 feet, enough to cool off the entire family. The set includes a filter pump with a 1,000 GPH flow rate, extra filter cartridge, safety step ladder, and a pool cover to keep out leaves, bugs, and whatever else may be floating around. Best of all, no tools are needed for set up and when the season is over, the built-in flow control valve attaches to a garden hose for easy draining.
Intex Oval Above-Ground Pool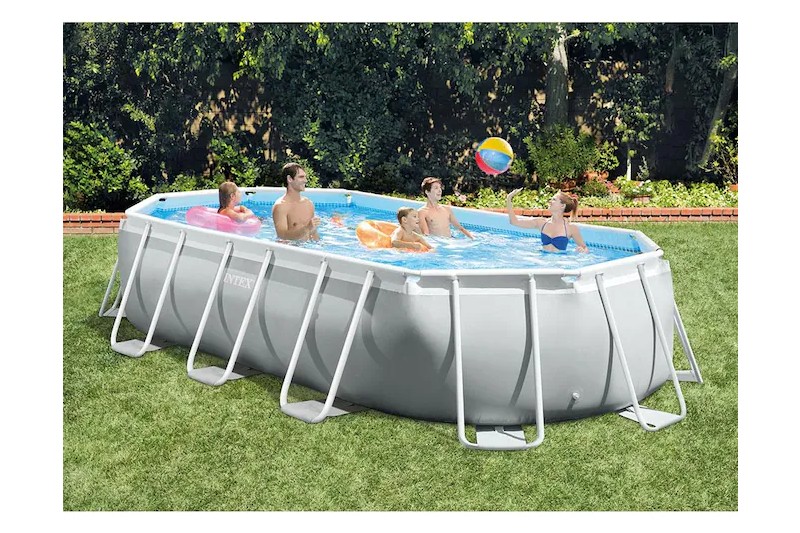 The oval-shaped above-ground swimming pool by Intex is 16.5 feet wide and 4 feet tall. This swimming pool is everything you need for backyard pool parties. The pool is made with a metal frame constructed of steel tubing and puncture-resistant three-ply liner material. This durably swimming pool takes up to an hour for installation and includes a 1,000-gallon pump, pool ladder, ground cloth, debris cover, and instructional DVD for setup. It is also equipped with a Hydro Aeration Technology pump for improved circulation, filtration, improved water clarity, and increased negative ions at the water surface.
If the swimming pool isn't enough, you can also pick up this highly rated and recommended inflatable hot tub.
Coleman SaluSpa Four-Person Hot Tub Spa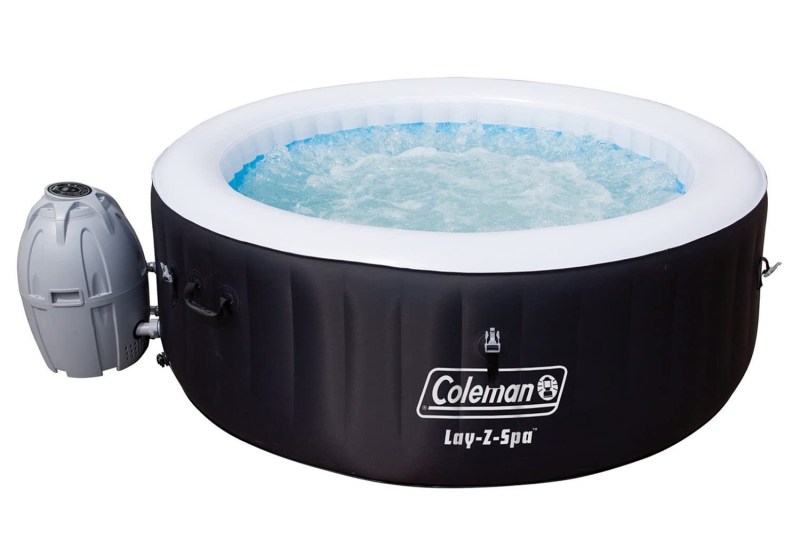 The 4-Person Coleman SaluSpa is equipped with 60 AirJets, digital button controls for temperature, bubbles, and an auto-lock setting when you find the right temperature and bubbles. The hot tub heats up quickly and is made from durable Tritech 3-ply material with inflated walls for durability and cushioned floor with a convenient drain valve. The Coleman comes with the AirJet system, pool liner, cover, spa pump, chemical floater, 2 filter cartridges, an air pad protector, and repair patch kit.
Editors' Recommendations